Beyoncé & Jay-Z's Performance At The Global Citizen Festival Will Take Your Breath Away
December 3, 2018
Listen up, Bey hive, something incredible happened on Sunday, Dec. 2: Beyoncé and Jay-Z performed at The Global Citizen Festival. The famous couple headlined a pretty massive lineup of performers that included Pharrell Williams, Ed Sheeran, and Usher, to name just a few. The special festival took place at the FNB Stadium in Johannesburg, South Africa, home to Nelson Mandela.
Back in September of this year, the annual Global Citizen Festival was held in New York City, in Central Park. The goal of the festival is to raise awareness about many important issues in today's world, with a main goal of ending poverty by 2030.This year, they also held a special festival in honor of Mandela during a yearlong celebration of his 100th birthday, called Global Citizen Festival: Mandela 100.
Beyoncé and Jay-Z took the stage to play a huge set in honor of Mandela and the charity near the end of the festival. They came out on stage to thunderous applause, and started off their set with "Holy Grail." It was originally sung by Jay-Z and Justin Timberlake, but Queen Bey sang it like it's always been hers. After that, Beyoncé took a minute to speak to the audience, explaining why the couple celebrates Global Citizen and Mandela. "Everything is love," she stated, which is also the name of their most recent album. She and Jay-Z then launched into their joint song "Part II (On The Run)," before performing "'03 Bonnie & Clyde."
After a brief video interlude featuring images of Jay-Z and Beyoncé on vacation, as well as segments from the Lemonade visual album accompanied by songs like "Malaika" by Miriam Makeba and "Pana" by Tekno — both African artists — playing in the background. They came back with possibly the best part of their performance, which was when they performed "APESH*T" from their most recent album — as The Carters — EVERYTHING IS LOVE. Not only did they come back with a wardrobe change, but they referenced the music video by having Mona Lisa on the screen behind them.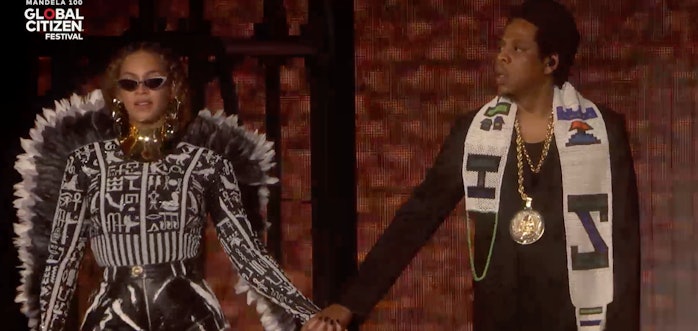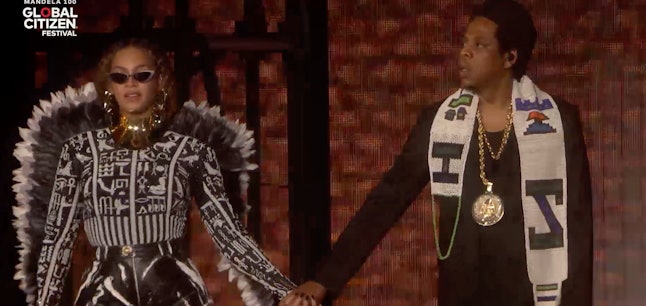 Oh, but that wasn't it. Pharrell, who also had his own set, joined Jay-Z and Beyoncé for a performance of the song "NICE," also from their newest album. The "Happy" singer co-wrote and co-produced it with The Carters, so this pairing makes sense (and it was also purely good entertainment).
Additionally, there was a gorgeous performance with Ed Sheeran and Beyoncé as well. The sang their duet, "Perfect," which is a rendition of his original song of the same name from his most recent album, Divide. Queen Bey also performed "Formation" in a brightly colored suit.
Just to add to the magic of the night, Oprah Winfrey was also the keynote speaker. If you're itching to watch all of these moments, just keep an eye out on the Global Citizen YouTube page, because they posted performances and others from the last festival, so you might be able to relive these there soon too. In the meantime, just know that Queen Bey and JAY-Z brought the house down as usual, but this time it was for a good cause.
Source: Read Full Article