Ariana Grande Teased Her New Album, Calling It Her Most "Honest" Work Yet
December 5, 2018
While the rest of us are still riding high on the release of the long-awaited "Thank U, Next" music video, Ariana Grande is already back in the studio, working on her next album. And while she still isn't able to confirm a release date, Ariana Grande teased her new album to fans in a recent interview with Billboard, where she opened up about working on the album, and her plans for the future.
Though she's been teasing her follow-up to Sweetner — which is titled Thank U, Next after the chart-topping single that she released in November — for weeks now, in her cover story for Billboard's Woman of the Year issue, the singer gave fans their clearest look yet at what they can expect from her new music. And that is, namely, a completely new sound. After describing "Thank U Next" as "me and my besties tipsy off champagne … just letting it out and having fun," Grande admitted that she's making the music she's always wanted to make on this next album.
"We started at home base — me," Grande said, chronicling her musical journey from her first album, Yours Truly, towards her new project. "Then we went in this place where I kind of played the game for a little bit, and did the big, big, big pop records. Then we slowly started incorporating my soul back into it — and that's where we've landed again with 'Thank U, Next.'"
The singer also revealed that she's channeled much of the tragedy of the past year into her work, telling Billboard that she began recording the album not long after the death of her longtime friend and ex boyfriend, Mac Miller. And, as if that wasn't impressive enough, the singer also revealed that she wrote the whole thing in just one week. (Recording all of the main vocals took two.)
"This [album's] not particularly uplifting," Grande said of the influence that the past year has had on her music. "A lot of it sounds really upbeat, but it's actually a super sad chapter." She also described the new music as the result of "feminine energy and champagne and music and laughter and crying."
She echoed that sentiment on Twitter on Tuesday, when she thanked songwriter Savan Kotecha for "encouraging my honesty & inspiring me to be a braver writer," while working on Thank U, Next. Earlier in the day, she also tweeted that while she didn't know when the album would be released, "it's beautiful and waiting for u."
And though Grande didn't delve too much into the backstory of each of the finished songs on the album in her recent interview — though Billboard did note that there was at least one song about Miller — she was more than happy to talk about the origin of "7 Rings." Hinted at in the video for "Thank U, Next," the song is described by the outlet as "a party-ready twist on 'My Favorite Things.'"
"It was a… challenging fall day in New York," Grande explained of the inspiration behind the song. "Me and my friends went to Tiffany's together, just because we needed some retail therapy. You know how when you're waiting at Tiffany's they give you lots of champagne? They got us very tipsy, so we bought seven engagement rings, and when I got back to the studio I gave everybody a friendship ring. That's why we have these, and that's where the song idea came from."
On Saturday, Grande revealed on Twitter that fans have already heard a small taste of "7 Rings," as it was the song that played in the very beginning of the "Thank U, Next" video. (Grande also teased two other songs from her new album in the video.)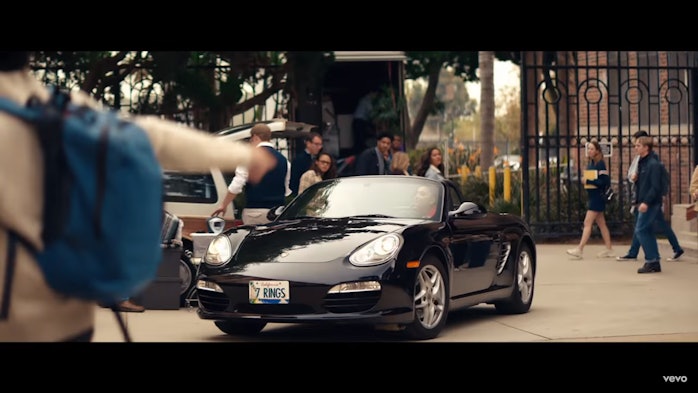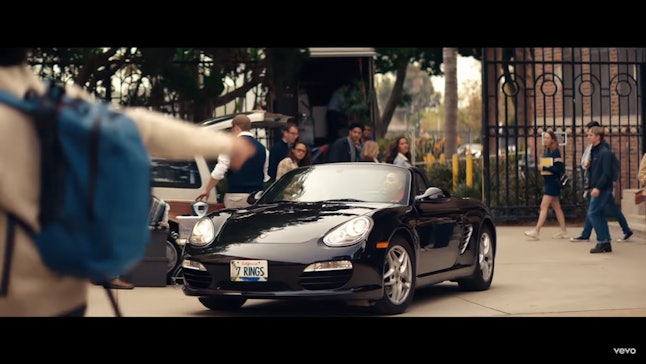 If fans are excited by Grande's new sound — which Billboard described as a mix of bass-heavy, trap inspired party songs and sad ballads with "gutting" lyrics — then they'll probably be thrilled to know that the singer has no plans to stop writing, recording and releasing new music even while she's on tour next year. "If I want to drop a third album while I'm on tour [in 2019], I'll do that too! Please," Grande said. "Social House [who produced "Thank U, Next"] is my opening act — you don't think we're going to have a studio on the bus? That we're not going to be making records on the road? Of course we are."
Her sound might be brand new, but Grande's determination to stay as open and honest as possible will clearly keep fans coming back to her music for years to come.
Source: Read Full Article