Are You The Financially Responsible Friend? This May Be Your Dream Job
December 20, 2018
When I hit my mid-twenties, I experienced an awakening of sorts. Suddenly, I was researching my retirement options and beginning to invest in my company's 401(k) plan. I created bi-monthly budgets for groceries, coffee, and nights out with friends. I even opened a new savings account, complete with regular direct deposits. And I also became that friend who would dole out (sometimes unsolicited) financial advice to my close circle of friends. Yep — I had reached full-fledged "financially responsible" status, and I was proud to offer my newfound knowledge to anyone who may need it.
Sound like you? If so, Fidelity Investments is currently hiring for what could possibly be your dream job. The company is currently looking to fill financial consultant roles in branches across the country, and you may be surprised at how seamlessly some of your existing skillset could translate into a successful career with Fidelity.
"If you're someone who likes to build relationships, solve problems, and make a difference in the lives of others, Fidelity offers an unparalleled opportunity to join a fast-growing segment of the financial services industry and work closely with our clients to inspire their better futures," said Kathy Murphy, President of Fidelity Personal Investing, in a promotional video for Fidelity. And it's not just the executives who clearly see the benefits of joining Fidelity's personal investing team — the financial consultants themselves have plenty of great things to say, too.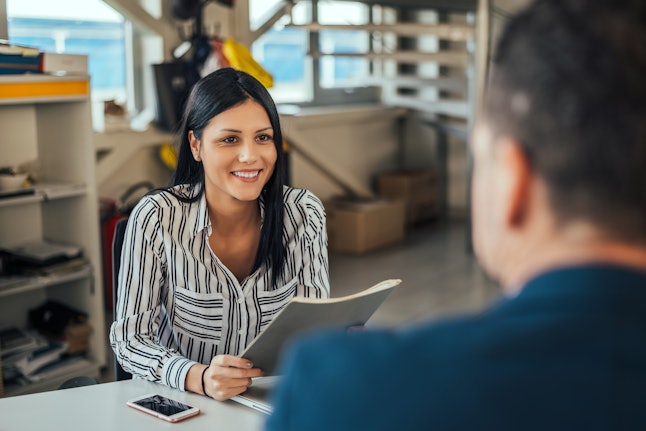 "The benefits at Fidelity are incredible," said Leanna, a financial consultant for Fidelity's Burlington office, in a promotional video for Fidelity Investments. "The student loans help was great for me. I got to pay off my student loans about a year ago … about three years earlier than expected, so that was phenomenal." Among other benefits Leanna mentioned are health and wellness programs, and a solid paid time off policy that allows her to visit her family across the country and plan personal vacations.
If a career at Fidelity Investments is sounding tempting, here are a few things you need to know about the job requirements: Current openings for financial consultants ask for candidates to have their FINRA Series 7 and 63 prior to being hired, plus Series 65 and/or 66 and state registrations within three months of hire. Managers will also be on the lookout for experience with high net worth clients, and they'll prefer that you have a CFP — but no pressure if you don't, since this is something Fidelity's tuition reimbursement program could help you obtain.
Licensing requirements aside, Fidelity is looking for quality people to join their teams. The company has clearly put work into creating a work environment that encourages its employees to succeed, taking into consideration everything from fair compensation packages and supportive teammates, to family-first benefits and an honest-to-goodness work-life balance. With a fulfilling work experience just a quick job application away, I dare you to think of one thing that's stopping you from pursuing this kind of well-rounded career you know you deserve.
This post is sponsored by Fidelity Investments.
Source: Read Full Article