Actor Matthew Perry Concerns Fans With Confusing Tweet About Therapy
February 20, 2019
"Friends" star Matthew Perry recently sent out a tweet regarding a therapy session gone wrong that has some of his fans worried for his well-being.
Chandler Bing may be long gone, far away in T.V. land heaven but the man who brought the quirky, beloved character to life for ten years, Matthew Perry is alive but perhaps not so well, at least mentally or emotionally, if his recent tweets are any indication.
In the past, Perry has been open about the struggles that he has faced over the years with addictions to drugs and alcohol and he has remained fairly open with his fans on his Twitter account. According to Fox News, just five months ago, the actor was hospitalized for a gastrointestinal perforation. While recovering from having his bowel repaired, he tweeted, "Three months in a hospital bed. Check."
RELATED: 20 BIGGEST "FRIENDS" FACTS THAT EVEN THE BIGGEST FANS HAVEN'T HEARD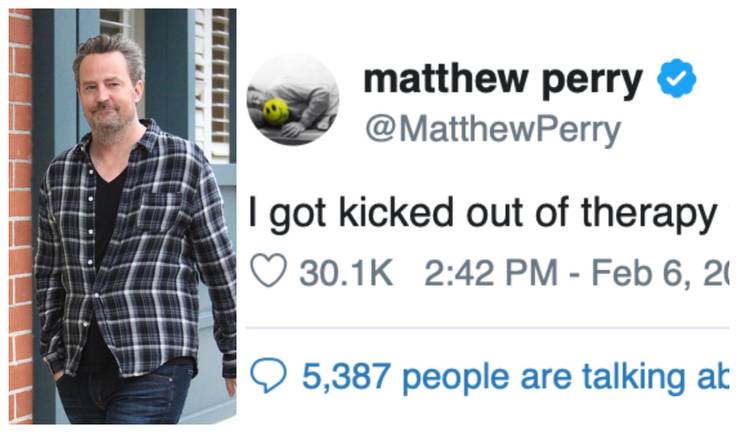 Based on the communication he had with his fans, it was clear that Perry was just handling the situation in his normal, sarcastic (and very Bing-like) style. But his recent February tweet simply stated, "I got kicked out of therapy today."
Fans have been left to speculate that Perry might have relapsed into either his drug and/or alcohol addiction. Just last year, the actor told ABC News that he was using his previous addictive behavior to help fellow addicts who were currently struggling.
"I've had a lot of ups and downs in my life and a lot of wonderful accolades, but the best thing about me is that if an alcoholic comes up to me and says, 'Will you help me stop drinking?' I will say, 'Yes. I know how to do that,'" Perry told the news outlet in an exclusive interview.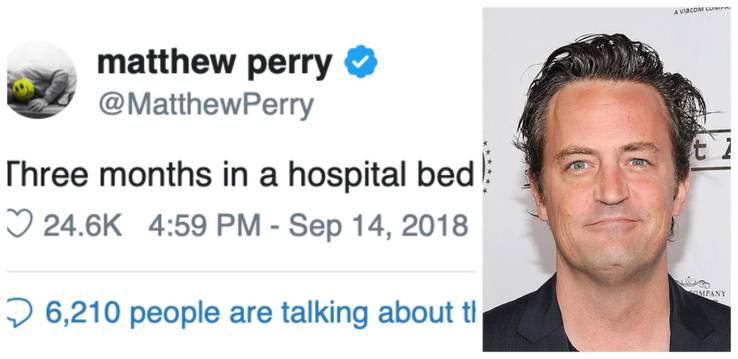 NEXT: KYRIE IRVING PAYS "FRIENDS" TRIBUTE WITH NEWEST REMIX OF HIS NIKE SNEAKER
In the same exclusive, Perry confirmed his drugs of choice during the period that he was battling his addictions. "Mostly it was drinking and opiates," Perry said. "I think I was pretty good at hiding it from my Friends co-stars but eventually people are aware."
Fans on Twitter have reached out to the actor with different forms of comfort. Among the messages are, "Please feel better ❤️ I hope you're okay. You deserve love and happiness. You made me laugh when I was having rough times and always got me through it" while another user wrote, "Just remember, you are a strong, confident woman, who doesn't need therapy," which references a "Friends" episode in which Perry's character accidentally uses a sleep hypnosis tape made just for women to quit smoking.
We hope that everyone in Perry's life will be there for him during what may be a difficult moment. Hang in there, Matthew!
Source: Read Full Article