2018's Biggest Celeb Feuds: Nicki vs. Cardi, Lala vs. J-Law and More
December 8, 2018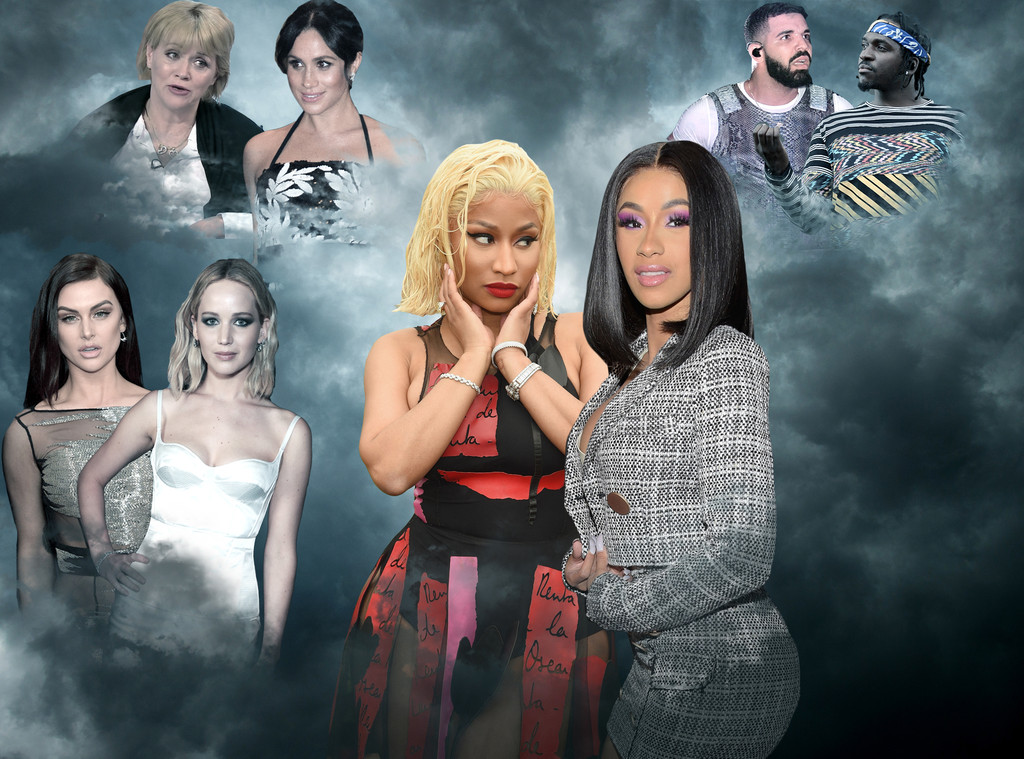 Getty Images; Melissa Herwitt/E! Illustration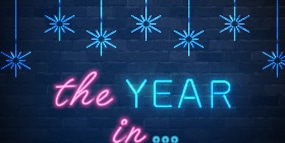 There's nothing like a good celebrity feud.
They make us feel better about our own boring lives, they let us take sides on social media (and who doesn't love a good team sport?), and they're never in short supply. And 2018 was full of 'em.
While we'd like to be enlightened enough to say we'd prefer it if everyone just got along, there's no denying that sometimes we just want to break out the popcorn, sit back, and watch the sparks fly. And everyone from Nicki Minaj and Cardi B to Lala Kent and Jennifer Lawrence to Piers Morgan and, well, just about every woman on the planet made sure that we were well entertained this year. So before we all turn over a new leaf and promise to be kinder to one another in 2019, let's take a walk down memory lane and relive all the drama, shade, and petty AF antics that rocked Hollywood this year.
We present the biggest celebrity feuds of 2018!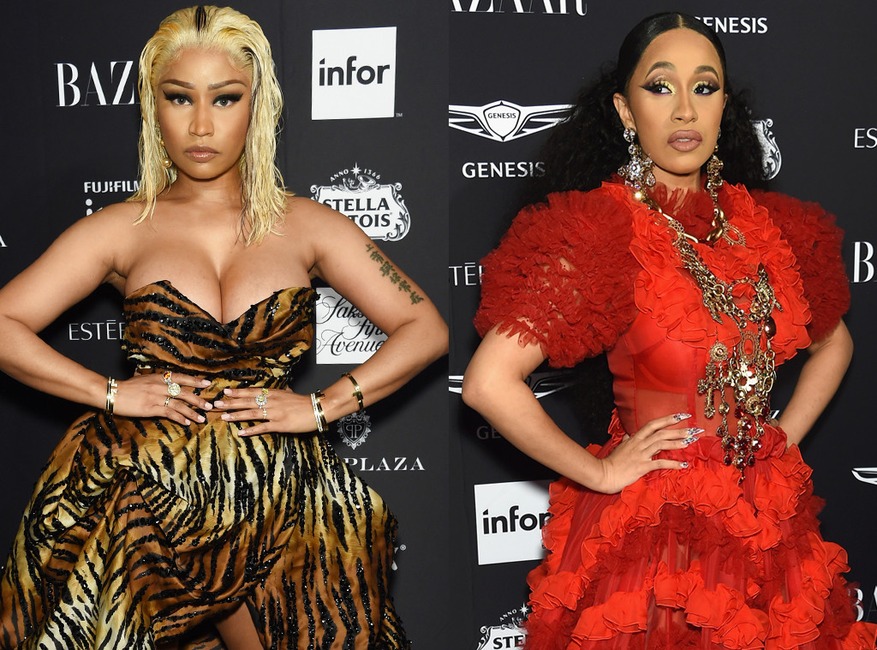 Dimitrios Kambouris/Getty Images for Harper's Bazaar
Nicki Minaj vs. Cardi B

Was there a celebrity feud that dominated 2018 more than the one between rap's reigning queen and the young upstart coming for her crown? We think not. After being dogged by rumors of bad blood throughout much of last year, thanks to stans doing what they do best, reading into lyrics for passive-aggressive digs they perceived were intended for one another, fiction soon became fact when conflicting stories over who was approached to appear on the 2017 Migos track "MotorSport" first led to clashing egos. Nicki thought Cardi disrespected her and battle lines were drawn. Despite a seeming detente at the Met Gala, s–t hit the fan at the Harpers Bazaar ICONS Bash during September's New York Fashion Week as Cardi tracked Nicki down, lunged at her and threw her shoe.
"It was so fast!" an eyewitness told E! News of the incident, which was caught on camera. "I heart someone screaming—everyone recognized Cardi's voice—people either got out of the way or took out their phones and started filming. Nicki was surrounded by a bunch of guards and barely even looked at her. Next thing you know, shoes were flying and Cardi was on her way out."
Cardi later claimed that Nicki had mentioned her daughter Kulture and liked social media comments about the "Bodak Yellow" rapper's mothering. Nicki aired her side of things on her Queen Radio show, saying the scuffle was "so mortifying and so humiliating to go through" while asserting she would "never talk about anyone's child or parenting."
A month later, tensions were still high as Team Cardi was blaming Nicki for leaking Cardi's number, which Nicki denied on her radio show, prompting a series of scathing Instagram videos from Cardi in which she labeled the Queen rapper a liar and told her to decide whether she's "the victim" or "the gangster."
A day later, Nicki seemingly called a truce on Twitter, saying she "won't be discussing this nonsense anymore" and encouraging her fans to "focus on positive things only from here on out." Cardi shared the tweet on Instagram, writing to Nicki, "Alright then! Let's keep it positive and keep it pushing!"
All's well that ends well…for now.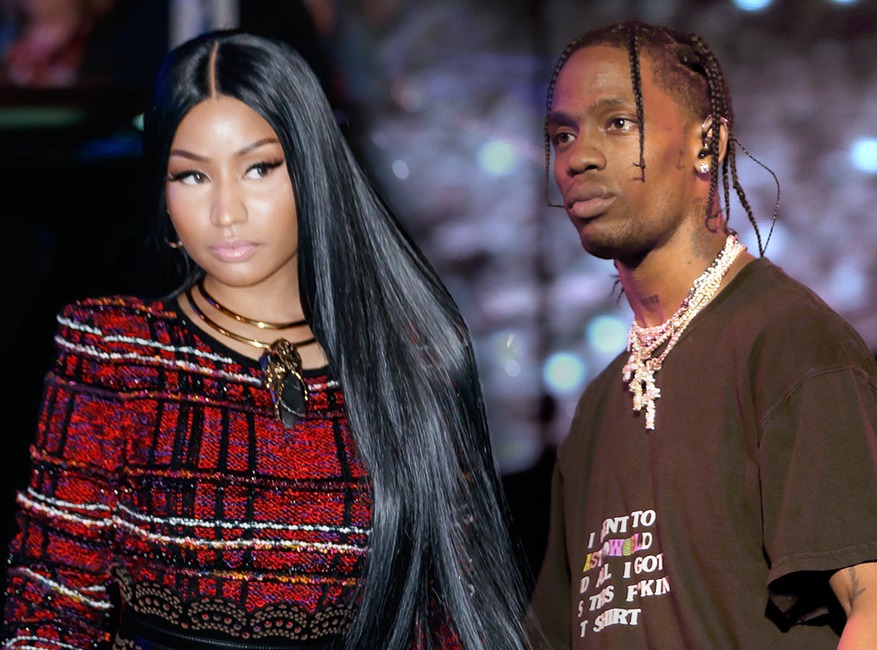 Getty Images
Nicki Minaj vs. Travis Scott

Of course, Cardi wasn't the only rapper that Nicki was feuding with in 2018. She also found time to beef with Kylie Jenner's man Travis Scott when, in August, his album ASTROWORLD beat Queen for the No. 1 spot on the U.S. album charts and she took issue with how, exactly, he accomplished it. "I put my blood sweat & tears in writing a dope album only for Travis Scott to have [girlfriend] Kylie Jenner post a tour pass telling ppl to come see her & Stormi," she tweeted. She later made clear on Queen Radio that her beef was not at all with Kylie, saying, "It's obvious she's got to ride with her man—why the f–k wouldn't she? We're not going to make this something this is not. She's not done anything wrong except support her people. She's a dope girl." She later compared herself to Harriet Tubman and Rosa Parks, comparing their plights to her decision to take Travis on.
The following month, she admitted on The Ellen DeGeneres Show that she wanted to punch Travis "in his f–king face" for besting her. "I've had a No. 2 album and I never cared. It's just that when you have a No. 2 album to someone who is selling shirts and merch—and selling passes for a tour that isn't announced yet—it feels like you're being tricked. It feels like someone is playing a game and beating you at a game opposed to just selling music. I want to sell music!" she said. "He didn't have the No. 1 album. Queen was the No. 1 album."
The feud was a bit one-sided, however, as, aside from taking her seat at August's MTV VMAs, Travis never responded to Nicki's many rants against him.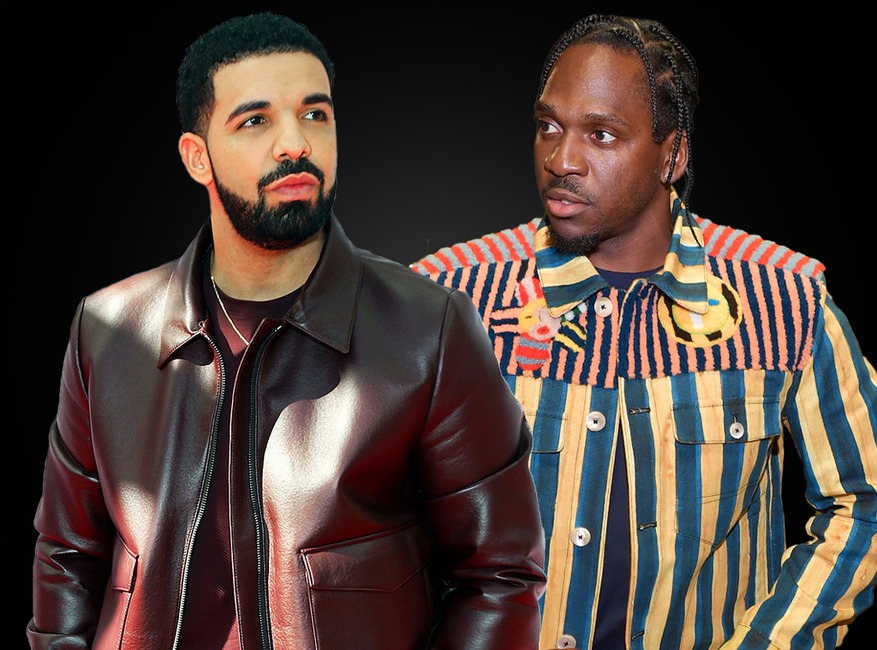 Getty Images
Drake vs. Pusha T

The rap world was rocked by a few more feuds in 2018, including the reignited one between Drake and Pusha T, which roared back to life on Pusha's track "Infrared," which mentioned Quentin Miller, a rapper some believe has ghostwritten songs for the 6 God, with Pusha fully admitting that the song was a "response" he "held on to in regards to '2 Birds 1 Stone,'" a 2016 diss track in which Drake took aim at Pusha, Meek Mill and Kid Cudi. But when Drake responded with "Duppy Freestyle" and mentioned Pusha's fiancée Virginia Williams, all bets were off.
"Why would you mention my fiancée? No women, no children," Pusha T said on the Real 92.3 FM show Big Boy's Neighborhood. "It was sport to me until the fiancée mention…it just rubs me wrong."
Pusha retaliated by posting a picture of Drake in blackface as the cover for his single "The Story of Adidon." Drake, in turn, claimed the photo was taken in 2007 when, still flexing his acting muscles, the former Degrassi: The Next Generation star was working on a project about "young black actors struggling to get roles, being stereotyped and typecast."
"I don't believe it," Pusha T said on Big Boy's Neighborhood. "You are silent on all black issues, Drake. You really are. You don't stand for nothing. You don't. That's just what it is. You have all the platform in the world. You were so passionate back then, no you weren't."
When "The Story of Adidon" dropped, Pusha took it to another level, rapping, "Since you name-dropped my fiancée, let 'em know who you chose as your Beyoncé/Sophie knows better, ask your baby mother," referring to Sophie Brussaux, who in 2017 said she had texts proving Drake was her son's father. Drake later admitted on a new track that he has a son but did not name his mother.
After Drake went on LeBron James' HBO show The Shop in October, claiming he believed Kanye West to be the person who fed Pusha the info about his life change, Pusha pushed back, claiming instead that the dirt came from a woman sleeping with Drake's longtime producer and collaborator Noah Shebib, also known as "40."
Though the feud seems to have simmered down, Pusha insinuated in late November that Toronto concertgoers who threw beer at him were paid by Drake.
Article continues below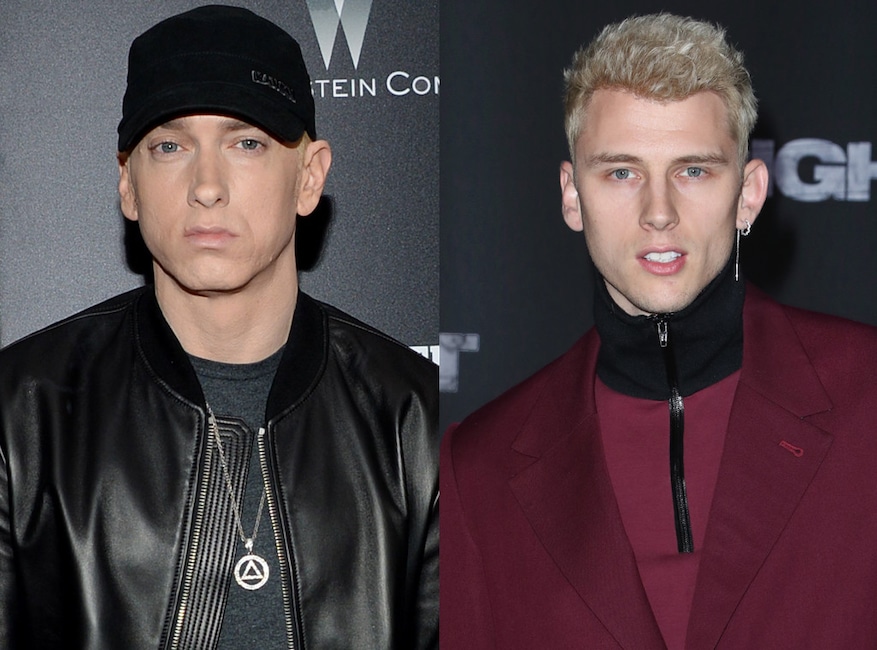 Matt Baron/Evan Agostini/Invision/AP/REX/Shutterstock
Eminem vs. Machine Gun Kelly

To know why these two are beefing, we have to go back to 2012, when MGK reportedly saw a photo of Eminem's then-teenage daughter Hailie and tweeted, "Ok so I just saw a picture of Eminem's daughter… and I have to say, she is hot as f–k, in the most respectful way possible cuz Em is king." A whopping six year later, Em fired back on the track "Not Alike, rapping, "And I'm talkin' to you, but you already know who the f–k you are, Kelly / I don't use sublims and sure as f–k don't sneak-diss / But keep commenting on my daughter Hailie."
MGK shot back days later with "Rap Devil," in which he claimed Eminem banned from from his radio channel, Shade 45, among other things. Em retaliated with "Killshot," which included the lyrics "Realized I forgot to call you back / Here's that autograph for your daughter, I wrote it on a Starter cap / Stan, Stan, son, listen, man, dad isn't mad / But how you gonna name yourself after a damn gun and have a man bun?" and "Ow, Kelly, ooh, but I'm 45 and I'm still outselling you / By 29 I had three albums that had blew / Now let's talk about somethin' I don't really do / Go in someone's daughter's mouth stealin' food."
The same week he released that latest track, Em spoke about MGK in an interview with Sway Calloway, saying, "I don't give a f–k about your career. You think I actually f–king think about you? You know how many f–king rappers are better than you? You're not even in the f–king conversation."
However, there are those who believe this whole thing was all for show. Why? Internet sleuths pointed out that both artists are signed to Interscope Records and producer Ronny J has production credits on both "Not Alike" and "Rap Devil," with a writing credit on the latter as well. Could it all have been to boost sales? We'll let you decide.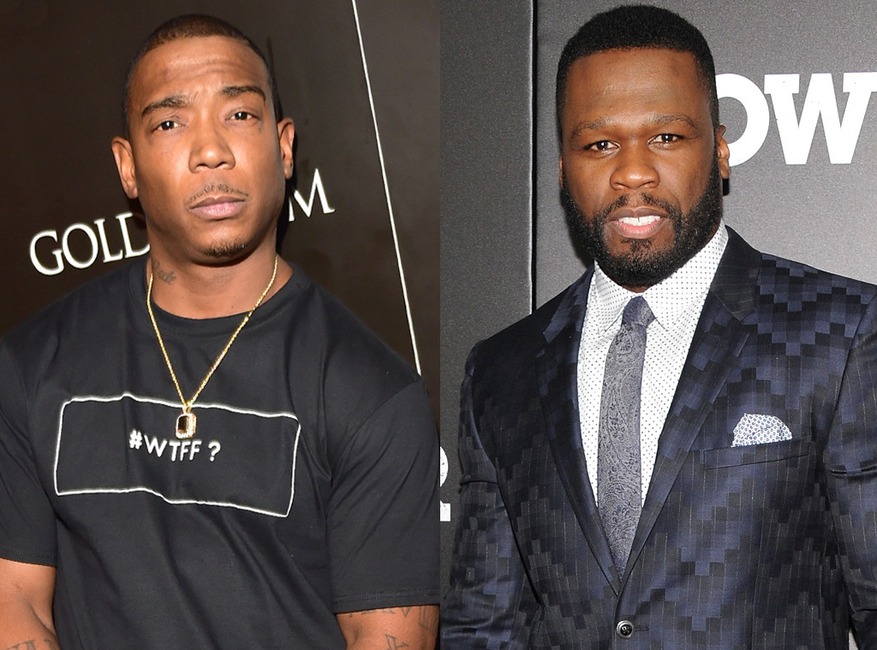 Desiree Navarro/Prince Williams/WireImage
Ja Rule vs. 50 Cent

These two have been feuding for almost 20 years, but things heated back up in January when, during an interview on Real 92.3 L.A.'s Big Boy Neighborhood, 50 Cent was asked if he'd seen Ja Rule lately. "I done put him to bed," the rapper responded. The remark set Ja off, prompting him to tweet "Fun hip-hop FACT: @50cent is a P–SY…" and "…for some reason @50cent keept my name in his mouth… I think he'd rather have my d–k in his mouth lmao."
Things seemed to calm until Ja tweeted in September that he had to cancel his Syracuse show, promising it would be rescheduled. Naturally, 50 had something to say. "Only 10 tickets sold," he claimed. "Don't nobody want to see that s–t, you talking about wait we get a lot of people on the walk up. Get the f–k outta here."
And a month later, he went next level petty when he revealed that he'd purchases 200 tickets to Ja's show for the explicit purpose of leaving the seats empty. "Lol at $15 a pop you can't lose, I got 200 tickets for 3 bands. #bellator #lecheminduroi," he wrote.
Ja's response? "I get under @50cent skin… I love it!!! #iconn."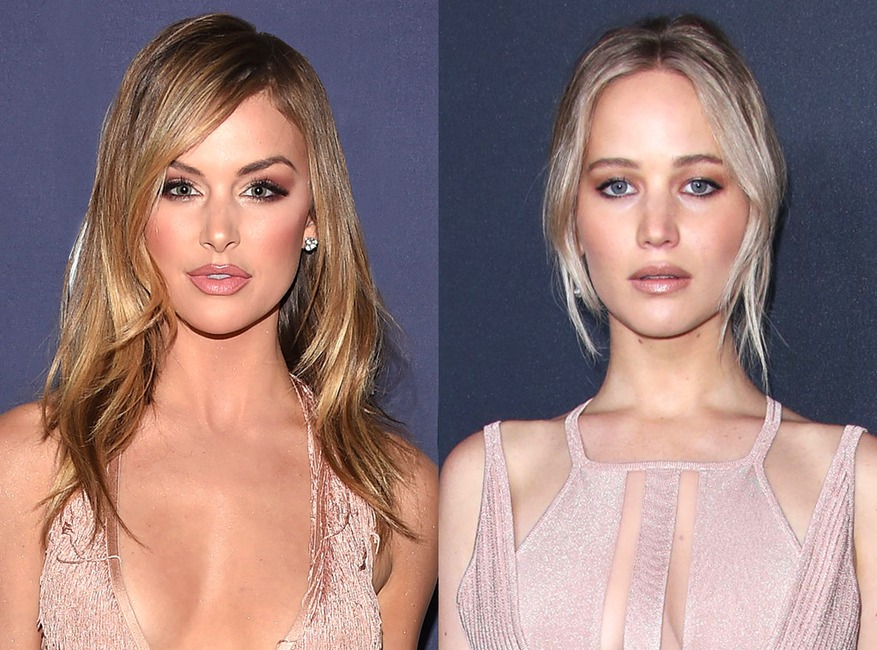 Matt Baron/BEI/Shutterstock, Charles Sykes/Bravo
Lala Kent vs. Jennifer Lawrence

Bravoholic J-Law found herself embroiled in some drama worthy of the shows she obsesses over when, during an early March appearance on Watch What Happens Live With Andy Cohen, the Academy Award winner admitted she believed the Vanderpump Rules star was phony for befriending her enemies. "I'm like, 'Bitch, you's a c–t!" she laughed.
Lala responded on Twitter, writing in a since-deleted tweet, "Did Jennifer Lawrence really call me a 'c–t' on @bravowwhl? Annnnnd talk about my mama? Bitch, you better pray I don't see you in the streets. You're one of the highest paid actresses on the planet…you claim you are pro-women and you call another woman a c–t? You're gross."
In an interview on Heather McDonald's Juicy Scoop podcast that was taped on March 6, but released later in the month, Lala took things a step further, claiming Jennifer was the "type of chick" who would sleep with Harvey Weinstein. "Now anytime you bring her up, like, I'm going to have nothing nice to say about her," she said as the interview concluded. "I'm going to say that her hair sucks, her face is a little too pudgy, like she needs to stop the drinking, you know?"
While Jennifer never addressed the feud publicly further, Lala took to Twitter after the incendiary interview dropped to say that it had been taped "when I still felt hurt and emotional. Excuses aside, I wanted to let it be known J.Law and I are all good now." And in June, while appearing on Jenny McCarthy's SiriusXM show, she added, "I actually received a very sweet email from her…This is how I knew it was organic because she said right after she said it that she wanted to punch herself right in the face. I only see her on interviews and she's always so funny and that seems like it's something that would come out of her mouth. So I just thought it was a very stand-up thing for someone of her stature to do."
Article continues below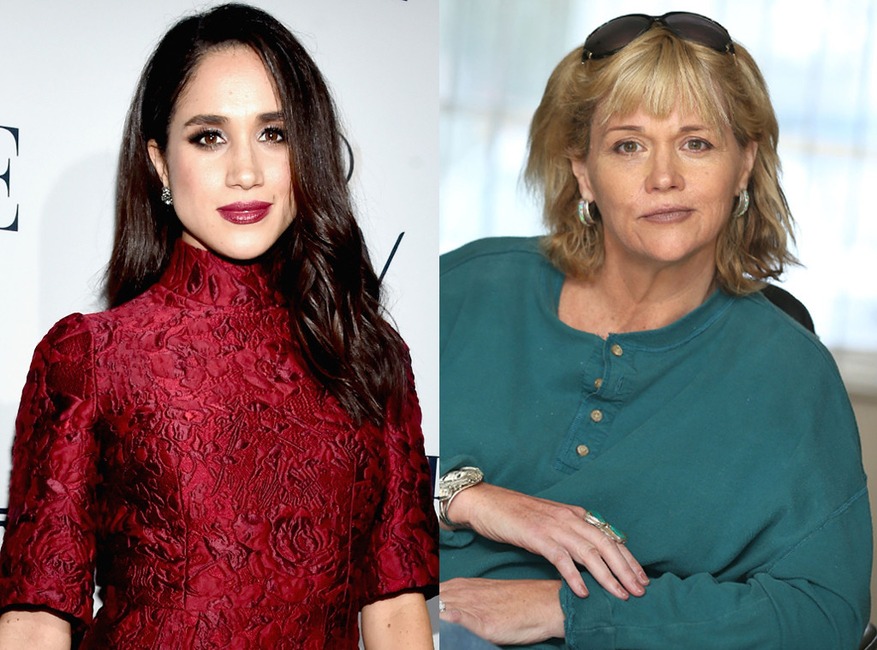 Getty Images; Splash News
Meghan Markle vs. Samantha Markle

Consider this one the ultimate one-sided feud. Despite the new Duchess of Sussex never saying one public word—negative or otherwise—about her older half-sister, Samantha Grant (who only reverted back to her father's last name of Markle when Meghan became linked with Prince Harry) has waged an unholy war against her sibling, trashing her at each and every turn. Between the snarky tweets and the British TV appearances, it's been a non-stop deluge of family dysfunction. Don't believe us? Check out our comprehensive timeline of everything Samantha's ever said about her kid sister right here.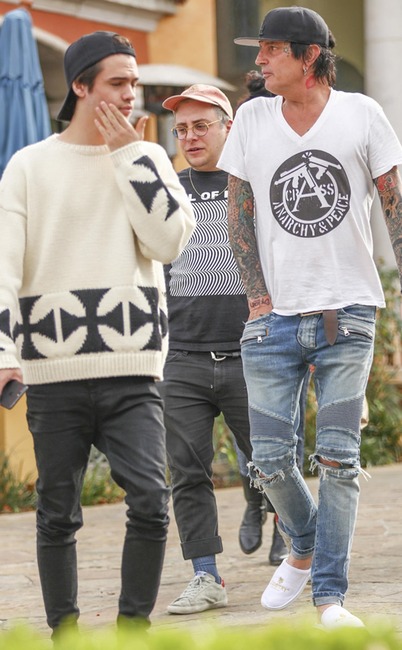 IXOLA / BACKGRID
Tommy Lee vs. Brandon Lee

2018 hasn't been the easiest year for the Lee family following the March altercation between Tommy and his son Brandon that left Tommy in the hospital after his son allegedly gave him a fat lip. "My heart is broken. You can give your kids everything they could ever want in their entire lives and they can still turn against you," Tommy captioned a since-deleted photo of his bleeding face. "Good job Brandon! Great son!"
As Brandon, Tommy's son with Pamela Anderson, told TMZ, his dad had been drunk and the punch was in self-defense. Tommy had a differing story, tweeting, "Hey @TMZ maybe get your facts straight before you go reporting bulls–t. My fiancé and I were in bed when my son busted into the room and assaulted me. I asked him to leave the house and he knocked me unconscious. He ran away from the police. THAT'S the truth."
The two were reportedly arguing over Pamela's interview on Piers Morgan's Life Stories that aired in the UK days prior, in which she claimed she'd endured physical abuse during her relationship with Tommy, claims he denies. Brandon later issued a statement to People, claiming he'd been attempting to stage an intervention for his father's alleged alcoholism and was upset "that it never came to fruition." "I wanted my dad's hopeful sobriety and recovery to be a private family matter but, as a result of his accusations on social media, I feel forced to speak out," he added. "I have and will continue to cooperate with law enforcement as needed. I love my father and just want to see him sober, happy and healthy."
Tommy, however, insisted there was no drinking problem to address, writing on Twitter, "You didn't arrange any intervention, you barely spoke to me while u were here. Just coverin ur ass!!"
While Brandon escaped charges for the punch, the feud continued when another social media war erupted over Father's Day weekend, with Tommy declaring his kids lacked the morals he was raised with and Brandon retaliating with a since-deleted video of his dad passed out on the floor in his underwear.
Next came Tommy attempting to shame Brandon by revealing how much he'd paid for his son's rehab. It didn't work. "I thank my Dad for paying for my treatment. It's the best thing he has ever done for me. Today I am almost two years sober. Every day that goes by I feel ever more grateful. My clear mind has allowed me to do a lot with this time," he replied. "So much so that I would like to offer to pay for his treatment."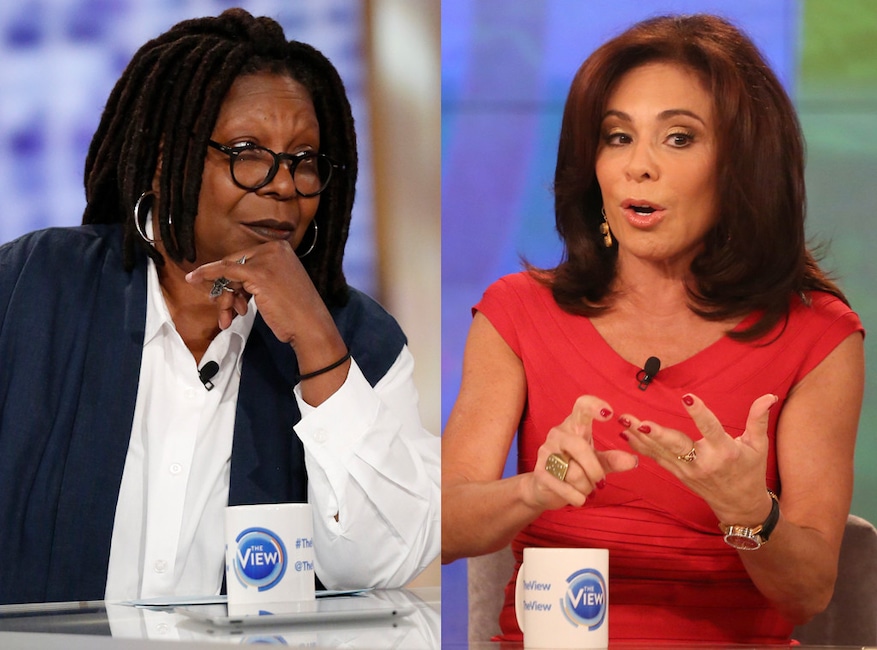 ABC/Heidi Gutman/Fred Lee
Whoopi Goldberg vs. Jeanine Pirro

When the Fox News host and outspoken President Trump supporter made her fourth appearance on the show in July 2018 to promote her new book Liars, Leakers, and Liberals: The Case Against the Anti-Trump Conspiracy, Jeanine Pirro got into a heated confrontation with Whoopi Goldberg after she accused the show's longtime moderator of having "Trump Derangement Syndrome" after she pointed at her while asking a question. The two continued arguing as the audience cheered after Goldberg tossed to commercial and the argument spilled over into the halls of ABC Television Studios. As Pirro later said on Hannity, she told Goldberg that she "fought for victims" her whole life, after which the co-host allegedly got in her face and began cursing.
Goldberg countered Pirro's side of the story on-air the following day, saying, "She came off, she could have just passed me, she didn't need to stop but she stopped, and put her finger in my face and yelled, 'I've done more for victims than you ever will!' Then I said to her some few choice words I cannot repeat. Yes, I did say it, I did say it. But, I did not spit on her, I did not intimidate her, no one chased her out of here saying, 'Get out,' but she did leave here cursing at the people who book the show. She cursed at the guys who do the security for the show."
Article continues below
Bravo
Jeff Lewis vs. Jenni Pulos

While it can sometimes seem like the better question when it comes to Jeff Lewis is "Who isn't he feuding with?" we've got to admit that the Flipping Out star's latest high-profile fight cut the deepest. And that's because it involved the complete collapse of his relationship with longtime friend, employee and sidekick Jenni Pulos. In September, during an episode of his SiriusXM radio show, he addressed reports that they'd parted ways, saying that at the end of the then-upcoming 11th season, they had a rift. As Jeff explained it, the fight "was really kind of silly" and occurred after he "offered some unsolicited career advice." Hurt upon hearing that she felt she'd given up her acting career to be his assistant, "we elected…to have her move on" from the company, he said. "And all of this was actually very civil, I thought."
Apparently, Jenni didn't agree. According to Jeff, she'd reported him to production for "wrongfully terminating her off her own show" amid allegations of "a hostile work environment." He added that he'd been cleared of "all abuse victimization charges." Though they'd cut ties, as the show began to air, he admitted on WWHL in early October, "I already miss her. But when someone crosses the line, it's kind of hard to get over."
In November, speaking with People, Jenni finally broke her silence, denying that she'd ever made claims of abuse against him and made it clear that, despite remaining an executive producer on the show, she had no intention of returning in a "friend" capacity. "I was not going to fake a friendship," she said. "I've always wished him the best, and will continue to wish him the best. He's a wonderful designer and has so many talents. I learned a lot and I'm proud of what we built."
When the episode in question finally aired at the end of November, Jeff conceded on his radio show that he might have some regrets over what went down. "I have looked at this episode and I have had a lot of time to think about it and I wish I would have handled it differently," he said. "I probably should have not called her out in front of other people because that really embarrassed her…It wasn't worth losing a friendship over. So I have deep regrets about that."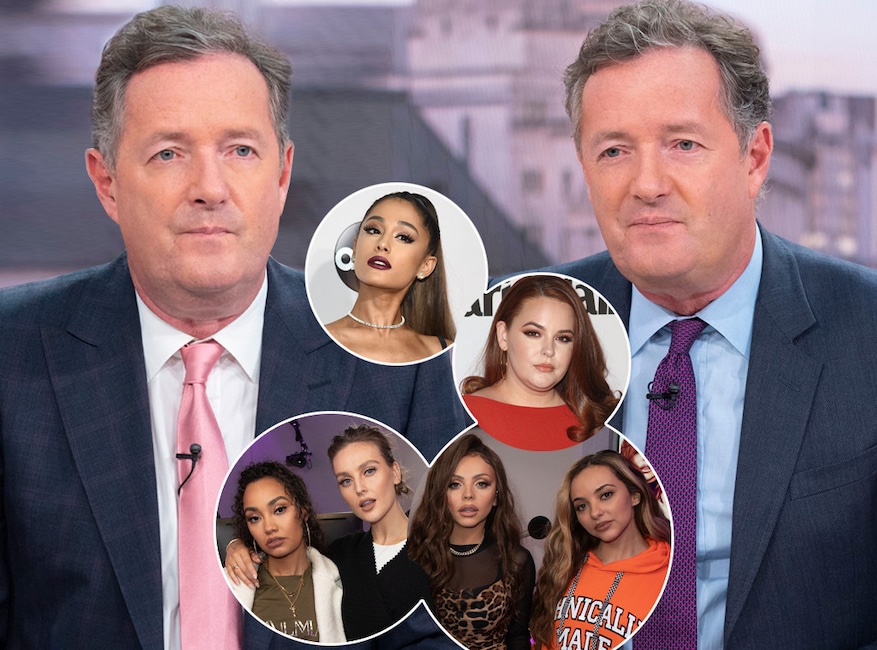 Shutterstock
Piers Morgan vs. Women

Who hasn't Piers feuded with this year, to be honest? While he took on James Bond and Captain America over Daniel Craig's use of "emasculating" use of a papoose to carry his newborn daughter and Chris Evans' decision to defend him in October, most of the newsman's Twitter feuds were with women, whom he had plenty of opinions on.
In August, he took aim at Tess Holliday's Cosmopolitan U.K. cover, in which he said the photo of the 300 pound model was "just as dangerous & misguided as celebrating size zero models." After she fired back, he wrote a lengthy open letter in which he saw fit to tell her she was at risk of an early death. "I'm doing it because I genuinely feel you are promoting a very dangerous message, and because I am genuinely concerned that your own life will be in danger if you continue down this path," he wrote. "A real friend would be telling you what I am telling you." Her response? "The last 2 weeks you've been obsessed with me," she tweeted. "Makes me feel like you're almost into thicker girls & too afraid to admit it."
And then, in November, he went after both Ellen DeGeneres—for the supposed "hypocrisy of modern feminism" she "laid bare" in her montage of celebrity men for International Men's Day—and girl group Little Mix—for a still from their new music video in which the quartet were stripped down with words of criticism written on them, which he felt they "stole" from the Dixie Chicks, who'd done something similar for Entertainment Weekly in 2003. From there, Ariana Grande and her mom Joan entered the fray, taking him to task for his words, while also pointing out that he, too, shared a stripped-down photo to promote his column just that week. "when u do it it's ok tho right?" Ariana asked.
"Is that your screensaver?" he replied, to which Ariana assured him it's not. "nah and it ain't ur girls' either i can promise u that," she snapped.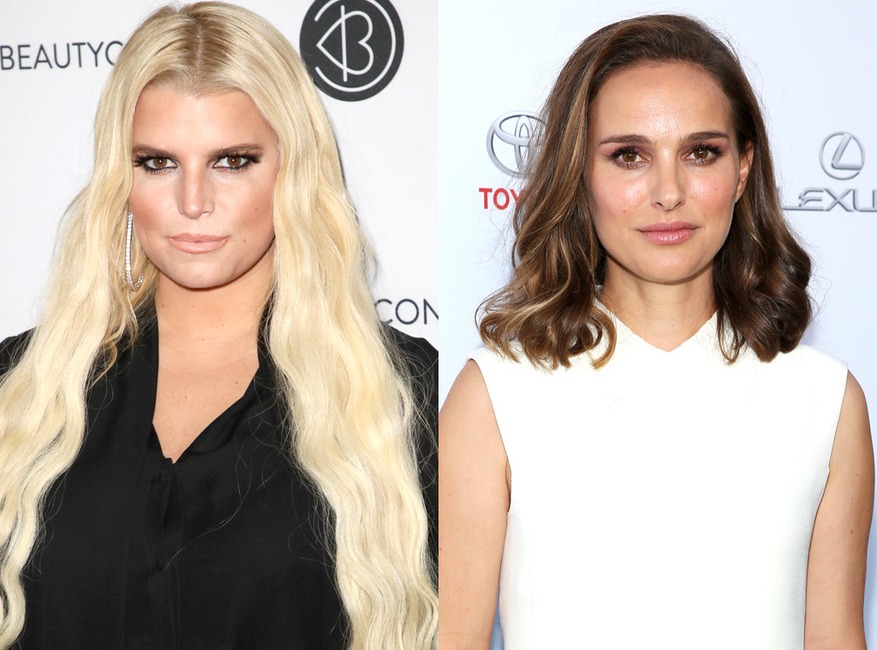 David Livingston/Getty Images; Phillip Faraone/Getty Images
Jessica Simpson vs. Natalie Portman

In a late addition to the list, fans were surprised in early December when Jessica called out Natalie on Twitter, saying, "I was disappointed this morning when I read that I 'confused' you by wearing a bikini in a published photo taken of me when I was still a virgin in 1999. As public figures, we both know our image is not totally in our control at all times, and that the industry we work in often tries to define us and box us in. However, I was taught to be myself and honor the different ways all women express themselves, which is why I believed then- and I believe now- that being sexy in a bikini and being proud of my body are not synonymous with having sex."
"I have always embraced being a role model to all women to let them know that they can look however they want, wear whatever they want and have sex or not have sex with whomever they want," she continued. "The power lies within us as individuals. I have made it my practice to not shame other women for their choices. In this era of Time's Up and all the great work you have done for women, I encourage you to do the same."
The reason? An interview with USA Today published a day prior in which the Oscar winner said, "I remember being a teenager, and there was Jessica Simpson on the cover of a magazine saying 'I'm a virgin' while wearing a bikini, and I was confused. Like, I don't know what this is trying to tell me as a woman, as a girl."
Despite this seeming to be not much more than a misunderstanding over true intentions, Natalie apologized for her words, telling Jessica, "Thank you for your words. I completely agree with you that a woman should be allowed to dress however she likes and behave however she likes and not be judged. I only meant to say I was confused – as a girl coming of age in the public eye around the same time – by the media's mixed messages about how girls and women were supposed to behave. I didn't mean to shame you and I'm sorry for any hurt my words may have caused. I have nothing but respect for your talent and your voice that you use to encourage and empower women all over the globe."
Article continues below
Source: Read Full Article