15 Top-Secret Facts About the National Treasure Franchise
November 20, 2019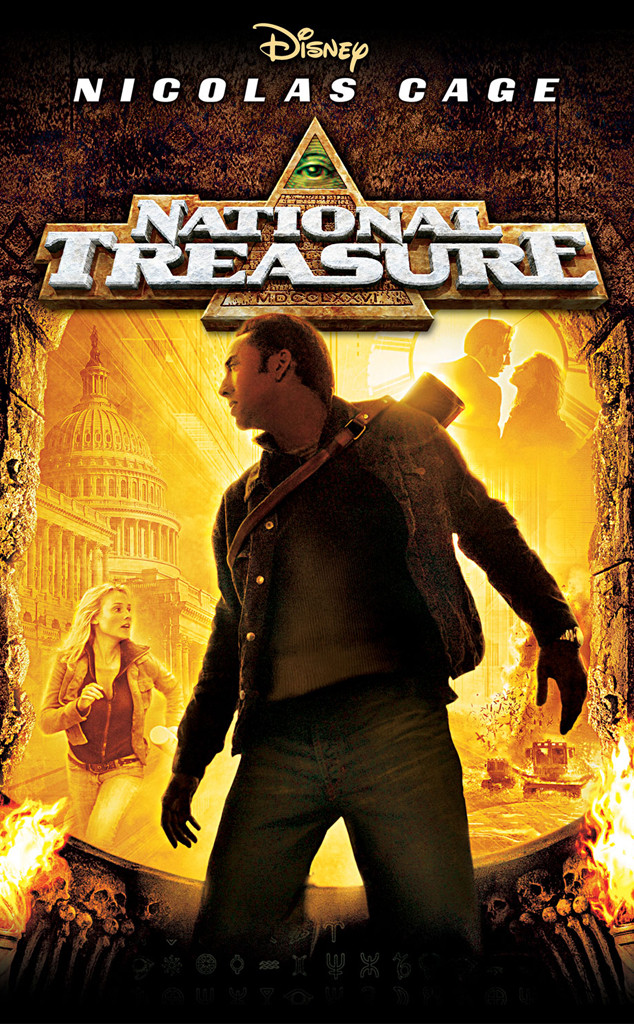 Disney
"I'm gonna steal the Declaration of Independence."
It's been 15 years since Nicolas Cage uttered that suicide mission of a statement in Disney's National Treasure, kicking off a conspiracy theory-laden quest for a lost American treasure that involved the nation's Founding Fathers, invisible ink, clues embedded on the hundred dollar bill and, of course, a map printed on the back of one of America's most precious documents.
Co-starring Diane Kruger, Justin Bartha, Sean Bean and Jon Voight, director Jon Turtletaub's film was absolutely ludicrous, and yet it proved to be such an enjoyable romp that audiences turned it into a surprise success for Disney when it was released on November 19, 2004, helping give birth to a sequel, 2007's National Treasure: Book of Secrets, that proved even more successful than its predecessor. And while the promise of a third installment in the franchise gets dimmer with each passing year, the love for the two films we did get only seems to grow.
And so, in honor of National Treasure's big 15th birthday, we've declassified 15 of the most fascinating facts about the franchise. And you don't even need Ben Franklin's multi-color lens glasses to read them.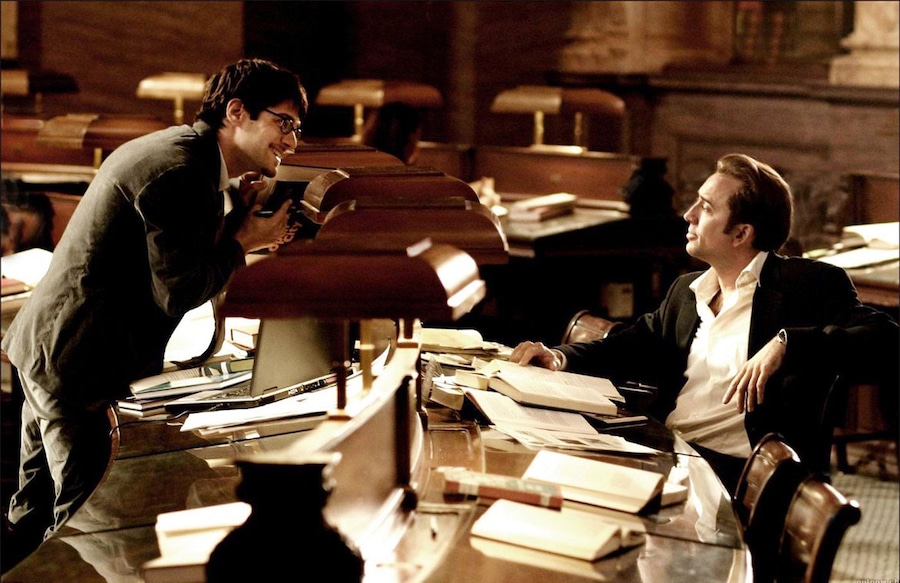 Moviestore/Shutterstock
1. The film was announced in 1999 and originally intended to be released in 2000, but original writer Jim Kouf's script was so complex that eight additional writers were hired between 1999 and 2003 by Disney to try and get it just right.
2. National Treasure may have been the first professional collaboration between star Nicolas Cage and director Jon Turtletaub, but the two actually go way back, having attended Beverly Hills High School in the late 1970s and sharing a drama class together. While promoting The Sorcerer's Apprentice, a later collaboration, Cage revealed the director had actually beat him out for a lead role in a production of Our Town, leaving the future Oscar-winner with just two lines of dialogue.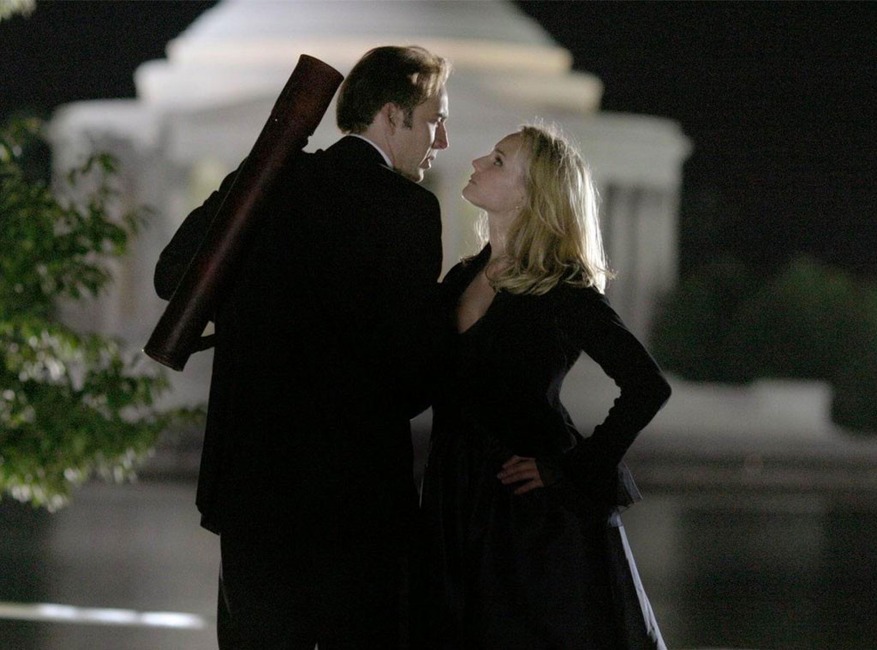 Moviestore/Shutterstock
3. While Cage made headlines earlier this year for his spirited performance of "Purple Rain" as a karaoke bar following the annulment of his marriage, he's no stranger to the Japanese pastime. It even helped he and co-star Diane Kruger bond during filming. "We'd go and karaoke from time to time and sort of blow it out and be completely ridiculous, which helped, I think," he said while promoting the film. "I think it was some Rage Against the Machine, AC/DC and some Sex Pistols."
4. The first film's central conceit, that there's a secret treasure map printed on the back of the Declaration of Independence, is pretty far-fetched, but that doesn't mean there's nothing written on the back of the all-important American document. In completely visible ink, written upside-down near the bottom of the document, reads, "Original Declaration of Independence, dated 4th July 1776." Why? Because before it was placed behind bullet-proof titanium at the National Archives Building, it was rolled up and carried around by the Second Continental Congress, with the text working as a label.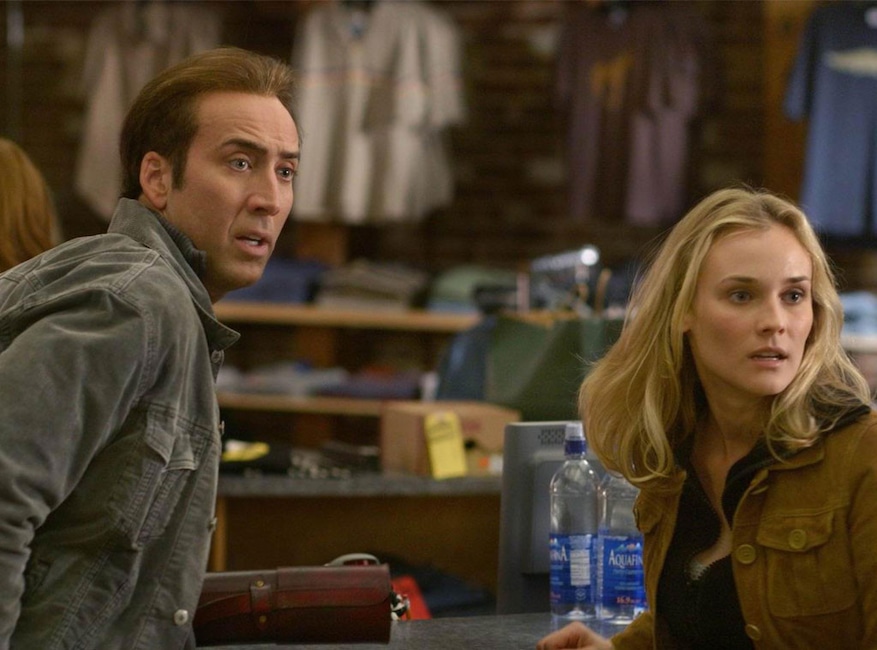 Moviestore/Shutterstock
5. The clock at Independence Hall seen at 2:22 on the back of the hundred dollar bill that serves as one of the film's clues? It's real. Officially, it's said to be at 4:10, but the hand pointing to the two certainly appears to be the shorter of the two. In 2013, the bill was released with the time on the clock changed to 10:30. There is no known reason for the selection of either of these times.
6. For the scene that required Cage's Ben Gates to run across the roof of Independence Hall in Philadelphia, production traveled not to Pennsylvania, but to Knott's Berry Farm in Buena Park, Calif. where Walter Knott had a perfect replica of the historical landmark built back in the 1960s.
Article continues below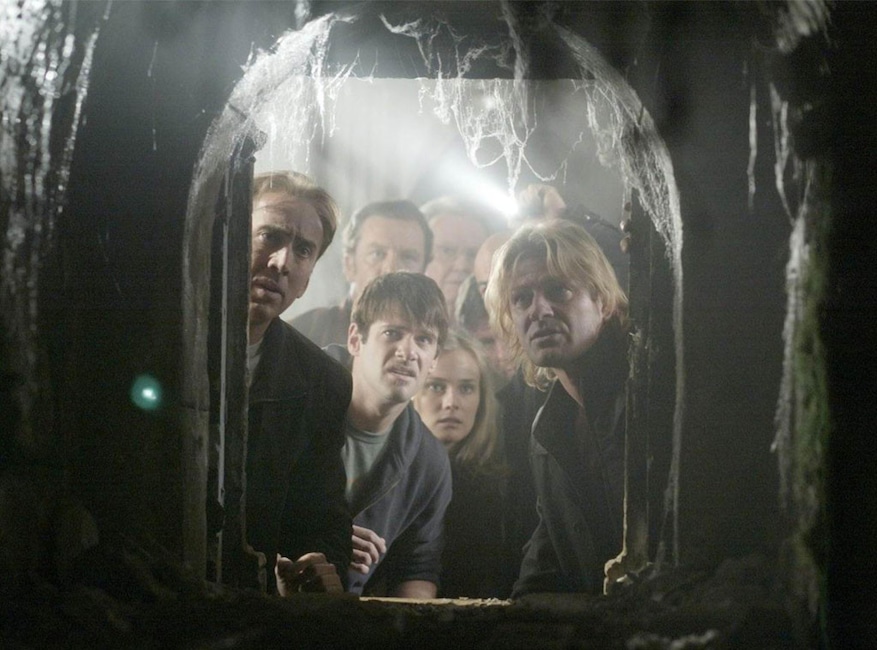 Moviestore/Shutterstock
7. Despite him staring as the villain, National Treasure marks one of the few projects in journeyman actor Sean Bean's career wherein he doesn't die. he's been killed in film and on TV an astounding 23 times, most notably losing his head as Ned Stark in the first season of Game of Thrones.
8. While the filmmakers admitted in the first film's commentary that there were never any plans for a sequel as they were making the first film, National Treasure's surprisingly impressive haul at the box office—$347.5 million worldwide, to be exact—meant that Disney wanted to keep the gravy train going and a follow-up was given the green light in 2005.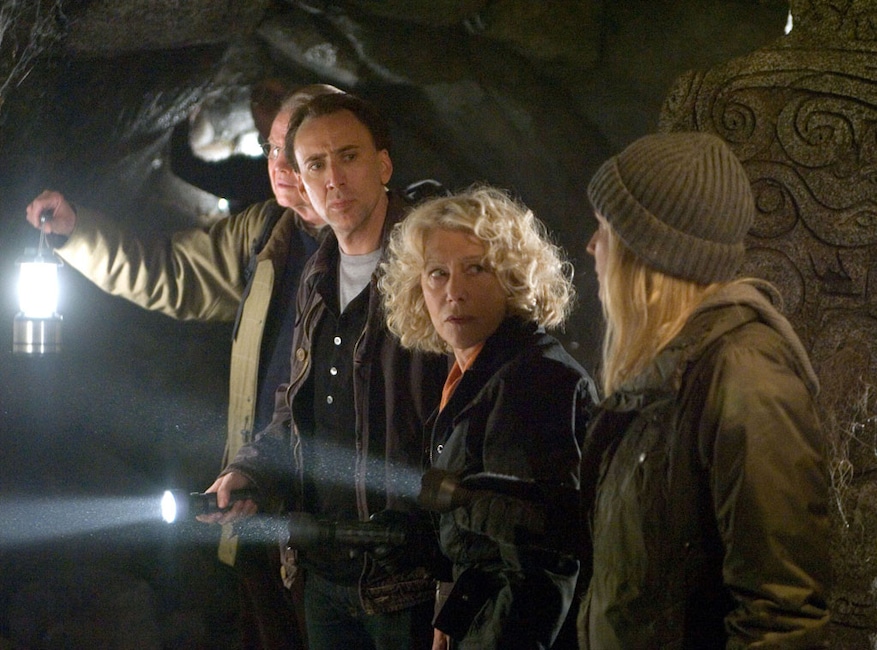 Jerry Bruckheimer/Walt Disney/Kobal/Shutterstock
9. Signing on as Ben's mother in National Treasure: Book of Secrets, Helen Mirren was forced to turn down an invitation to visit Queen Elizabeth II, sent in response to her portrayal of her in the 2006 film The Queen, because she was busy filming in South Datoka at the time.
10. The area in the Library of Congress where the titular Book of Secrets is found by Cage's character doesn't not house any book shelves. They were constructed in a previously empty balcony of the Library's Main Reading Room and dismantled once filming was over.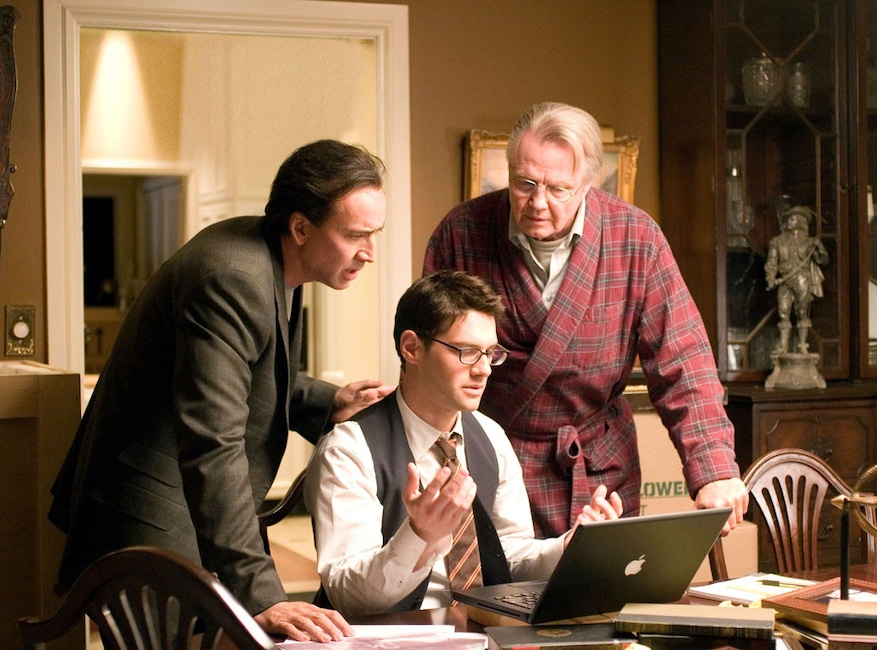 Jerry Bruckheimer/Walt Disney/Kobal/Shutterstock
11. The house uses as the home of Jon Voight's Patrick Gates in Book of Secrets is the same one used in Mr. & Mrs. Smith, which famously starred his daughter Angelina Jolie.
12. After he was inaugurated two years following the release of Book of Secrets, President Barack Obama joked with Philadelphia radio talk show host Michael Smerconish that he'd been provided with the titular book, in accordance with the film's mythology that all president's received it upon taking office. When asked which secret impressed him most, he quipped, "I would tell you, but I'd have to kill you, so…" After admitting he'd seen the film, he took the gag a step further, telling the host, "And I don't want you messing with my Resolute Desk, you know, with all the gizmos and gadgets."
Article continues below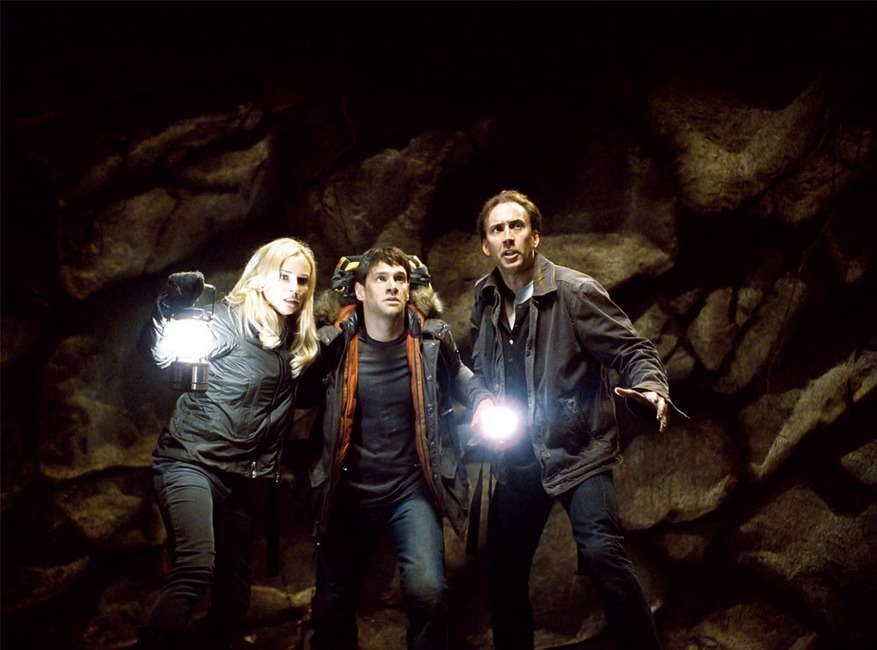 Moviestore/Shutterstock
13. The night before Book of Secrets' scenes at the University of Maryland were to be film, a half an inch of snow fell. The crew reportedly had to use fire hoses to hose down the entire McKeldin Mall and nearby locations to melt snow so as to keep continuity in the movie, as the scenes in question were to take place in a warm spring day.
14. With the franchise responsible for an uptick of visitors at the National Archives, it's also lead to guards and escorts facing down questions from visitors that could only have been inspired by watching the films, including if they were filmed there and if there's actually a map on the back of the Declaration. "There's a routine we go through up there," Robert Pringle, a security guard with American Security Programs, which is contracted by the Archives, told The Washington Post in 2012. "I call it 'that movie.' We get a lot of questions about the filming."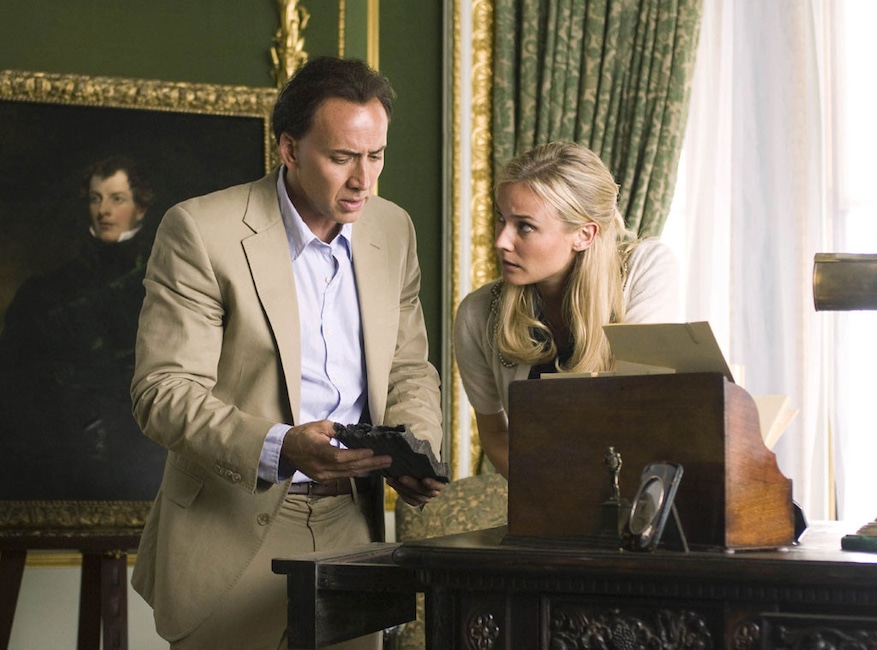 Moviestore/Shutterstock
15. Plans to extend the franchise seemed in the works since Disney registered domains NationalTreasure3DCD.com and NationalTreasure4DVD.com in 2008, with a potential plan to explore the question about page 47 of the Book of Secrets for the third film in place. By July 2018, Turtletaub admitted a follow-up was all but dead. "It's really that Disney feels they have other films they want to make that they think will make them more money. I think they're wrong. I think they're right about the movies they're making; they're obviously doing a really good job at making great films. I just think this would be one of them, and they don't quite realize how much the Internet is begging for a third National Treasure," he told Collider, adding that a script for the third film in the franchise that grossed over $800 million does exist. "The script was close, but not so great that the studio couldn't say yes. But it's been good enough that the studio could have said, 'Yes, keep going. Get closer.'"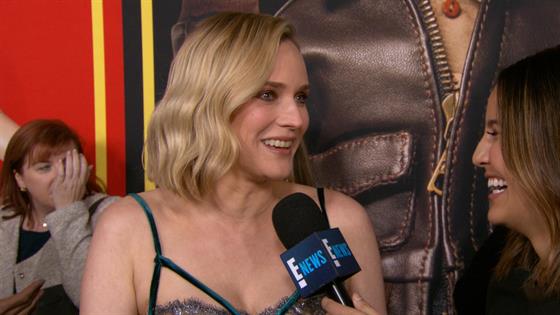 E! News returns weekday mornings at the beginning of 2020!
Source: Read Full Article