12 Best Pregnancy Pillows Of 2021, According To Real Expectant Parents
January 12, 2021
So, you have a perfect little bébé growing inside of you. How'd you sleep last night?
Oh, you didn't? Understandable. Finding the right sleeping position is hard enough when you don't have a honeydew melon to maneuver. Between tossing and turning, endless pee breaks, and the anxiety (and excitement!) of parenting a real-life, breathing human baby, you're lucky to get a few winks of sleep per night.
Baby bumps are beautiful, but not always comfortable (understatement of the millennium, right?). And when yours prevents you from catching those much-needed zzz's, that's when you know it's time to call in reinforcements: pregnancy pillows.
The right pregnancy pillow will become your bedtime BFF faster than you can count sheep. Designed to ease pressure points that prevent quality sleep and cause aches in the a.m., they also support your precious bump better than any combo of pillows currently piled on your bed. And that's what dreams are really made of.
Finding the perfect pregnancy pillow is basically like playing Goldilocks, except with letter-shaped options that hug you every which way. Need something small? Try a wedge that fits right under your bump or behind your back. (Plus, it's portable!) Want more? Opt for a U-shaped pillow for total-body support, or to spoon you when sleeping on your side. If that's too much like a cocoon, compromise with a C-shaped pillow, which can be molded in a variety of ways to offer similar full-body support, but gives you a bit more space. There's even an inflatable option made for stomach sleepers that rivals any pool floaty.
With so many to choose from, it can be hard to know which pregnancy pillow is right for you without taking it on an eight-hour test run. Luckily, you don't have to—these are the 12 best pregnancy pillows, bed-tested and recommended by parents-to-be.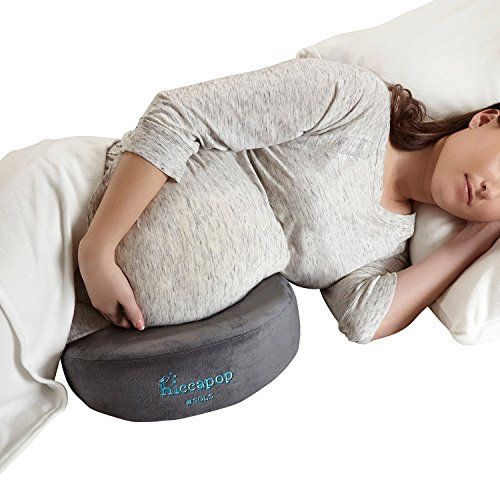 Small but mighty, this wedge is a wonder for your back, knees, and growing li'l bump. Even better? It's double-sided so you can flip from soft memory foam to the firmer side when your bod calls for more support. Plus, you can stuff it in the included carry bag when traveling (even if it's just from bed to couch).
Rave Review: "I specifically bought this for travel since traveling with a large pregnancy pillow seemed a bit obnoxious. While I do enjoy it on my trips, I even use it every night while at home."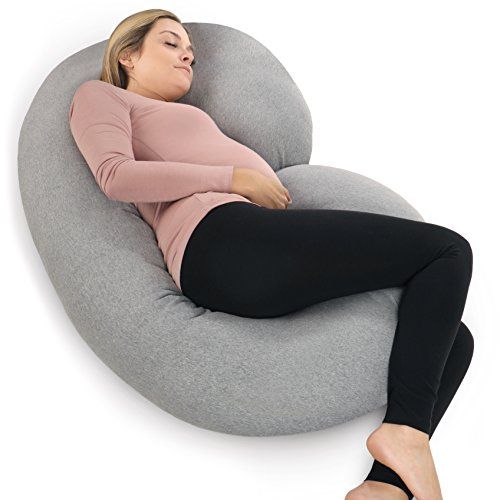 You'll peep this C-shaped pillow on a ton of "best of…" lists—and for good reason. Sure, it takes up space, but every inch serves a specific purpose for your back, hips, knees, neck, and head. Plus, it's super ~flexible~, so you can make adjustments to target the achiest spots. Goodbye, sleepless nights.
Rave Review: "I waited to buy this pillow, thinking I would be able to just handle being surrounded by regular bed pillows. I made it up to 27 weeks before caving and treating myself. I wish I hadn't waited…I can lay any way I want on top and don't feel hip pain or pressure throughout the night."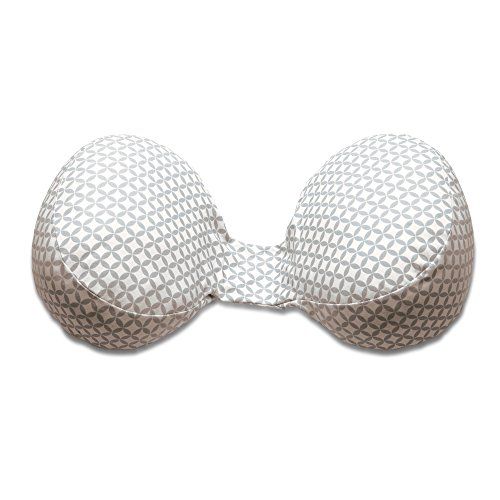 Attention, side-sleepers—or expectant parents who are trying. This two-sided pillow keeps you in place all night long, while offering relief to your bump and back. Bonus: The compact design means you can still use your fave head pillow.
Rave Review: "Since the start of my second trimester, I've been trying my hardest to sleep on my sides, but I would keep waking up on my back or tossing from side to side with sore hips. Since purchasing this pillow a couple of weeks ago, I only turn over perhaps once during the night, and it keeps me from rolling onto my back."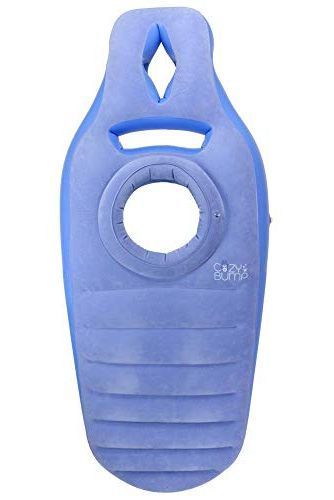 If you can't give up tummy time, this inflatable mattress-esque pillow has cutouts for your face, bust, and belly so you can rest comfortably and safely. Pro tip: It's great for receiving massages, too. You're welcome.
Rave Review: "My back hurts with this pregnancy and I'm normally a stomach sleeper. This came THROUUUUGH for me. Now I'm chilling."
Your partner might want to steal this cuddly body pillow, so watch out. It'll support your back, legs, and belly throughout your pregnancy. And who knows? It's so comf, it might earn a permanent spot on your bed.
Rave Review: "I bought it for relief of pregnancy pain and it has been working wonders! I finally fell asleep for more than one hour last night."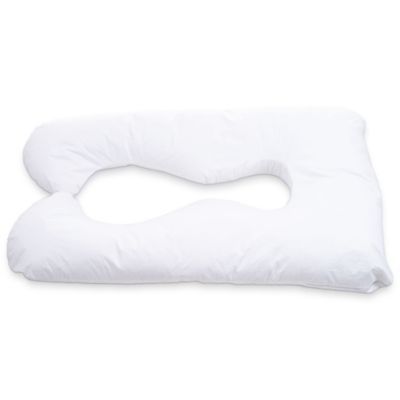 Ever wanted to feel like a baby bird in its nest? Here ya go. Thanks to the hourglass shape, this pillow contours to your every curve with maximum support—no matter how far along you are or the position of your body. It also has a removable washable cover, which makes cleaning a breeze.
Rave Review: "This pillow significantly improved my ability to be comfortable while sleeping. After I gave birth, I also used it as a nursing pillow for a while, especially those early weeks when I was still healing."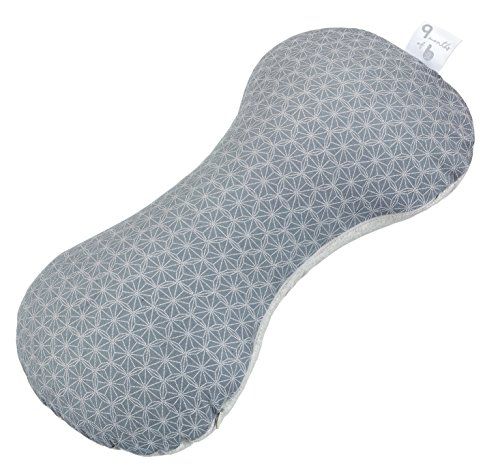 If you're hesitant about spending a good chunk of change on a huge pregnancy pillow, you can use this compact, multi-use option during pregnancy and beyond. While expecting, slot it between your legs for back, bump, and hip support. When baby arrives, use it for extra comfort as you nurse.
Rave Review: "The best most versatile product. I couldn't imagine my pregnancy and newborn experience without this pillow. I honestly used it for so much. I slept with it between my legs while I was pregnant. I used it to nurse my daughter after she was born. I carried it whenever we traveled and even used it whenever I laid next to my sleeping baby daughter for extra head support."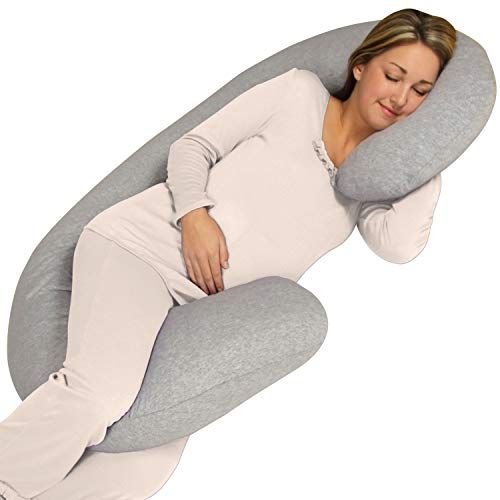 Is this mommy blogger-approved pillow already on your wishlist? Makes sense. The full-body, straddle-able pillow is covered in 100-percent cotton jersey, making it as soft (and breathable) as your fave tee. Usher in sweet dreams and less aches as you give relief to your whole body: I'm talking head, neck, hips, back, and belly.
Rave Review: "This has been a lifesaver during my pregnancy. I'm normally a back sleeper and was having a hard time getting comfortable sleeping on my side. I love that you can have the pillow in front of or behind you depending on what's more comfortable as your pregnant belly grows, and it's great because you can wrap your arms around it as you sleep and put the other piece between your knees."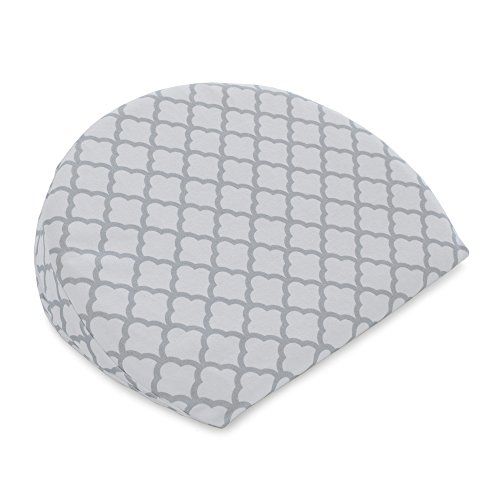 This wedge zaps pressure away from your bump and back—a lifesaver when settling into the perf spot. Affordable, portable, machine-washable, and covered in soft jersey…what else could you ask for?!
Rave Review: "I originally purchased to stop myself from turning on my tummy but now I use it to relieve the weight of my tummy when sleeping on my side which helps me sleep a lot more comfortably. It's also great to use as a knee pillow when sleeping on your side. I also have used it when I'm sitting at the computer as a cushi for my back and I bring it to prenatal yoga."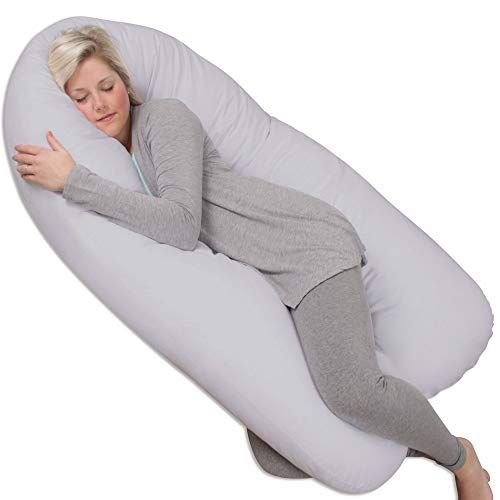 Created with—you guessed it—the back and belly in mind, this pillow molds to the natural curve of your body for a personalized fit. It supports your bump as it grows, while helping alleviate pesky backaches. Bending to your neck and shoulders, its self-declared "caress your neck" feature sounds like a major comfort. Fine, it's not quite a neck massage, but it'll do in the middle of the night when your partner's fast asleep.
Rave Review: "This product is heavenly. I researched and debated pregnancy pillows for a good month before I finally settled on this one. First, I absolutely love the U shape of the pillow. I can prop my back against one side which helps relieve my hip pain, while putting my leg over the other side for a much more comfortable position… I was worried the pillow would be too short, but I can pull the pillow on one side to make it longer if I need to."
Depending on what kind of support your body needs ATM, you can move this pillow to target different painful spots. You might slip it under your lower back one night, or under the head and neck the next. The kidney-shaped design maximizes its space without pushing your partner to the very edge of the bed (win-win!).
Rave Review: "I was having a lot of hip and lower back pain, as I am carrying all in the front. This pillow has been a lifesaver. I tuck the large part between my upper thighs and knees, and the smaller part supports my growing belly."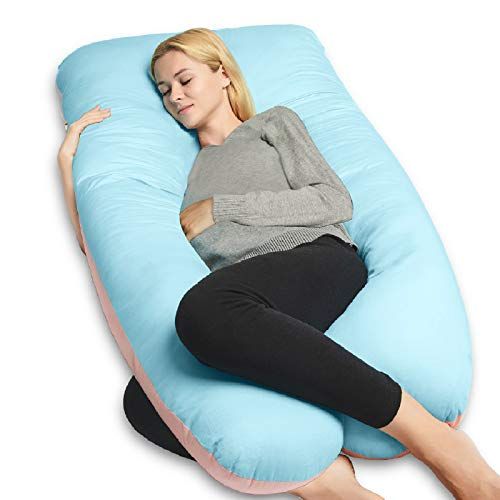 Another top seller on Amazon, this full-body pillow is a go-to for expecting moms looking for better shut eye without breaking the bank. The oversized U-shape allows you to stretch out every which way and even contours to follow your movements. Bend, fold, wrap it (bop it—just kidding!) however you want. This may be a hefty pillow, but that's all the better to burrow into—all for less than $40.
Rave Review: "I am in my 5th month of pregnancy and even though my tummy isn't huge yet I was having a lot of trouble sleeping. I would toss and turn. My back and hips would hurt throughout the day, I would wake up with headaches, and always be exhausted (and cranky)! This pillow has changed all of that! No joke the first night I slept with this thing I got better sleep than I had in two months."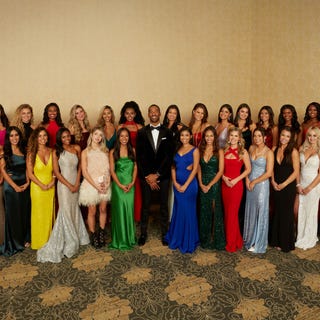 Source: Read Full Article