10 Love Triangles That Played Out On Reality TV
March 11, 2023
Tom Sandoval, Ariana Madix and Raquel Leviss aren't the only ones!
There's plenty of relationship drama when it comes to reality TV — and things can get pretty heated when more than two people are involved! From MTV to Bravo, quite a few love triangles have played out while television cameras rolled.
Viewers watch these shocking sagas unfold as relationships are tested by the involvement of a third party. And with shows like "The Ultimatum" and "Bachelor in Paradise," reality TV has become ripe territory for love triangles — with many of them unfortunately ending in heartbreak.
Here's what went down with these love triangles…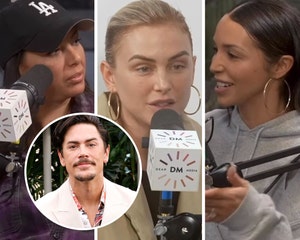 Vanderpump Rules Stars Slam Tom Sandoval Amid Raquel Leviss Scandal: 'Soul-Sucking' 'Narcissist'
1. Tom Sandoval, Ariana Madix & Raquel Leviss
"Vanderpump Rules" stars Tom Sandoval and Ariana Madix had been dating for nine years when it was announced they were going their separate ways. It turns out that Tom had allegedly been having an affair with their co-star Raquel Leviss since the summer of 2022, at least six months prior to Tom and Ariana's split. Not only had they secretly been hooking up, but sleuthing fans pointed out that they may have been dropping hints about their affair all along — from matching jewelry to Halloween costumes.
Following news of the cheating scandal, Tom issued an apology, telling fans that he does "fully understand and deserve ur anger & disappointment" towards him and asked that his business partner Tom Schwartz, employees, friends and family be left out of the situation.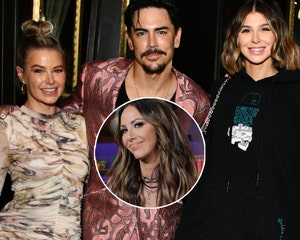 Kristen Doute Details Moment Ariana Madix Found Out About Tom-Raquel Affair
2. Luann de Lesseps, Sonja Morgan, Ramona Singer & Tom D'Agostino
The ladies of "The Real Housewives of New York City" have had their fair share of drama with entrepreneur Tom D'Agostino. Tom first found romance with Sonja Morgan, who says the pair had been "friends with benefits for over twenty years." He also reportedly dated Ramona Singer at one point but that all ended when he began his relationship with Luann de Lesseps. Sonja didn't take news of their romance very well and it ended up causing drama between the women. Looking back, Sonja admits she was mostly upset because she didn't like the way Tom handled the end of their romance.
"I think that Tom just needed to tell the truth. Tom said to Luann that he was seeing me. I knew the group knew and it was going to come out. I knew there was no getting around it. To be polite, I said we were friends with benefits," she told Vulture. "I don't expect the man to do that. The man has to make a woman feel special. He should have said, 'We were really good friends and we had something special, but then I fell for Lu.' That would have made us both feel special."
Tom and Luann went on to tie the knot but called it quits after just seven months of marriage amid rumors of his infidelity.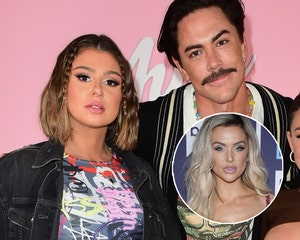 Lala Kent Blasts 'Narcissist' Tom Sandoval, 'Social Climber' Raquel Leviss On Podcast
3. Sonja Morgan, Luann de Lesseps & Harry Dubin
Sonja Morgan and Luann de Lesseps have found themselves in more than one love triangle — this time involving real estate entrepreneur Harry Dubin. Sonja says she dated Harry over three decades ago before he found love with their "RHONY" co-star Aviva Drescher. Harry and Aviva ended up tying the knot but divorced in 2005. Following their split, Harry took Sonja on a picnic date where Bravo cameras captured him giving her a promise ring. It's unclear the significance of the ring because later that episode, fans watched as he left with Luann. The duo have never confirmed a hookup went down, but it has been alluded to in other episodes.
"We dated thirty years ago. He cheated on me. I broke up [with him] over that. Then, he married Aviva [Drescher]. She threw her leg. He came back to me and I went on a picnic with him on my show," Sonja said of the relationship.
While Sonja and Luann put Harry behind them, he later resurfaced when Ramona Singer was spotted making out with him in 2018.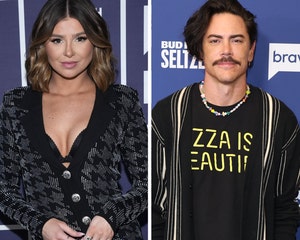 Raquel Leviss Says She's Working On 'Being Alone' Amid Tom Sandoval Scandal
4. Kristin Cavallari, Lauren Conrad & Stephen Colletti
Kristin Cavallari and Lauren Conrad's relationships with their "Laguna Beach" co-star Stephen Colletti was a main focus of the MTV reality show. It turns out that a lot of the drama between the trio was over before filming even started — but the network purposely put them in situations to reignite the feud. Throughout the show, Lauren and Kristin battled it out for Stephen's affection, which ended up being really hurtful to Kristin, who was actually dating Stephen.
"I felt very used and manipulated. My boyfriend at the time, the producers would have him take Lauren Conrad to dinner and buy her flowers, which never would have happened if it weren't for the show and for MTV," Kristin said on "Oprah: Where Are They Now?"
Kristen and Lauren later apologized to one another on Kristin's "Back to the Beach" podcast.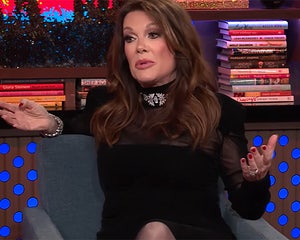 Lisa Vanderpump on Tom Sandoval, Raquel Leviss Scandal, Apologies and What Schwartz Knew
5. Mike "The Situation" Sorrentino, Sammi "Sweetheart" Giancola & Ronnie Ortiz-Magro
Early on in "Jersey Shore" filming, both Mike "The Situation" Sorrentino and Ronnie Ortiz-Magro both had feelings for Sammi "Sweetheart" Giancola. During the show's second episode, titled "The Tanned Triangle," Mike tried to pursue Sammi. Despite spending time together, Sammi was more into Ronnie and when they all ended up at a club together, Sammi made her move on Ronnie. Mike wasn't pleased that Sammi had moved on to Ronnie — which started the pair's longtime on-and-off relationship.
6. Eliza Isichei, Rodney Mathews & Justin Glaze
On the most recent season of "Bachelor in Paradise," Eliza Isichei got caught in a love triangle with Rodney Mathews and Justin Glaze. Eliza had originally been paired up with Rodney but when Justin showed up, she became conflicted about her emotions. When Rodney allowed Eliza to go on a date with Justin, she told him that she had wanted him to fight for her and he failed to do so. After some tense conversations and her clear feelings for Justin, Eliza ended up giving Rodney her rose. But the following day, she told him she made the wrong decision and left the island in order to pursue Justin — who ended up turning her down.
"It felt very back and forth," Rodney later said. "I didn't know what to do or what to make of that situation or that information. To be honest with you, it was very difficult. I was once again speechless, confused. I didn't really know what to say. It was a very tough situation."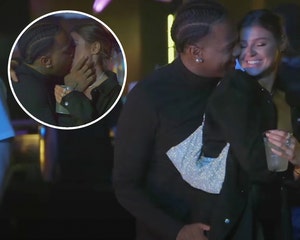 Raquel Leviss Called Out for 'Sweet Innocent Act' on Vanderpump Rules
7. Ashley Iaconetti, Caila Quinn & Jared Haibon
"Bachelor in Paradise" isn't short on love triangles and another one of the most dramatic situations was between Ashley Iaconetti, Caila Quinn and Jared Haibon. Ashley fell hard for Jared during season two but unfortunately their relationship didn't last outside of the show. When Jared returned for season three, he began a romance with Caila — despite the fact she had previously told Ashley that she would stay away from Jared. Ashley showed up on the island for another shot at love with Jared, only to be devastated to find out he had gotten together with Caila.
"That gave me the most anxiety in my life and I won't lie, I went into depression after. It was, like, not a good time. I regret most promising to Ashley that I would never date Jared," Caila said on Us' "Here for the Right Reasons" podcast. "Because if I never had made the promise then we wouldn't have been in this predicament. At the same time, she did pressure me to make the promise very hard."
Jared ended up leaving the show with Caila but their relationship didn't last. After many ups and downs, Jared and Ashley finally ended up dating and are now married.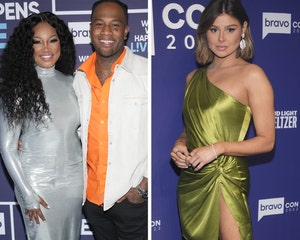 Garcelle Beauvais Reacts to Son Oliver Kissing Raquel Leviss, Scandoval Situation
8. Jo De La Rosa, Gretchen Rossi & Slade Smiley
Things got dramatic for "The Real Housewives of Orange County" stars Jo De La Rosa and Gretchen Rossi when Gretchen got involved with Jo's ex fiancé Slade Smiley. Looking back, Jo says she felt that Gretchen had broken "girl code" by moving on with her ex, especially because they had met while she and Slade were still together.
"We were together for five years. Here is the funny thing, some insider information: even though I was on the show; I was still in love with Slade. I was still trying to work things out. It was never really over for Slade and I. Even after 'Date My Ex,' Slade and I were still trying to work it out and then….came Gretchen," Jo shared.
Despite the circumstances, things worked out for Slade and Gretchen who are now engaged and have a little girl together.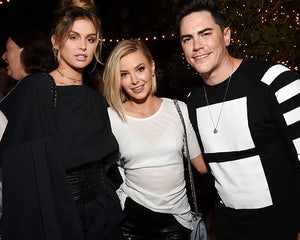 Lala Kent Calls Tom Sandoval and Raquel Leviss 'Disgusting,' as Tom Apologizes to Ariana Madix
9. Jake Cunningham, Rae Williams, & Zay Wilson
The premise of Netflix's new dating show "The Ultimatum" makes it pretty easy to fall into a love triangle. When Rae Williams and Zay Wilson joined the show, they had been dating for over two years and Rae wanted to be engaged. Since Zay was hesitant, Rae ended up giving things a shot with fellow contestant Jake Cunningham. By the end of the show, the pair had decided to leave their previous partners and continue dating in the real world. Unfortunately, things didn't work out and after giving things a shot with Zay one more time, Rae ultimately didn't end up with anyone from the show.
10. Randall Griffin, Shanique Imari & Madlyn Ballatori
Randall Griffin from "The Ultimatum" also ended up in a love triangle. After his girlfriend Shanique Imari issued him an ultimatum to propose, he ended falling for fellow contestant Madlyn Ballatori during their time apart. While they enjoyed their time together, they decided to go back to their original partners at the end of the show. Randall and Shanique left together and although they broke up for a time after filming ended, they eventually got back together.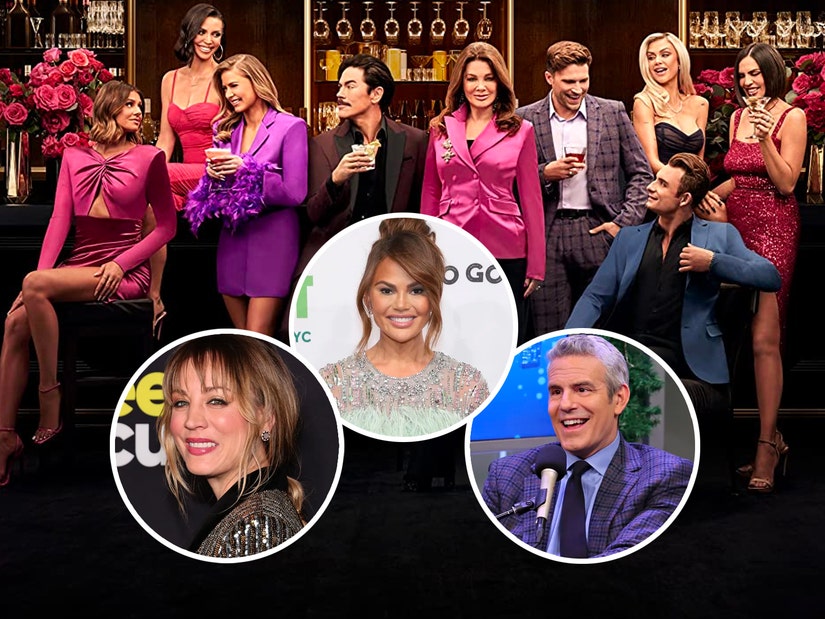 Source: Read Full Article