Target Made Ugly Holiday Dresses That You Will Actually Want To Wear
December 3, 2018
Now that the holidays are officially upon us, it's time to get the hot chocolate a-brewing, the tinsel strewn, and the Hallmark holiday movies turned on in a loop. But for ultimate festive coziness, one needs an ugly holiday sweater — or, to take it a step further, an ugly Christmas dress. Target is now selling "ugly" Christmas dresses, (available in sizes XS-XXL) upping the ante on the kitschy holiday tradition by letting you dress in a complete outfit that delivers head-to-toe holiday cheer.
No matter which holiday you celebrate, there is an ugly holiday sweater version that will help you get into a jolly mood with its flamboyant colors, cheesy prints, and its pleasantly gaudy decorative accents. And now you can take it a step further by expanding that look into a complete dress.
Wear it to everything from "12 Days Of Christmas" bar crawls, to a holiday party at your friend's house, to that moment where you open presents on the big day — there are plenty of uses you can get out of it this season. While these dresses are meant to be "ugly," many of them are actually really sweet and cute. Sure, they're over the top and completely flashy, but that's part of the charm of dressing up for the holidays. Check out Target's selection below, and get ready to turn into all things merry and bright.
Candy Cane Striped Dress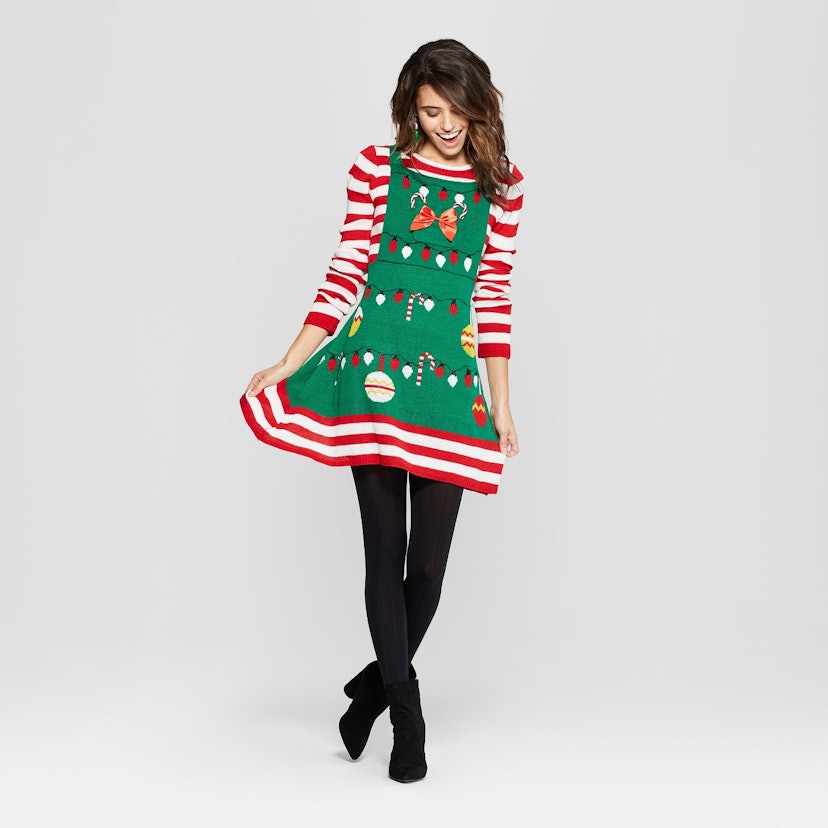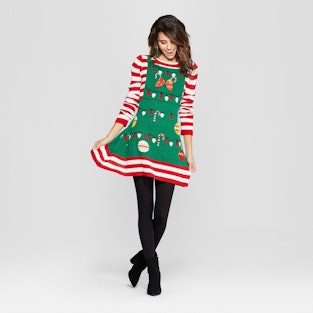 Candy Cane Striped Dress
$33
Target
Running from sizes XS-XXL, the Candy Cane Striped Dress will bring some traditional holiday cheer to your closet. Sporting candy cane stripe sleeves, the frock rocks a green apron down the front that is then decorated like a Christmas tree, complete with hanging ornaments and string of lights.
Gingerbread House Dress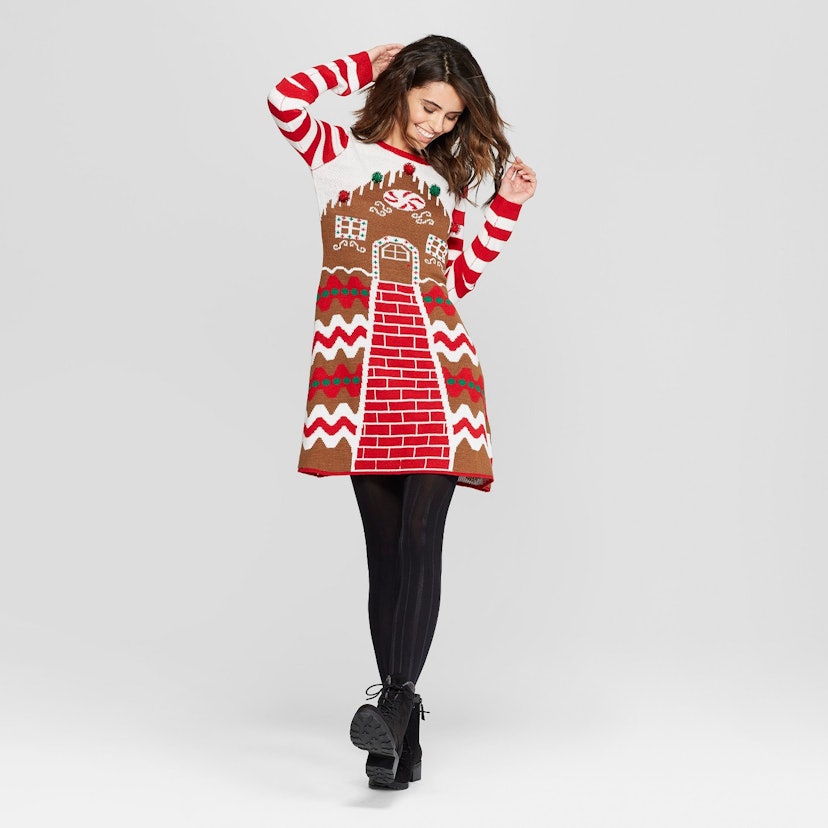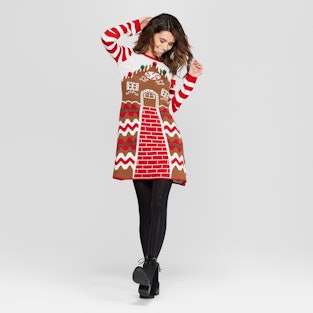 Gingerbread House Dress
$33
Target
Offered in sizes XS-XXL, this dress will allow you to not only make gingerbread houses this season, but also wear them. The mini features an expertly decorated house on the front matched with red and white striped sleeves and back, giving it a clashing kind of look that ugly holiday sweaters are famous for. The dress also rocks red and green tinsel pompoms across the chest for some extra flair.
Hanukkah Dress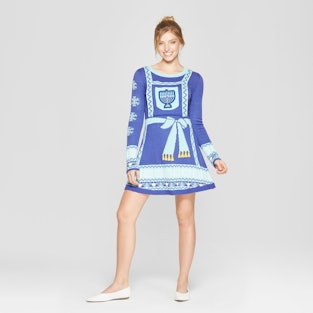 Hanukkah Dress
$33
Target
Celebrate Hanukkah in style with this blue knit dress, complete with a menorah applique on the chest and menorahs and dreidels woven into the trim around the cuffs and hem. It also has knit snowflakes running down the arms for added flair, as well as knit crisscross straps in the back to make it look like you're wearing a real apron.
Toy Soldier Dress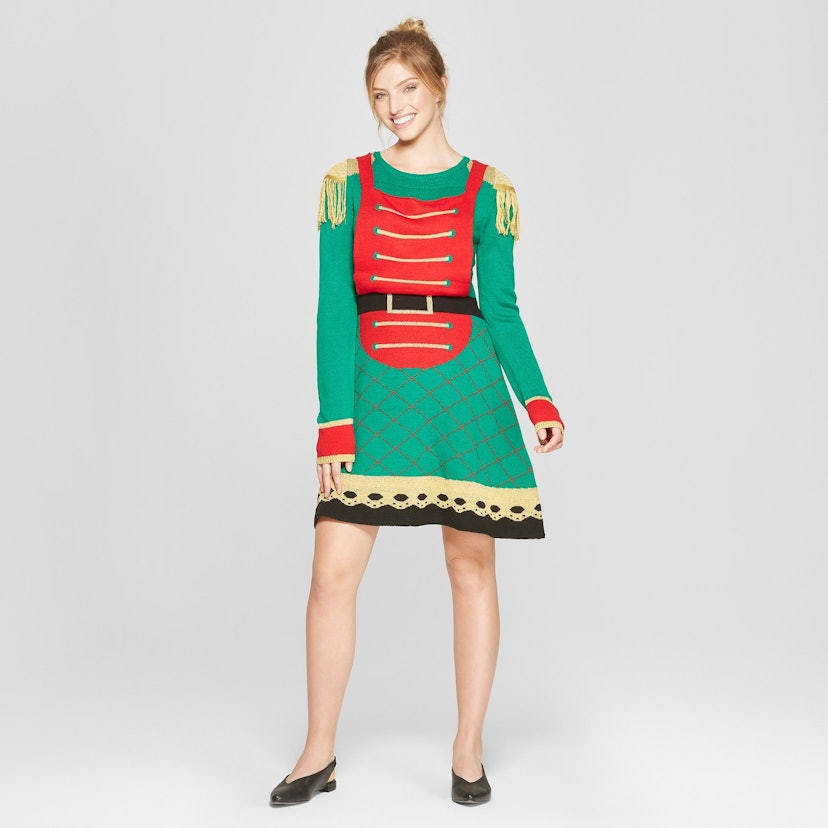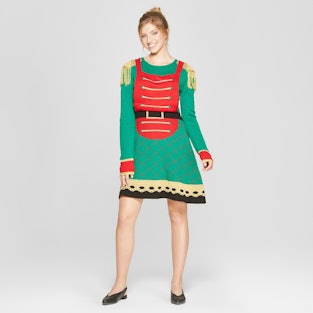 Toy Soldier Dress
$33
Target
Running in sizes from XS-XXL, this playful number lets you dress up like a toy soldier, giving off some major Nutcracker vibes.
From Hanukkah-themed dresses painted in different shades of blue, to gingerbread house frocks that will make you feel full of holiday cheer, these are just the items to spruce up your winter wardrobe.
Source: Read Full Article