Killing Eve's Costume Designer Reveals How She Dresses TV's Most Complex Villain
August 24, 2020
Killing Eve costume designer Sam Perry, who is nominated for an Emmy, told E! News about the planning that went into creating the looks for Villanelle, portrayed by Jodie Comer.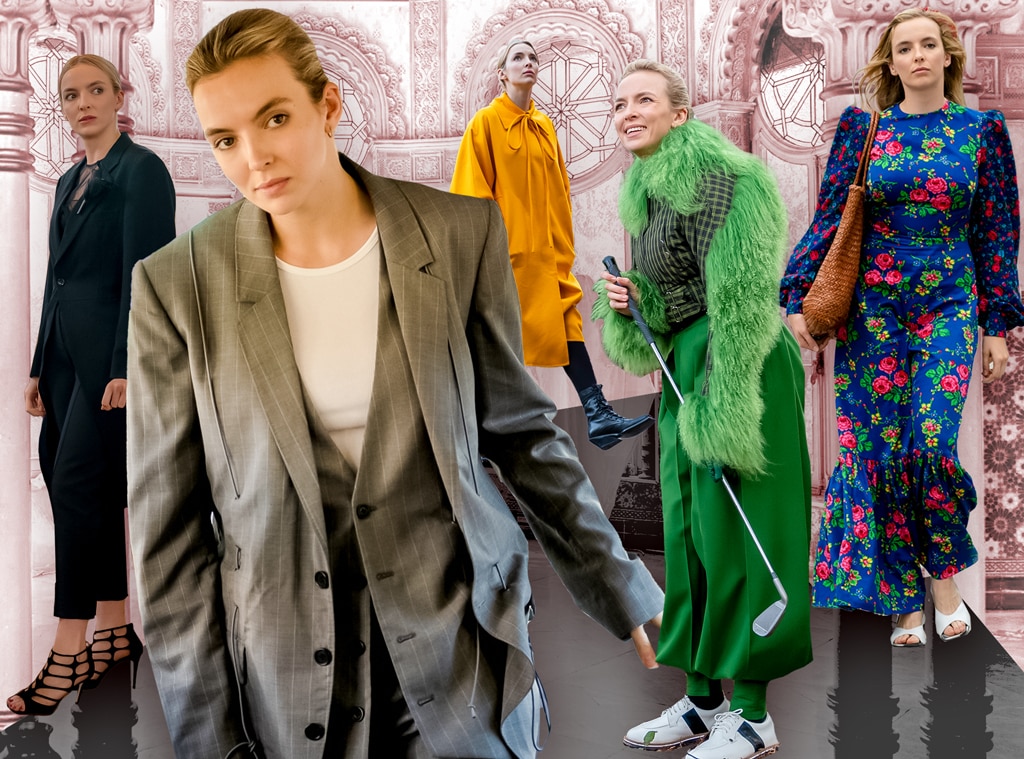 One can tell a lot about a person based on their clothing.
A coffee stain on a shirt, or the lack thereof, can hint at the level of chaos someone experienced that morning. Likewise, the decision to wear a hoodie rather than a coat can indicate whether a person intends to go into an office that day. 
It's these subtle details that Killing Eve costume designer Sam Perry took into consideration when planning out the looks for season three of the BBC America series. 
Talking to E! News on the phone from her home in England, Perry shared that ahead of filming she would look over the script and talk to the art department to determine how the characters' own journeys would be reflected in their wardrobe. And since this season largely focused on Villanelle's (Jodie Comer) mission to understand who she is, it makes sense that a large part of her time was dedicated to dressing the complex lead.
To learn of Perry and her team's process, continue reading below.
Trending Stories
Rose McGowan Accuses Alyssa Milano of Making Charmed "Toxic AF"
Kelly Ripa & Her Kids Hilariously Recreate 17-Year-Old Vacation Photo
Sofia Richie Celebrates Her 22nd Birthday with Kylie Jenner's BFFs
Starting the discussion with Villanelle's wedding in episode one, Perry explained that she dressed her in a black Comme des Garçons tailcoat and Simone Rocha blouse, because it simply isn't "her vibe" to wear a white bridal gown. As Perry remarked, "She just does whatever she feels like in that moment, on that day, regardless of whether it's right or not. She just doesn't want to answer to anybody."
But after that, a brighter, more youthful Villanelle emerged as she prepared for a life as a handler in Barcelona, Spain. Out were the pantsuits and in were eye-catching patterns, flowing dresses and softer colors that signified a new start for the assassin. 
(Jodie Comer herself told E! News over email that she "loved" this dress.)
One such example is Villanelle's orange La DoubleJ dress featured in episode two, which Perry paired with a wicker tote and cowboy boots. "It was meant to be her being effortless and fun, but also just enjoying where she is," Perry shared.
And though it wasn't explicitly stated, Perry worked under the assumption that Villanelle went to Spain a tad poorer, having stopped working for The Twelve following the disastrous trip to Italy. "She's a young woman and it's a wonderful place to have a flat and to be working," she reasoned. "And I just thought it would be a nice opportunity for her to express that side of her, rather than just expensive designer clothes, which obviously she really, really enjoys but if she hasn't got any money she can still go to a flea market and pick up a nice dress."
Those bright colors faded away as she returned to London, where she was seemingly angered by the idea that Eve (Sandra Oh) didn't die from her firing a single bullet into her chest. Of course, a hand-to-hand fight turned into a long-awaited kiss on the bus, as onlookers watched in horror and curiosity. 
Knowing that this was a scene that viewers were anticipating, Perry said she put a lot of thought into how the two women should appear. For the moment, she decided on a Chalayan men's suit and leather oxfords from Proenza Schouler, a decidedly androgynous look.
"You could've put [Villanelle] into another amazing dress or something quite fantastical but I felt it was better to put her in the suit, which I absolutely love. And play that whole thing down a little bit and make it more muted, have them both in grays coming together, and then all the colors in the background on the bus and everything that's going on around them," she said of her forethought. "These cool characters meet somewhere in the middle."
From this point on, however, Villanelle struggles with her identity. She's realized The Twelve has been manipulating her from the start and she's getting pretty tired of it. So when Konstantin (Kim Bodnia) offered her the chance to return to the motherland, Villanelle jumped at the opportunity, as it was presumably going to offer her the chance to learn whether she's a natural born killer or a trained assassin.
Once in Russia, Villanelle shed her heels and tailored suits in favor of looks that were more casual, or at least casual by Villanelle's standards. She donned more reasonably priced designer items and attempted to blend in to the family in ensembles that still represented her. 
Again, for the average person wearing Givenchy trousers or a Paco Rabanne blouse isn't exactly subtle, but it's what's expected of Villanelle.
"We didn't want her to look like she's just dressing up in a kind of big frock for meeting her family. It's almost like, for her there's a bit of modesty, like fitting-in to where she is. Again, it's always in her own quirky way. It's always off-kilter and frightens everybody else," Perry said. "She doesn't look like she belongs there but she's trying her best to fit in."
(It must be mentioned that Perry, Costume Supervisor Katie Broome and Justin Selway, assistant costume designer, are nominated for an Emmy for this complex episode.)
The only time that Villanelle's unique style isn't expressed is when she's leaving Russia, having killed most of her family in a tragic fire. As the episode draws to a close, Villanelle's dressed in her mother's denim jumpsuit from the '80s, with her hair messier than normal, creating the sense that Villanelle was changed somehow by her homecoming.
Perry admitted, "It's not necessarily the sort of thing Villanelle would wear, but it just seemed to be that really nice combination of mother and daughter, and nostalgia and family and her past coming together."
Villanelle's unraveling was obvious in her meeting with Helene (Camille Cottin) from The Twelve. Once again, her hair was unkempt, but she looked serious enough in a Dice Kayek pantsuit. Though it's unclear what mindset she's in, Perry wanted to show that Villanelle was navigating this identity crisis in the best way she knew how. "I think it's quite a mature Villanelle at that point. You don't really know what's going on after everything that's happened with her family and her mother. So much has happened and her mind isn't the same anymore, you're trying to project that business and togetherness through her clothes," she explained of the look.
This idea is re-introduced with a somber-looking Balenciaga leather coat that screams, "I have money but don't look at me." 
On this idea, Perry confirmed that she was going for that look, adding, "You know, you have gone out and bought something ridiculously expensive, but she's wearing it in a really sort of couldn't give a damn way. But you know, it gives the appearance that she's ready to start again and further her career some more."
It's in this scene that Helene refers to Villanelle as a "beautiful monster," seemingly foreshadowing the Charlotte Knowles coat and Gucci pants that would come next. Best described as a furry green, tartan coat, Perry said she intended for Villanelle to look "unsettled."
"You know, you have gone out and bought something ridiculously expensive, but she's wearing it in a really sort of couldn't give a damn way. But you know, it gives the appearance that she's ready to start again and further her career some more," Perry shared. 
Then, in the finale, Villanelle seems more sure of herself. She's nearly lost Konstantin, her sole father figure, and she's killed Dasha, because it's clear the patriotic Russian was just using her. And she goes to find Eve, who's in the somber city of London. 
Wearing a yellow Loewe coat, they reunite in a chaotic dark setting and it seems like Villanelle has hope again, although what the future season of Killing Eve holds is unclear.
But with season three over, it's clear that Villanelle is not the same character we started with. It's a journey that Jodie Comer portrays with such sincerity, it's hard to imagine where Villanelle ends and she begins. 
And while Comer's acting is what makes Villanelle so human in that imperfect way, it's the costume design team who creates those details that makes it all so believable. 
As Comer told E! News, "Sam did an excellent job of exploring more of Villanelle's femininity, whilst never losing any attitude."
"What I loved about working with Sam was that she reveled in the freedom and spontaneity that comes with dressing Villanelle. Nothing is off limits with Sam," she continued, adding. "She also understands the one fundamental rule, that comfort is key."
And as a testament to the creativity of those who work on Killing Eve, the show was nominated for eight Emmys, with both Comer and Perry up for an award at the Sept. 20 show.
Source: Read Full Article