Is It Ever Okay to Wear Sweatpants in Public?
December 8, 2018
In what is CERTAINLY one of Kanye West's most controversial moves to date, the rapper made the daring decision to wear the same pair of sweatpants all week, according to Page Six.
Okay, so "all week" is a bit of an exaggeration. On Thursday night, West showed up at a Prada party in Miami wearing the same pair of sweats he wore to a Versace show last Sunday. The pants in question are these Brain Dead x Gustavo sweats, which at $199 are expensive for sweatpants but cheap for being a thing worn by a famous person.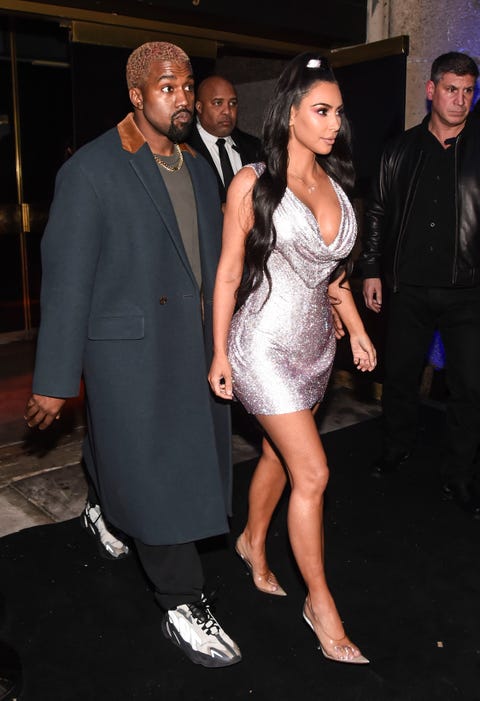 West and wife Kim Kardashian West at the Versace show.

Getty ImagesDaniel Zuchnik
West's recent fashion choices raised some polarizing questions among the Men's Health staff: Is it ever okay to wear sweatpants in public, even if it's only one time in a week? And is it ever okay to wear the same pair of sweatpants multiple days in a row?
Here's what our staff had to say on the matter. And if you're the kind of guy who's cool with a little PDS—you know, public displays of sweatpants—we rounded up some of our top picks.
Is it okay to wear sweatpants in public?
"I'm fine with sweats in public as long as it's not, like, dinner, but not all sweats are created equal. Your old raggedy college sweats and a pair Outdoor Voices sweats are not on the same level." —Paul Schrodt, Culture Editor
"If you're just rocking them to the gym or the grocery store around the corner, fine by me. But if you're actually Going Out, you need to step up your game. You need good pockets for your wallet and keys and, no matter how nice or expensive they are, sweats without the actual intention to sweat just look like you're being sloppy." —Brett Williams, Associate Fitness Editor
"For a long time I've been a strict Seinfeldian on the matter of sweatpants in public, i.e., they're a sure sign you've kind of given up on life. But here's the thing: as I got dressed this morning and thought about sitting on a plane for six hours, the thought of putting on a pair of dark, fitted jeans pretty much sunk my battleship. So here I am, my first ever flight in sweatpants, and I do sort of feel like I've given up a bit. But after long week, and during a long flight, sometimes giving up is exactly what you need to do." —Rich Dorment, Editor-in-Chief
"Point blank, there's no better way to fly than in a pair of sweats. And if you find just the right pair, they look solid to wear out on a (very) casual afternoon, too." —Ebenezer Samuel, Fitness Director
"Fashion sweats: Allowed in public, but not past 3 p.m. Non-fashion sweats: Allowed in public if public is only to and from the gym or workout class." —Matt Goulet, Senior Associate Editor
Is it okay to wear the same pair of sweatpants multiple days in a row?
"I think more than one day is fine if you're wearing them minimally, and you're confident they're still clean." —Paul Schrodt
"As long as you're not wearing them out and about, you're good until there are visible stains or the pants start to smell. Wash to retain the form, and never toss them in the dryer." —Brett Williams
"Wearing the same sweatpants multiple times in a row is not the issue. People wear the same pair of jeans multiple times a week and no one bats in eye. What matters most is the quality of the sweatpants and how they fit. The best ones to wear in public are slim (not baggy), tapered nicely at the ankle, and rendered in a neutral color, preferably black, charcoal or navy." —Mario Abad, Style Fellow
"Anything other than joggers, and more than three wears = you've given up on life." —Melissa Matthews, Health and Nutrition Writer
"Sweatpants for more than four hours in a row is tragic. Sweatpants over four days, while worn for less than four hours at a time, acceptable." —Matt Goulet
Source: Read Full Article