Horse Girls Rejoice! The Western Trend Is Back and Better Than Ever
December 20, 2018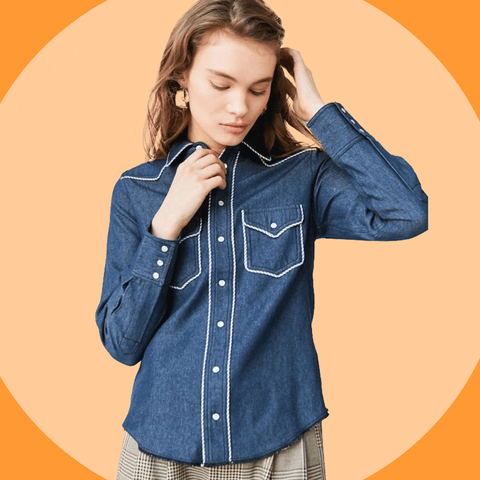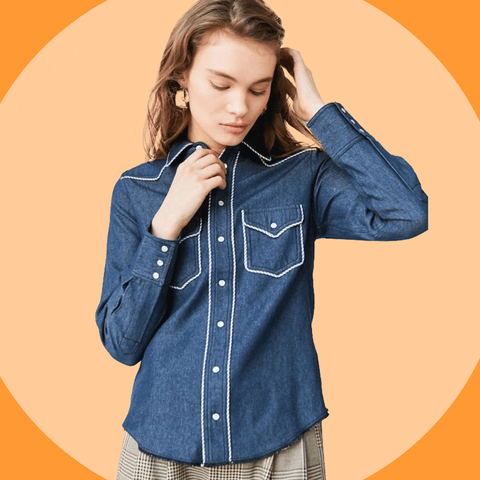 Get out your prairie dresses, denim shirts, big-buckled belts, and square-toed boots because it looks like the western trend is IN, folks. I mean, just look at all the Fall/Winter 2018 runway shows that featured cowboy-esque ensembles. Labels like Isabel Marant, Calvin Klein, Chloé, Coach, Alberta Ferretti and more are in on the trend, which is obviously great news for all the secret (and not-so-secret) horse girls out there!
If you think it looks great on the runway, but are having difficulty getting behind it IRL, take a gander at these pieces that'll make you the new fashion police sheriff in town.
You're not limited to one "Western" shirt, since there are plenty of washes, patterns, and interpretations. A classic yoke style (i.e. the curved pieces of pattern making up the garment often on the shoulders) is probably the most quintessential aspect that comes to mind, however, a polka-dot print with fringe details or a crochet blouse with a neck-tie also pick up on the vibe without being too on-the-nose.
Wear them with a simple pair of jeans and boots or opt to go even further by adding the below accessories.
Even if you have the best-fitting pants, you can always add a detailed cowboy belt to really make them a focal point. Lots of these come with removable buckles so you can swap them out, just adding to the versatility of the designs. Whether you're a fan of silver or gold (or both!), there's plenty of styles out there with a range of metal accents and etchings, so they'll complement any outfit you choose.
Top off your Wild West lewk with these boots that all have a different take on the trend, whether the silhouette is more traditional or has a modern spin. Pair them with stylish cropped flare jeans or culottes, and, if you want more ankle coverage, throw on some straight or skinny-fit pants.
Saddle bags had a huge comeback this year (thanks in part to Dior), and countless western-inspired purses followed suit. With their detailed stitching, fringe, and prints, these styles will take your cowgirl outfit to the next level, but if you don't want to go overboard you can also wear them with other pieces you already own.
Can't get enough? Shop all the pieces above for more rodeo-worthy vibes that'll inspire you to learn how to lasso—or, if that sounds too hard, at the very least you'll want to pet a horse or hop on a hayride or something.
Source: Read Full Article