A YouTuber Wore Thigh-High Ugg Boots For A Week & The Look Is TRULY On Another Level
December 6, 2018
Fashion undoubtedly has its gag-worthy moments, but some aspects of it beg the question of "are you ok, sis?" There have been plenty of pieces debuted on runways that's had the internet scratching its head. However, YouTuber Safiya Nygaard wore Y/Project's thigh-high Ugg boots for a week to inspect what the hype was about when they'd first made jaws drop from the runway show.
Since the early 2000s, Uggs have been made a controversial topic of discussion as they're not all that cute, but as Nygaard points out in the video, they're the most comfortable shoe trend of this generation whether you admit it or not.
Despite the hefty $1,200 price tag, Nygaard bought them and spent an entire week (yes, a whole seven days) wearing Y/Project's thigh-high Ugg boots to understand them and how one would even begin to wear them if they had the drip to spend. That'd be one splurge of a purchase that may be followed by judgement from family members. You've been warned.
Throughout Nygaard's week, she ran into a plethora of challenges with the boots that made her rethink her approach from style decisions to walking around comfortably to the profuse leg sweat she'd encountered throughout its wear.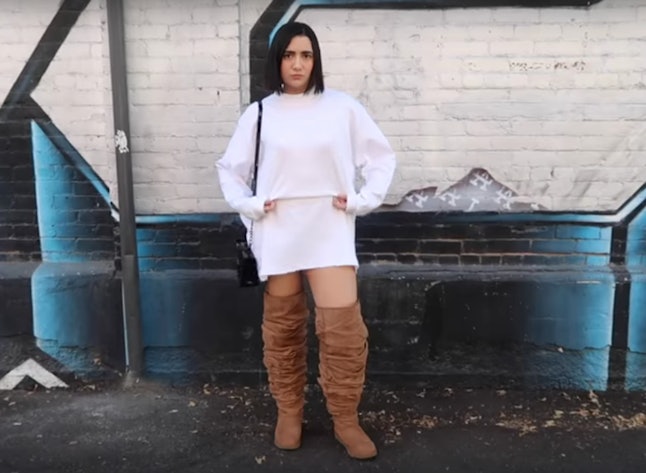 On day one, the vlogger known for experimenting with high-end questionables styled the boots similarly to how the brand did in its runway show and started with a solid oversized shirt dress to pair with the oversized boots.
"In the shade it's not so bad," she said in the video, "but in the sun, I'm like a sweatball." Realizing early on that the boots were almost too toasty depending on the outside temperatures, this was only the start of her thigh-high boot troubles.
When not sweating her knees off, Nygaard struggled with simply walking around since the suede fabric from each boot would rub against each other. That honestly sounds like a chub rub nightmare for those who can relate.
Day 2 consisted of recreating a celebrity look that incorporated the scrunchy boots. Between Dua Lipa and Rihanna sporting the high-heel versions of the boots, Nygaard ultimately chose Rih as her style muse and set sail on these boots swallowing her thighs.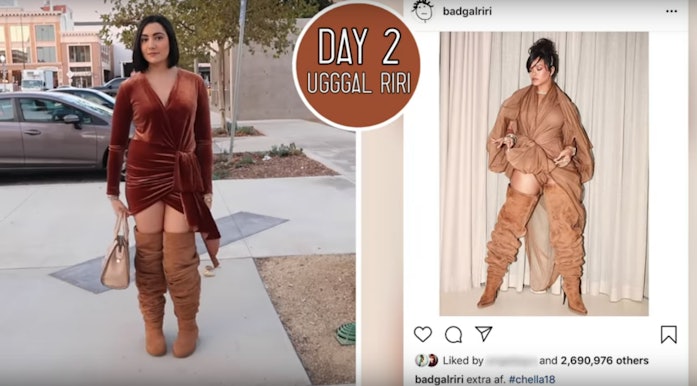 Focusing on waddling throughout town, the Fashion Nova dress she'd worn to simulate Rih's look consistently rode up, and adding an accidental peek-a-boo to the ensemble. The struggles of being a high-fashion Nova Babe.
The third day was an attempt at Nygaard styling herself with a turtleneck sweater dress with a balloon sleeve and some dangly silver earrings. She put these two together to make her appearance match that of the fall & winter seasons.
When she posted the look on Instagram to gauge her fans' perception of the boots, most of the comments were less than supportive. "They're not that ugly," one fan commented under the post and some didn't know whether to love it or hate it, but most of the commenters just weren't here for it. Can you blame them, though?
Day four of Nygaard's experiment was a throwback to when Ugg boots were all the rage. And the cringe-worthy 2000s outfit she'd put together will have you reminiscing on your own wardrobe no no's.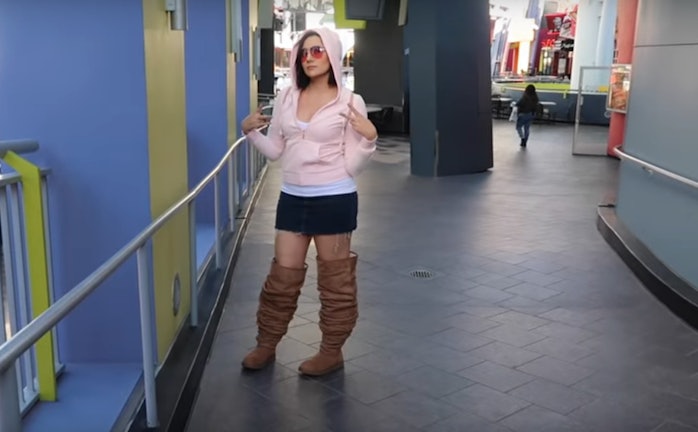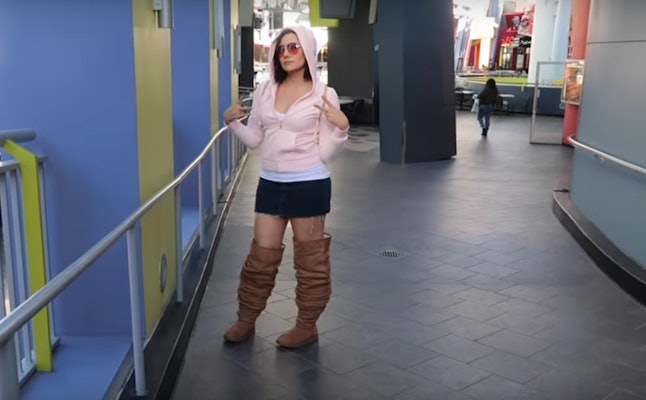 A classic Juicy Couture velour sweat top layered with a white shirt and mini skirt was all it took to put this past and present in one single era.
Life goes on, but these boots definitely caused Nygaard some trouble as she was forced to wear the boots on the plane while on her way to Philadelphia. The boots were so big, they took up all the space in her suitcase. The horror!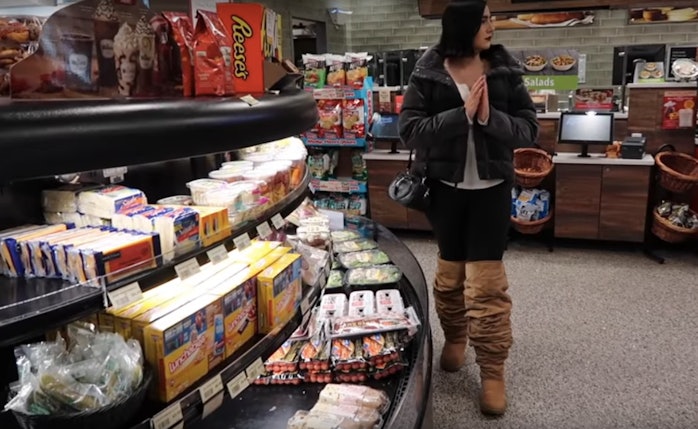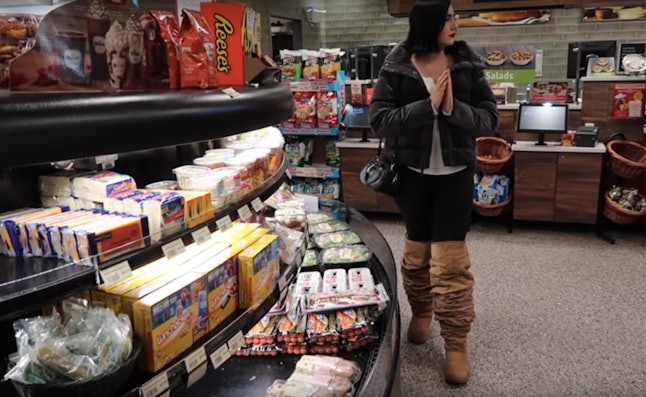 When shopping in a convenient store nearby, the YouTuber found that boots made for great snack storage since there was nothing but extra room in the thigh portion of the boot. As comfy as Ugg boots are, they're known to wear down over time and Nygaard was seeing a lot of that not having worn thicker pants to slide into the boots.
The sixth day was an Ugg-inspired ensemble in which Nygaard wore so much nude, it'd make you sick of looking at the hue.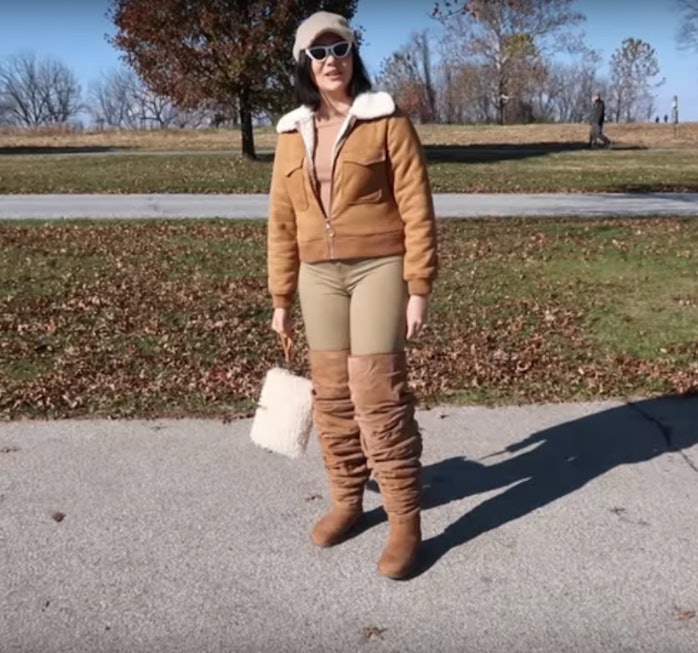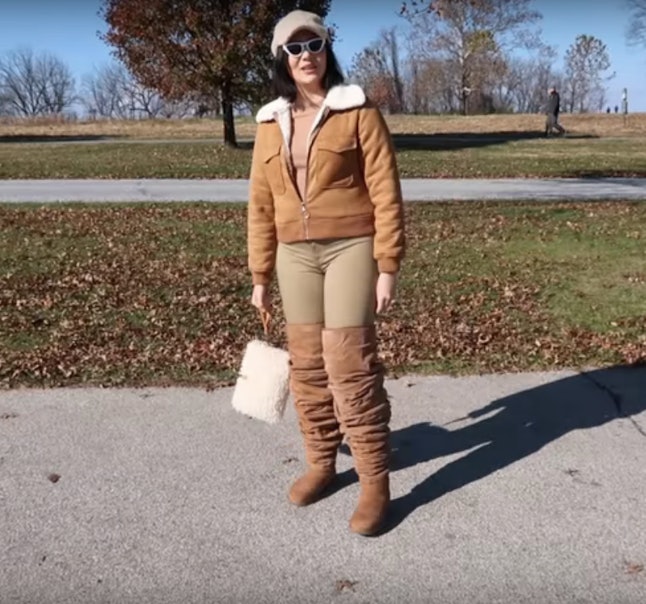 All of the pieces made to create this look was surprisingly all purchased while she was in Philly and it's a little creepy she managed to find something that was a spot on match. The YouTuber even opted into using her videographer's dog to make the outfit even more over-the-top. When your dog becomes an outfit accessory, it's a bit much.
On her final day of wearing the thigh-high Ugg boots, Nygaard took the look to astronomical heights and put a bunch of fashion question marks into one outfit. Being consistent with Y/Project, she paired the boots with the brand's 4-foot long sleeve denim jacket along with an ASOS band ruffle tee and "hairy" leggings.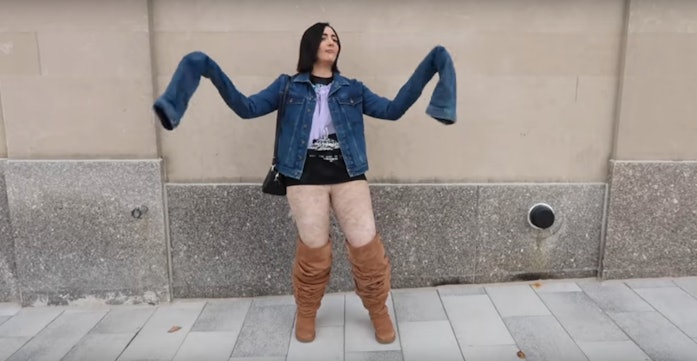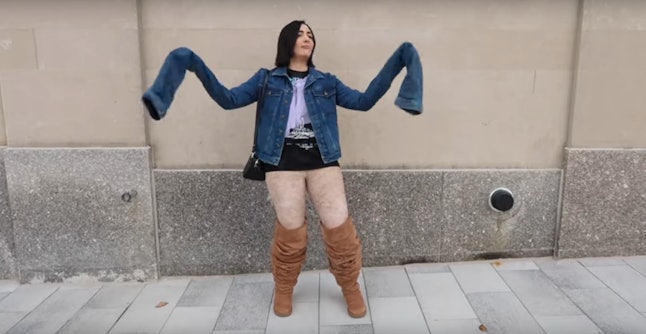 Although you probably won't catch the everyday fashion guru in these thigh-high Ugg boots, Nygaard concluded that she didn't think they were all that bad to wear, especially when coupled with more wintery looks. On the other hand, if she's not ride or die for some winter footwear, she wouldn't spend $1,200 on them.
Seeing how avant garde fashion works in the real world may look a little doofy, but that's why it's left to professionals like Rihanna, who basically tells fashion when something's fashion. In Nygaard's case, she prefers to be "buried" in boots that she loves.
Source: Read Full Article