Travis Scott Leaves Lovey-Dovey Comment On Kylie Jenner's Pic Amid Relationship Drama Rumors!
March 20, 2019
Travis Scott continues to pledge his allegiance to Kylie Jenner.
On Thursday, the ASTROWORLD rapper reminded his baby momma how she makes him feel by leaving a heart-eyes emoji on one of her latest Instagram pics amid reports that the self-made billionaire has trust issues with him.
The sexy snap showed the 21-year-old in a sheer white T-shirt dress with her green bra and undies visible underneath. For many, it was just another drool-worthy Kylie pic — but for her paramour, it was another opportunity to show he only has heart-eyes for her.
Photo: Kylie Cuddles Baby Stormi Amid Relationship Drama
He wrote, as captured by Comments By Celebs:
View this post on Instagram
And with just one heart eye emoji, he shut down the rumors. #CommentsByCelebs
A post shared by Comments By Celebs (@commentsbycelebs) on
This is the 27-year-old's third public display of attraction for the KUWTK star in the past few weeks — and for good reason. As we've been reporting, the couple is said to have been on the rocks over the past month after Kylie reportedly accused her man of cheating.
Since then, the rapper has been going all out to prove he's a one woman man. In February, TMZ reported that Trav canceled a tour stop in Buffalo, New York just to stay with her in Los Angeles.
Trav also showed some love earlier this month during a show at Madison Square Garden, where he called Kylie his "wifey," despite the fact that they aren't married or engaged.
The rapper even briefly deleted his Instagram account to prove his dedication to his lady, but ultimately realized that love isn't real unless it's displayed on social media.
We're glad he's putting it all together and dutifully sharing his affections for her online. Kylie, after all, deserves nothing but the best.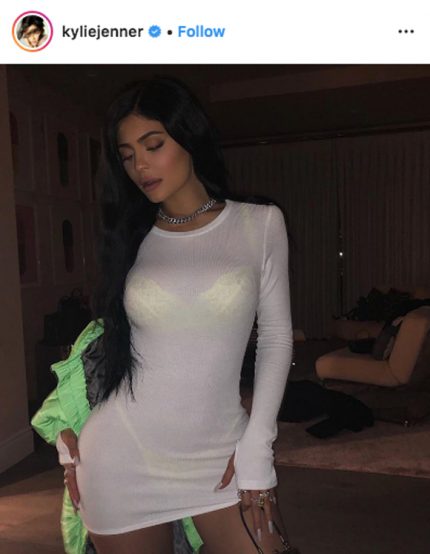 As for what triggered the makeup mogul's suspicions in the first place, sources say she was rocked by the news that her best friend Jordyn Woods hooked up with Khloé Kardashian's baby daddy Tristan Thompson.
After learning that such scandalous affairs were allegedly playing out right under her nose, Kylie apparently grew worried that her own man might be doing the same thing. According to a source, the mother-of-one checked Travis' phone and "saw something she didn't like."
The rapper was reportedly adamant that he "didn't cheat," and, while it may have caused some turbulence in their relationship, Stormi Webster's parents are said to be fine now and not on the road to a break up.
It's nice to see Trav putting in some extra emoji effort during this rough patch. A pair of heart-eyes can go a long way!
Source: Read Full Article