Tory Lanez Calls Reports of Him Shouting 'Dance B***h' at Megan Thee Stallion 'False Story'
December 15, 2021
The 'Say It' hitmaker expresses his discontent with reporting on his preliminary hearing in a social media post that reads, 'I need someone to report what was really said in court.'
AceShowbiz –Tory Lanez has responded to reports regarding a court case involving Megan Thee Stallion. Taking to his social media account, the "Say It" hitmaker dubbed allegations of him shouting "dance b***h" at the "Savage" raptress "false story."
On Tuesday, December 14, the 29-year-old rapper tweeted, "NAH … I need someone to REPORT what was REALLY said in court today." He added, "45 minutes of my lawyer stating contradictory evidence that proves my innocence should never come back as one false story forced to the media."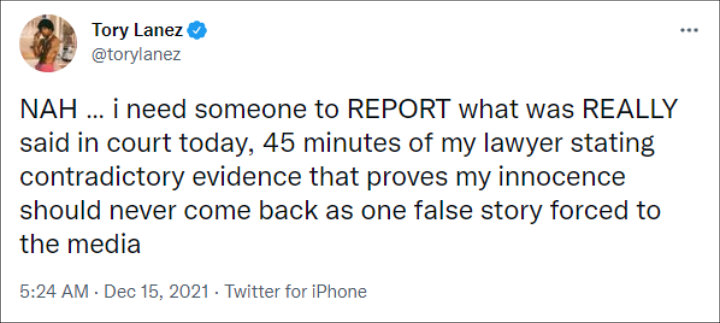 Tory Lanez responded to reports of him shouting 'dance b***h' at Megan Thee Stallion.
During a preliminary hearing earlier on Tuesday in Los Angeles, Los Angeles Police Department Detective Ryan Stogner confirmed that Tory shouted "Dance, b***h, dance" at Megan before shooting at her feet. Ryan also shared that "[Megan] observed Mr. Peterson holding a firearm and then she observed him start to shoot."
"Megan immediately felt pain to her feet, observed blood, fell to the ground, and then crawled to an adjacent driveway of a residence," the detective added. "She described her injuries as bleeding profusely."
Ryan stated that Tory apologized for shooting Megan and "offered her money and begged her to please not say anything." The detective also said Megan told him that Tory made "a reference to the fact he was already on probation."
Upon learning Ryan's testimony, Tory's defense lawyer Shawn Holley revealed that an "argument in the car" escalated the situation when it was unveiled that Megan and Tory were in some sort of intimate relationship. Shawn further noted that Kelsey Nicole, who was hanging with Tory and Megan at the time, had a romantic interest in Tory and when their relationship was revealed, she "got jealous" and claimed Megan "back-doored" her.
Shawn then claimed Tory told police in an interview captured on bodycam footage that "[he] was just trying to protect [his] girl." Shawn went on quoting Tory as saying, " 'I was just trying to help my girlfriend. I was just trying to help my shortie.' "
After the preliminary hearing, Kelsey offered her take on what was said in court on Tuesday. Accusing that Tory's defense lawyer was lying, she wrote, "This is ALL cap. smh," adding a blue cap emoji.
Kelsey also responded to a commenter who asked why she hasn't spoken out about the incident. She explained, "I'm not worried about no NDA, this is real life S**t. NDA ain't stopping anyone. Trust me my time to speak is coming, let's let them get all their stories out. I'm the one with nothing to hide Or lie about. Difference between me and them. Celebrities will do and say whatever to save face."
Tory, born Daystar Shemuel Shua Peterson, was formally charged on October 8, 2020, with one count of assaulting Megan with a semiautomatic firearm in a manner that "personally inflicted great bodily injury," and one count of carrying a concealed, loaded, and unregistered firearm in a vehicle. A protective order barred him from contacting the 26-year-old raptress either in person or otherwise.
The "SKAT" rapper pleaded not guilty to both charges in November 2020 and was allowed to remain free on $190,000 bail. He could face 22 years and eight months in prison if convicted of said charges.
Source: Read Full Article