The Most Inappropriate Outfits Kendall Jenner Has Ever Worn
May 28, 2021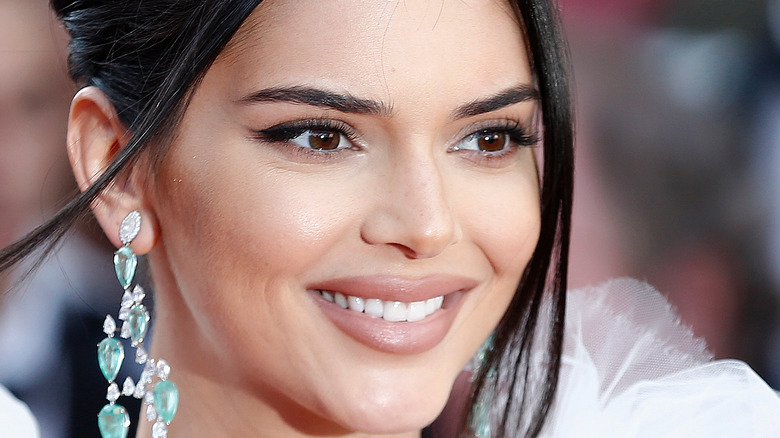 Kendall Jenner has often been deemed one of the most beautiful women in the world, which is probably one of the reasons she is subsequently one of the highest paid models of all time (via Harper's Bazaar). She is perhaps best known for her super-chic style that gives off an incredibly effortless yet expensive street-wear vibe, a style that has adapted alongside her as she has grown up in the public eye (via Vogue).
But as beautiful as she looks in glamorous clothes, she manages to look just as beautiful in a sort of "naked" fashion that she has adopted over the years. Naked fashion, according to InStyle, is a style of "barely-there designs and expertly-placed material" that make the model appear nude, despite the presence of clothing. This look is pretty prominent within the Kardashian/Jenner family, the sisters challenging fashion norms by donning clothing that give the illusion of nudity in a chic and high-fashion way. But Kendall Jenner appears to have run with this look even further, making it something of a fashion staple within her wardrobe. Here are some of the most naked — and borderline inappropriate — outfits that Jenner has sported.
The 2017 Met Gala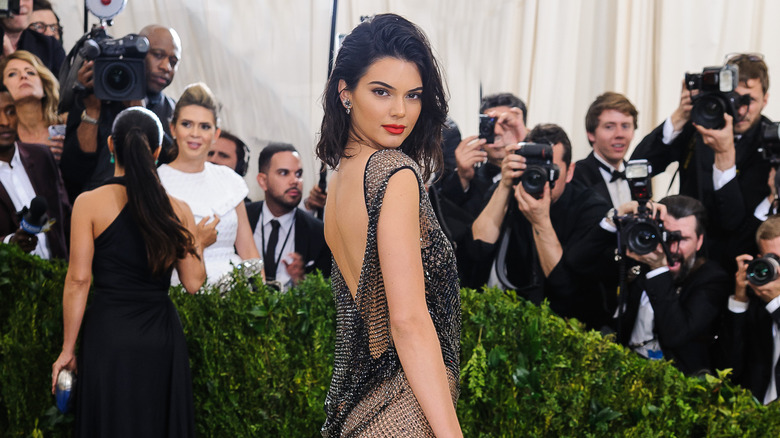 Jenner arrived at the 2017 Met Gala and managed to drop jaws more than she normally already does. This particular year, the show attempted to challenge attendees to "rethink fashion as a site of constant creation, recreation, and hybridity," by making the theme, "Rei Kawakubo/Comme des Garçons." Kawakubo has been deemed one of the most important and influential fashion designers of the past 40 years, "defining the aesthetics of our time," per Vogue. Kawakubo's work thrived on contract, with themes that celebrated "in-betweenness."
As for Jenner's interpretation of the assignment, she went with a La Perla Haute Couture naked dress that left very little to the imagination (particularly when she turned around). Despite the revealing nature of the dress, however, the dramatic draping, beautiful fabric, and shiny crystal details made it quite feminine and perfectly suited for the event (via Glamour).
Freeing the nipple at at Chopard event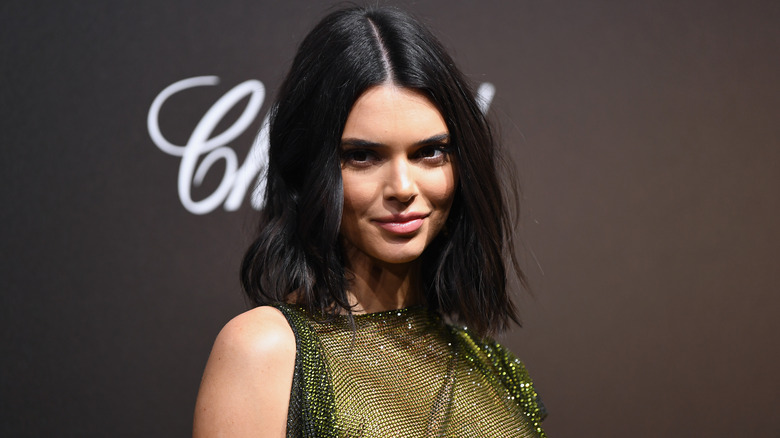 With Kendall Jenner's naked outfits, she often goes for a subtle kind of look, or perhaps something of an illusion of the eye by wearing flesh-toned fabrics, for example; but this time, she decided on a naked look that was incredibly on the nose. In 2018, Jenner attended an event for the luxury watch and jewelry company Chopard, at which she wore a seaweed-green, skin-tight one-piece outfit made from a dramatic mesh material from Alexandre Vauthier, according to Marie Claire. While she appeared to pair the number with some nude-colored underwear, she opted to go sans-bra in a sort of chic, "Free the Nipple" inspired outfit. But the Victoria's Secret model is used to baring it all, regularly stomping down the runway in lingerie for all to see.
A plunging Longchamp dress in 2020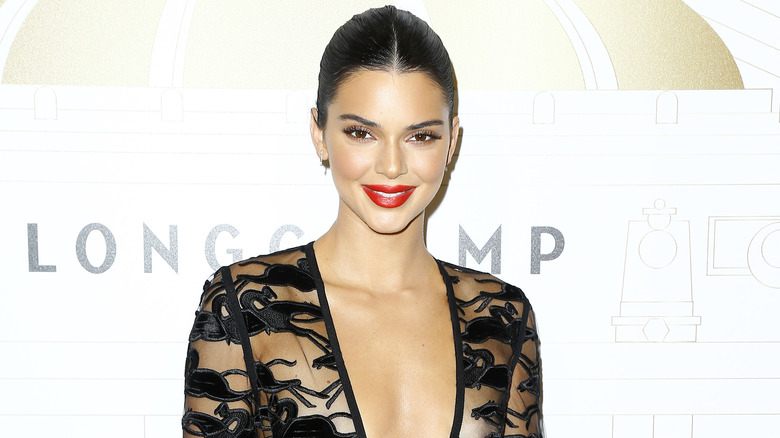 In September of 2020, Jenner made a jaw-dropping appearance at a Longchamp Spring/Summer fashion show at New York Fashion Week. Sat next to Kate Moss, all eyes were on Jenner for a few reasons (via Harper's Bazaar). Longchamp, a French company that specializes predominantly in luxury leather goods, decided to introduce the world to their first ever evening gown by requesting Jenner to wear it. Indeed, she also grabbed the public's attention due to the revealing nature of the dress. Despite the dress technically covering her from shoulders all the way down to high heels, the dress is arguably more skin than fabric. The dress has a dramatically long, plunging neckline accompanied by an opaque fabric and a velvet print of the Longchamp logo (via Vogue). And, in what seems to be Jenner's signature look, the dress exposes her nipples.
Source: Read Full Article