The Complete Timeline Of Gorilla Glue Girl's Viral Fame
July 26, 2021
The viral tale of Gorilla Glue Girl was one part timing, one part attitude, and all parts a terrible mistake. This was, after all, never supposed to happen — at least, that wasn't Tessica Brown's intention when she used Gorilla Glue spray adhesive, one of the consumer market's strongest adhesives, as a makeshift hairspray. All she was hoping for was a slicked back ponytail. Instead, she changed the entire trajectory of her life.
At a time when the world was largely stuck indoors amidst the coronavirus, exhausting Netflix's catalogue and swiping through TikTok looking for the bright spots, Brown uploaded her now-infamous 60-second video. It was a plea for help, a veritable PSA to not make the same uncomfortable gaffe. It was also the gripping narrative we were looking for. Would "Gorilla Glue Girl" be the success story our culture desperately needed?
Not long after the video was posted, Brown quickly shot to the level of viral fame that garners a "Saturday Night Live" skit and name drops from rap stars. To date, her original video has 7.8 million likes — but she still doesn't know what happened. "I don't know why it went viral," she told BuzzFeed News back in February.
So, what did actually happen? Almost half a year later, the saga is still kicking. Here's a total timeline of Gorilla Glue Girl's viral success.
February 3, 2021: Tessica Brown uploads her now-viral TikTok video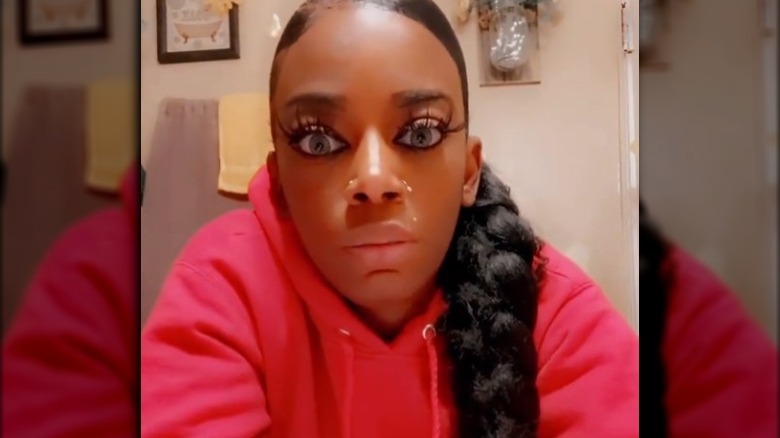 Gorilla Glue Girl's viral saga began in early February when Tessica Brown, a Louisiana-based daycare worker and dance coach, first uploaded her 60-second video to TikTok — but this tale was already weeks in the making. As she explained, she made a crucial error about a month prior when she ran out of Got2b Glued Blasting Freeze spray and decided to use Gorilla Glue clear spray adhesive to slick back her ponytail. Though Got2b does use the word "glue" in its marketing, glue it is not. Nor does a spray make something hairspray, but hindsight is 20/20. Brown's hair was firmly stuck in place.
"Bad, bad, bad idea," she said. "… I've washed my hair 15 times and it don't move. Stiff where? My hair." 
Though Brown approached the situation with a sense of humor, she told BET that she ultimately decided to consult the internet because she had exhausted all of her options. Her hair wasn't budging, but her story was about to fly. Per BuzzFeed News, she quickly became a trending topic on Twitter after she was dubbed "Gorilla Glue Girl." In just a couple weeks, her TikTok had racked up more than 40 million views, but the six days immediately following Brown's post were the most harrowing. So, just how permanent is a permanent adhesive? As it turns out, very. 
February 6: Tessica Brown's sticky situation sends her to the ER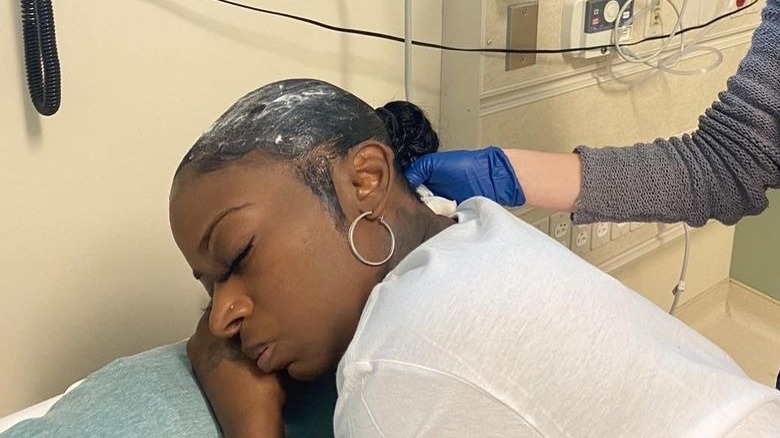 The Gorilla Glue Girl saga is one of the best guerilla marketing campaigns of the TikTok generation. When Gorilla Glue says their spray adhesive is permanent, they mean permanent. Even the professionals were stumped, and Gorilla Glue's own advice of rubbing alcohol failed to break Brown out of her sticky situation. 
Three days after posting the video, Brown checked herself into the emergency room at St. Bernard Parish Hospital in Chalmette, Louisiana. This is where she would reportedly spend the next 22 hours. Of course, she documented her journey on Instagram, posting a picture of herself being treated by a healthcare worker with five praying hands emojis as a caption, but Brown wasn't the only one praying. The viral star had garnered some celebrity supporters, including Chance the Rapper.
"I'm glad mfs actually supporting her thru this," he tweeted. "When I watched the video the second time it was hard to laugh cause I could tell shorty genuinely didn't know she had put one of the worlds most powerful adhesives in her s**t. I hope she recovers well."
Unfortunately, Brown left the ER with both a helmet of superglue and a chemical burn as a parting gift. According to TMZ, healthcare workers relentlessly tried to dissolve the glue with acetone, but it only "made the glue gooey" before it hardened again. Would she ever be free?
February 7: Gorilla Glue Girl launches a GoFundMe campaign, but it's flagged for investigation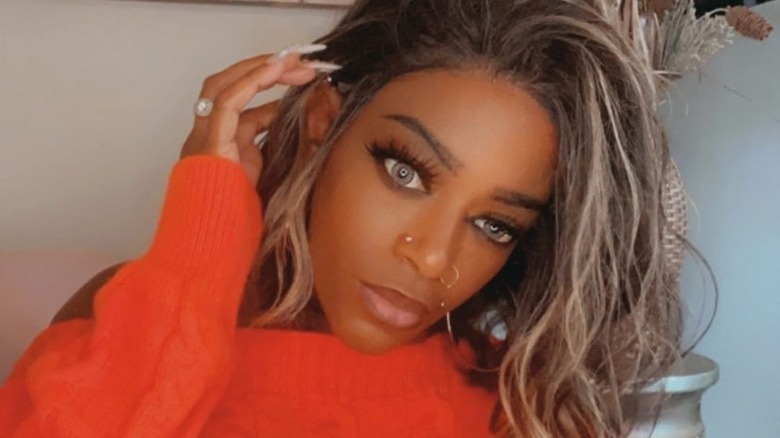 The same day Tessica Brown left the hospital, she launched a GoFundMe campaign with one of her relatives. Though the page didn't say how the cash would be used, presumably, medical treatment is very expensive. From the looks of it, Brown wouldn't have a problem paying.
According to The New York Post, the viral star's campaign racked up more than $13,000 worth of donations on the first day, which was leaps ahead of her initial $1,500 goal. By the time it was all said and done, she had raised nearly $24,000, vowing to donate $20,000 to a charity that does reconstructive surgery and whatever was leftover to a few families from St. Bernard Parish that were struggling (the rest of her medical treatment was paid for, which we'll get into later). Unfortunately, there was a holdup withdrawing the funds.
As first reported by TMZ, Gorilla Glue Girl — like most viral stars — was subject to numerous conspiracy theories, and her GoFundMe was repeatedly flagged by people claiming that Brown was faking her condition to scam people out of cash. Per the Post, GoFundMe froze the funds and put the campaign under investigation about a week and a half after it launched. After asking Brown for additional information about how the money was being used, the account was unfrozen and Brown was able to make a withdrawal. 
February 8: Gorilla Glue speaks out as Tessica Brown considers legal action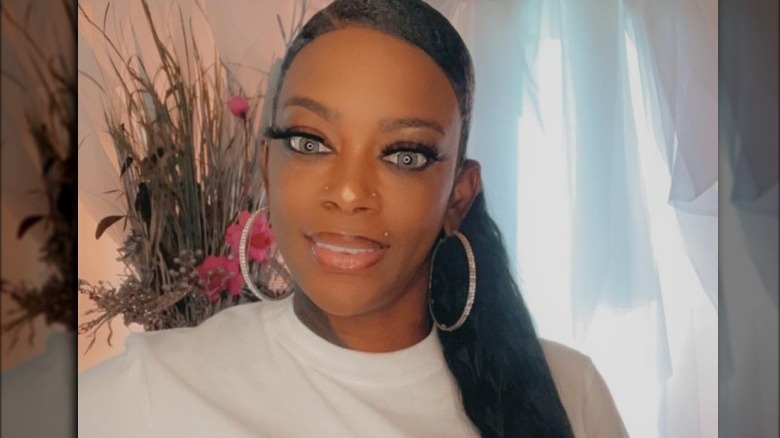 With the ER down for the count, Tessica Brown was running out of options. It seemed like this wasn't Gorilla Glue's first rodeo either. The company told TMZ that considering the length of time Brown's hair had been stuck, it was "likely fractured at the root, but we certainly hope for the best." At the time, she was unable to shave off her hair, the glue acting like an impenetrable plastic shield that gave her severe headaches.
That's when TMZ claimed Brown decided to lawyer up. Per the tabloid's report, Gorilla Glue Girl began mulling over legal action after her hospital stay based on a loophole in the fine print (the warning label on the adhesive's packaging, which Brown allegedly felt was "misleading," didn't say anything about hair. It only mentioned eyes, skin, and clothing). 
With the risk of a lawsuit on the horizon, Gorilla Glue broke their silence. The brand sent Brown condolences on Twitter and explained their side. "This is a unique situation because this product is not indicated for use in or on hair as it is considered permanent," the company wrote, noting that the adhesive is typically used on surfaces like cardboard, wood, and laminate. Brown herself and her rep later clarified to BuzzFeed that she had met with a lawyer, but wasn't suing.
February 8: Wendy Williams trashes Tessica Brown on her talk show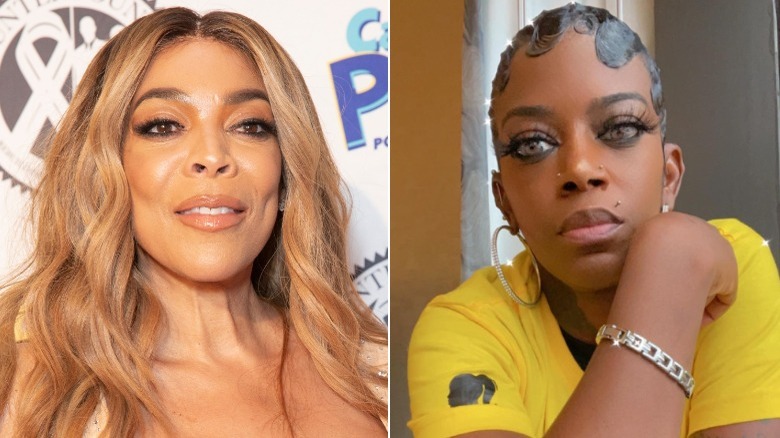 Wendy Williams isn't exactly known as the arbiter of tact. The talk show host amassed a fortune on the back of her no-holds-barred opinions which are regularly met with backlash. You either like Williams or you don't, and Tessica Brown — who became the subject of one of the star's "Hot Topic" segments — is probably leaning towards the latter. During the February 8 episode of "The Wendy Williams Show," Williams said, "She might have something wrong with her, like mentally," Williams said, alleging that chemicals were seeping into Brown's brain.
Like anyone who's achieved just 30 seconds of viral fame, Brown received a lot of criticism, including some from A-listers like LisaRaye McCoy, but she was particularly hurt by Williams. "The thing is, I used to like Wendy," Brown told BuzzFeed. "We just had a whole watch party to watch her Lifetime movie. I mean, I really liked it, but, I mean, then it made me very angry."
Brown's mother ended up calling into Williams' show, urging the TV host to "take it easy" on her daughter. Williams followed up with a second report, saying, in part, that she'll "file an accurate report" next time.
February 9: Gorilla Glue Girl manages to cut off her ponytail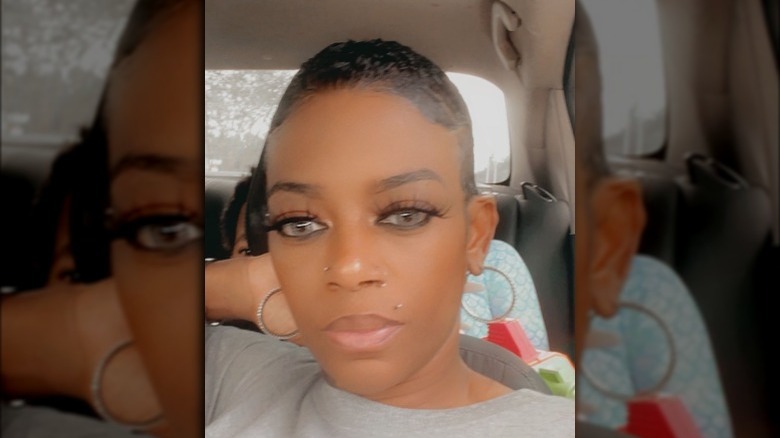 Not all was lost after the ER failed Tessica Brown. She did manage to get a tiny bit of relief when she hacked off her damaged ponytail with kitchen scissors — but this was no easy task. From the looks of TMZ's video, the process was painful.
Per the tabloid, Brown and her sister spent four hours applying Goof Off, a heavy duty adhesive remover, to her rock-solid hair in an attempt to soften it just enough to slowly give it a trim. The remover did not fully dissolve the Gorilla Glue. It only made her pony gooey, so the pair could cut it off piece by piece. Rest assured, just like in the ER, Brown's hair hardened right back up. "She might get a little bit of hair out of there," her friend said in the video, fanning out the cropped ponytail which now served as the veritable eye of the Gorilla Glue storm.  "But not much 'cause it's still pretty hard."
All in all, the progress was minimal, but there was hope on the horizon.
February 11: Tessica Brown is finally a free woman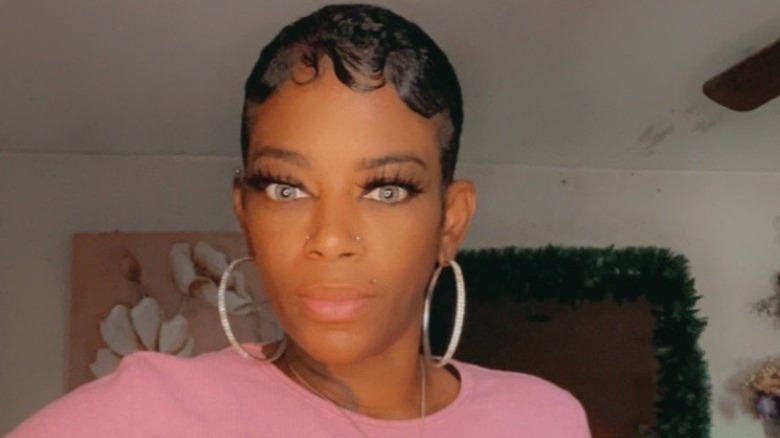 A week and change after Tessica Brown rose to viral fame, she was finally ready to put her Gorilla Glue Girl moniker to rest. According to Vox, Brown received a call from a stranger who connected her to Beverly Hills-based plastic surgeon Dr. Michael Obeng. According to TMZ, Obeng, who heads the nonprofit Restore Worldwide and appeared on VH1's "Second Wives Club," was confident that he could remove the adhesive over the course of two to three days with a medical-grade glue remover. He offered to give Brown the $12,500 procedure for free — and of course, TMZ filmed the process in its entirety. What's a viral star and reality star if they're not on camera?
Brown flew to Los Angeles for the procedure, which ended up only taking about four hours. As TMZ reports, she was given some "light anesthesia" before Dr. Obeng used a custom mix of medical-grade adhesive remover, aloe vera, olive oil, and acetone to break down the polyurethane in the Gorilla Glue (he first tested the solution on a dummy, just in case). When Brown woke up a free woman (albeit a little groggy from anesthesia), she nearly broke down in tears. 
The whole thing was a win-win for both Brown and Dr. Obeng. She got a pixie cut, and Obeng got a boatload of business from the publicity. He even told TMZ that he was looking to potentially manufacture his custom glue remover.
February 16: Gorilla Glue Girl starts a war with a gossip blogger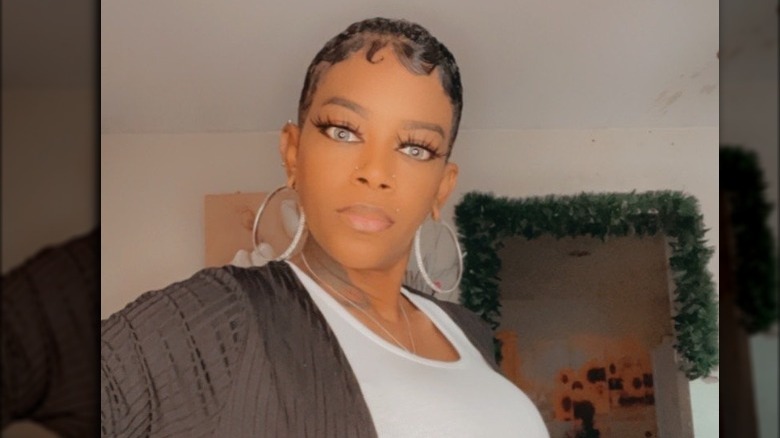 Following Tessica Brown's procedure, it looked like the Gorilla Glue Girl saga had come to the perfect ending for a viral fairytale — it culminated in a tabloid documentary. What else is there? Apparently, quite a lot. Now that Gorilla Glue Girl was unstuck from her polyurethane shackles, she was free to forge a battle against her haters. First stop: a blogger who claimed Brown was faking it.
As previously reported by TMZ, Brown now had a management team, and that team had a lawyer, and that lawyer allegedly sent a cease and desist letter to whoever runs Gossip of the City, a social media gossip titan with more than 635,000 followers on Instagram. The account's associated parody Twitter claimed that Brown's story was fake and shared a video that allegedly debunked the viral star's claims. The brand posted a similar video to Instagram, but — in a separate post — took the battle one step further, raising an emoji middle finger to the so-called "fake" cease and desist while alleging that Brown was "boring and dying for attention because her man left her."
Unlike Brown's helmet of Gorilla Glue, it's unclear if the lawsuit ever actually stuck, but Brown's team told TMZ they were serious about the cease and desist. At the time of this writing, the original @gossipofthecity_ Twitter account no longer appears to exist, but the supposed parody Twitter and official Instagram are in full force.
February 27: Tessica Brown has a cancer scare – and Gorilla Glue may have actually saved her life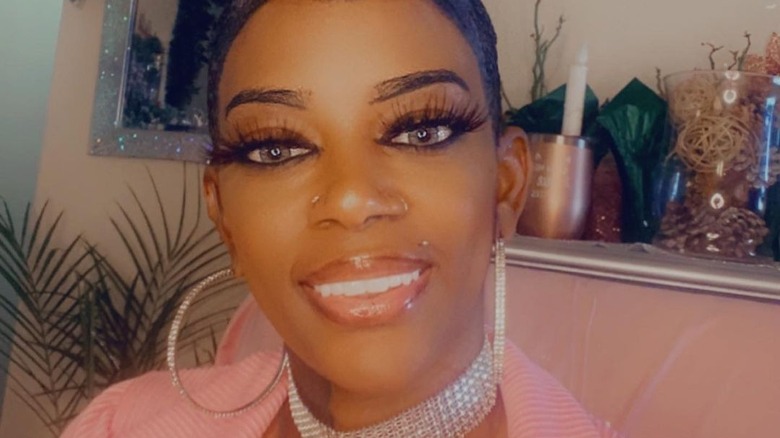 Tessica Brown's rise to viral internet fame didn't just change her life, it may have actually saved her life. As it turns out, when one sticky door is pried open with chemical solvents, you never know what's hiding back there. It all began with a so-called "mommy makeover."
According to TMZ, in late February, the mother of five consulted Dr. Obeng — who freed her from her polyurethane hair prison — for a breast lift, implants, and abdominal lipo as part of a "mommy makeover." During the pre-surgery consultation, he found a lump in both of Brown's breasts and sent her off to have a mammogram, confirming his suspicion. Fearing cancer, Brown had the lumps surgically removed and tested.
As she told TMZ, this was the "silver lining" of her horrific Gorilla Glue incident. If she never met Dr. Obeng, she may not have found the lumps until it was too late. Fortunately, they turned out to be benign. Rather, she was diagnosed with fibrocystic breast disease. The condition itself is no biggie, but she'll have to get mammograms every six months because it makes it harder for doctors to detect actual breast cancer.
Early March: And we have a GoFundMe imposter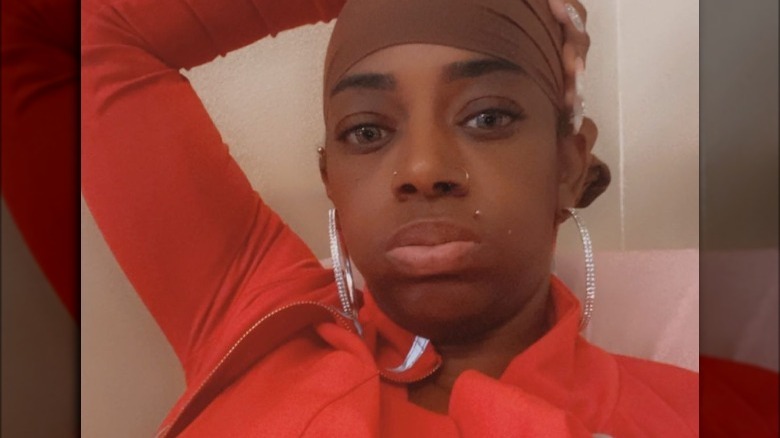 It was only a matter of time before Tessica Brown would be famous enough to spark an imposter. In March — a full month after Gorilla Glue Girl hit headlines — an imposter launched a bogus GoFundMe page, pretending to need money for hospital bills.
According to TMZ, the imposter posted a realistic bill, detailing charges that totaled around $186,000. From here, it starts to make less sense. The imposter asked for just $25,000 despite a bill showing eight times that. At first, it lists "radiology" charges, but Brown's cancer scare hadn't yet gone public. Then, it references Brown's Gorilla Glue GoFundMe, though she got free treatment and vowed to donate her earnings. "Once the doctors and hospitals thought I was getting money off of the other GoFundMe, they decided to charge me," wrote the imposter. " … The money I have left over from the other Gofund me will be used however it is not much because I already donated half of it." 
The imposter managed to con $500 worth of donations before the account was suspended, but everybody got their money back. In a statement to TMZ, Brown's manager asserted that the viral star "doesn't need money" and was "doing well." Whatever's out there was, indeed, a fake.
As we previously reported, this wasn't Brown's first copycat. A few weeks earlier, a TikTok user named Avani Reyes claimed to have also accidentally put Gorilla Glue in her hair.
May 14: Nicki Minaj name drops Gorilla Glue Girl in a new single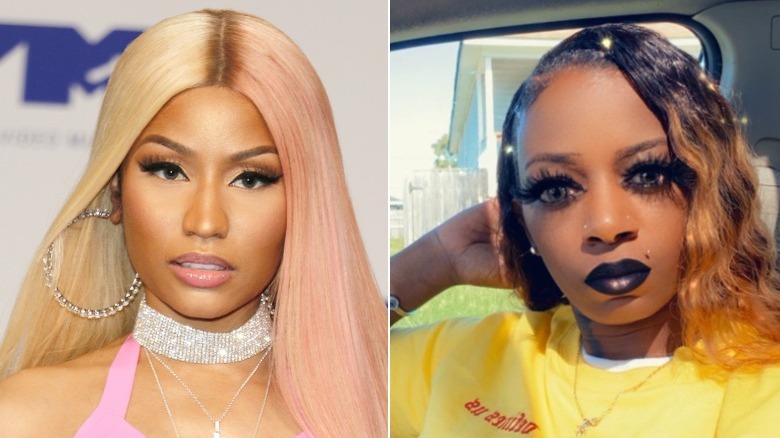 If there's anything more tenacious than Gorilla Glue, it's the sheer social currency of a rap star name drop. When Nicki Minaj gave Tessica Brown a shout-out in her single "Fractions," the viral star was firmly cemented into the pop culture lexicon. Gorilla Glue Girl was here to stay; Goof Off be darned.
On the track, which is from the 2021 mixtape "Beam Me Up Scotty," Minaj raps, "Sex game still cold, it's on igloo / head game slicker than little miss Gorilla Glue." Though the lyrics are overtly raunchy and Brown generally doesn't like being called Gorilla Glue Girl, she told TMZ she was "flattered" and "thought the line was cute." No, Minaj didn't consult her beforehand, but did hope the pair could one day meet.
"Fractions" ended up being a minor hit, peaking at No. 71 on Billboard's Global 200 chart. At the time of this writing, the audio track has more than 4 million views on YouTube.
Mid-May: Tessica Brown miscarries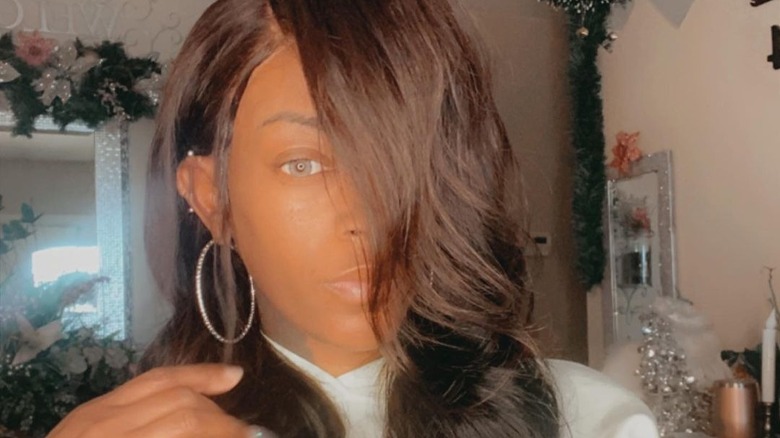 In late March, Tessica Brown was finally moving on from her traumatic Gorilla Glue experience. The viral star announced her first pregnancy with fiance Dewitt Madison. The baby was poised to round out their brood to a whopping 10 children (Brown has five kids from a past relationship, and Madison has four).
According to TMZ, Brown's love story was a long time coming. She had been with Madison, who owns a "lawn care and floor cleaning business," for a year — and the pair got married back in June 2020, months before she became an internet celebrity. If that seems fast, it wasn't anything like viral fame. The pair were old flames from long ago.
From the looks of it, the pregnancy was difficult from the start. Brown revealed she had Hyperemesis gravidarum, a condition that causes severe nausea and vomiting during pregnancy. She was later hospitalized for her symptoms (per TMZ, she was "extremely dehydrated"). In June, she revealed that the pregnancy ended in a miscarriage in May. She had been three months pregnant. 
May 30: Gorilla Glue Girl goes viral again, but Tessica Brown is not amused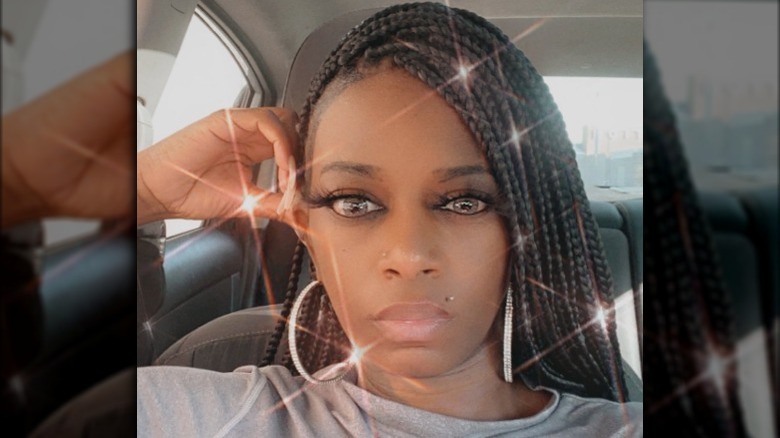 Tessica Brown already went viral once, and she wasn't about to do it a second time — not unless it was on her own terms. In May, the Gorilla Glue Girl saga continued when someone named Cocoa Brown created a viral song called "Bad Idea (Gorilla Glue Girl Remix)" using a sample of Tessica's voice from her infamous video.
According to TMZ, the track appeared on TikTok, Instagram Reels, and Soundcloud, as well as more traditional music platforms like Apple Music and Spotify, quickly gaining popularity. For reference: A re-upload of the sound has been used in nearly 100,000 different TikTok videos — and that's not even the original file. It became so popular that Cardi B's daughter Kulture found herself humming the tune.
Tessica didn't play a role in making the track, and she certainly wasn't profiting off of it. That's a major no-no, so the adhesive queen took legal action. According to TMZ, who obtained the cease and desist sent to Cocoa, Tessica was seeking "the recovery of all penalties, statutory and punitive damages for such knowing infringement as applicable." The track has since been removed from Spotify.
June 16: Tessica Brown announces her own hair care line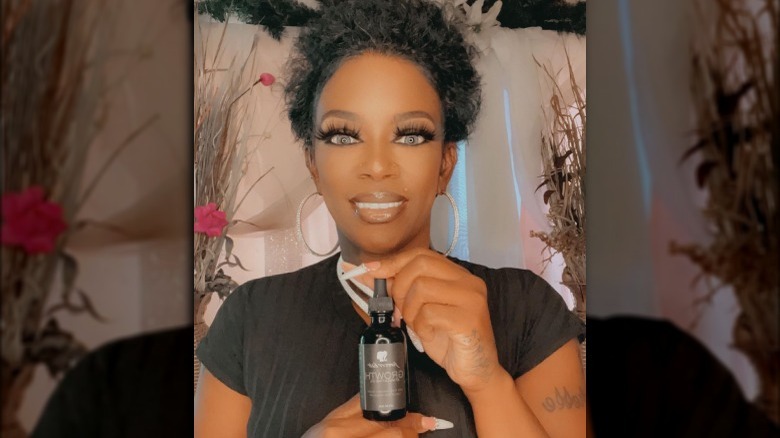 Tessica Brown has arguably learned a lot from her brush with viral fame — mainly, what not to put in her hair. Now, she's showing us what we should put in our tresses. In June, the star announced plans to launch her own hair care line inspired by none other than Gorilla Glue spray adhesive. For those concerned: There will be none of the nasty helmet head, chemical burns, and potentially exorbitant medical bills. Brown has dutifully learned her lesson with that. All we'll get is a glue-like hold that painlessly washes out.
According to TMZ, Brown's new business is called "Forever Hair," as in the hair she thought she was forever going to be stuck with. It's reportedly aimed at those "suffering from hair loss and damage," since Brown's Gorilla Glue journey made her quite sympathetic. The first three products include a $14 hairspray, $13 edge control cream, and $18 hair growth drops.
Right now, Brown is rocking a pixie (one she undoubtedly pulls off) but she's reportedly been "working with hair care professionals" to perfect her products. She claimed the web domain tbforeverhair.com, but at the time of this writing, she hasn't finished setting up. There's more for Gorilla Glue Girl yet.
Source: Read Full Article