Spirit Awards Live Blog: See How It Went Down At The 2019 Ceremony
February 24, 2019
From the chilly beach in Santa Monica, the 34th edition of the Film Independent Spirit Awards took place today on the eve of the Academy Awards. Hosted by Ingrid Goes West star (which won last year for Best First Feature) and Parks and Recreation alum Aubrey Plaza, the ceremony recognizes the best in independent film from the year that celebrates originality and brings the "indie spirit" to a wider audience — and Deadline was there for every minute of the ceremony. Anthony D'Alessandro, Dominic Patten and Matt Grobar were on the ground at the Spirit Awards live blogging while Dino-Ray Ramos will be lending an assist from the edit desk.
Barry Jenkins's If Beale Street Could Talk was the big winner of the evening taking home three awards including Best Director, Best Supporting Female for Regina King (her first Spirit Award) and the top prize Best Feature. Other winners included Boots Riley for Sorry To Bother You, Glenn Close winning for Best Female Lead for The Wife, Ethan Hawke for Best Male Lead for First Reformed and Richard E. Grant for Can You Ever Forgive Me? Read the complete list of winners here.
The Spirit Awards aren't necessarily an on-the-nose predictor for Oscar winners, but they are somewhat of a barometer. Last year, Jordan Peele's Get Out won Best Feature and Best Director but didn't win the top prize at the Academy Awards. However, Peele won an Oscar for Best Original Screenplay. Frances McDormand won for Best Female Lead for Three Billboards Outside Ebbing, Missouri and she went on to win the Oscar while Timothee Chalamet won for Best Male Lead, but walked away empty-handed at the Academy Awards.
The Indie Spirit Awards is essentially a hip, less buttoned-up ceremony that is filled with films that take artistic risks and essentially pave the path to the future of storytelling in cinema. They are like the cool, well-traveled artsy uncle or aunt of awards shows. From winners to speeches to unexpected moments read how it went down below.
And we're off to the races at the 34th annual Film Independent Spirit Awards
Welcome to Deadline's live blog for the Film Independent Spirit Awards! We are minutes away from the broadcast!
Matt Grobar, Dominic Patten, and Anthony D'Alessandro are on the scene and yours truly is on the edit desk watching from afar.
Film Independent President Josh Welsh thanks Aubrey Plaza for appearing as host; in contrast to the Oscars, this show still has one
I honestly think Aubrey Plaza is gonna kill it as host.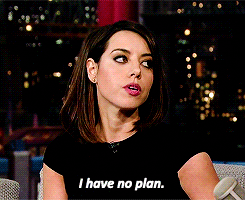 Last year, Plaza starred in Matt Spicer's Ingrid Goes West alongside Elizabeth Olsen, which won the Best First Feature.
Welsh did mention Plaza is only the second Indie Spirit winner after Samuel L. Jackson to so quickly go from honoree to host
Had no idea Jackson has hosted this show twice
Congrats to Debra Granik for winning the Bonnie Award — which Chloe Zhao received last year.
Welsh encourages those nominated tonight not to thank their agents or managers, lest they be played off for time.
Host Aubrey Plaza should be out shortly
But first, a pre-tape involving Plaza as a witch mid-ritual
It's truly a slam down Independent Spirits Awards this year. In years past Best Picture here can sometime indicate who wins at Oscars,i.e. Moonlight, 12 Years a Slave, Spotlight, or Birdman…not this year, just like last year (when Get Out won).
Brian Tyree Henry is disturbed – He thought he was coming to an awards show, not some creepy "white girl sh*t"
I honestly cant't wait to see the Child's Play reboot with Aubrey Plaza and Brian Tyree Henry.
This year, none of the the best feature noms are nominated for best feature at Oscar.
Finn Wolfhard of Stranger Things is the virgin Plaza is ritually sacrificing to ensure her hosting success
I spy Sharon Stone!
Dino, that reboot looks pretty fun.
Poor Finn. Henry "I'm gonna go…cuz I'm going to get blamed for this sh*t," as the young actor dies far too soon
Now Plaza is going all Exorcist
That was quite a fun opening…why can't the Oscars be that fun?
Great retro '70s horror stuff from Aubrey Plaza.
That brought to mind her great turn in Jeff Baena's Life After Beth
"Hi everybody, welcome to the Independent Spirit Awards, where we celebrate movies too important to see." Plaza is off and running
Plaza: "I just want to say that I know people think I don't care about anything, and I don't. But I actually do care about independent films – especially when they're fighting against each other. This is the day Won't You Be My Neighbor? tears the dick off of Hale County This Morning, This Evening
Plaza's snide and cynical dry humor is going to work…her sentiment probably reflects over half of the industry.
"The network's first choice to host was no one, but they're all booked
for tom'w. So you have me." – Plaza.

matthewgrobar
February 23, 20192:06 pm

"I'm very proud to say that 60 percent of our director nominees are women. Don't get too excited; in this case 60 percent just means 3 women, but 60% sounds way scarier to your uncles."
#IndieSpiritAwards – watching @evilhag coven video? Going over pretty well in the tent, especially @netflix algorithm joke pic.twitter.com/6wzmZLW2v0
— Dominic Patten (@DeadlineDominic) February 23, 2019
Plaza is speaking to Paul Schrader, noting their mutual connection to Robert De Niro – The writer penned Taxi Driver, while she starred in Dirty Grandpa along the celebrated actor
On Netflix bingeing: "Tidying Up or Roma? Either way, I'm going to watch someone cleaning up a bunch of sh*t."
I can't wait for Joaquin Phoenix's "Beard Trilogy" box set.
"I love independent movies and people deserve to see them the way they deserve to see them — in the theaters."- Plaza.

matthewgrobar
February 23, 20192:08 pm

"Cedric the Entertainer is here; he was great in First Reformed. But did anyone catch that he used his real name in the credits? So what Cedric, you're not going to entertain us anymore?"
Plaza calls out BlacKkKlansman's sole nod today – recognizing Adam Driver, instead of pic's director or other, less caucasian cast.
Plaza segues to Blackkklansman, and mentions how Adam Driver is the one person nominated from the Spike Lee film. "I'm sure you'll do the white thing."- Plaza.

Dino-Ray Ramos
February 23, 20192:13 pm

"Like Bohemian Rhapsody, it really doesn't have a director," – John Waters on the Spirit Awards telecast.
"Yorgos Lanthimos" is like a Harry Potter spell per Plaza…like a dirty spell involving corsets.
*WINNER*
BEST SUPPORTING MALE
Richard E. Grant, Can You Ever Forgive Me?
Grant was the third choice for the role in Can You Ever Forgive Me? Chris Dowd almost had his part.
It's gonna be a fierce best supporting race tomw….Grant or Mahershala Ali.
I am gonna lean more towards Ali, but Grant did an AMAZING job. Dare I say I liked Can You Ever Forgive Me? more than Green Book?
Grant has had quite a year. Will be interesting to see what it does for his career now. He recently wrapped up shooting on Star Wars Episode IX, so he seems to be on a roll
Richard E. Grant is backstage now
Grant: "I've never been nominated or won things before. I've been around almost 40 years doing this business. Because I've spent almost my entire career in indie films, I know how difficult it is to get [these] movies made. In an era of prequels, sequels and tre-quels," the success of the film has meant a lot.
Grant: "There's now a cure for AIDS, which wiped out a lot of my friends, [and] didn't exist" back then.
The SOMEONE TO WATCH AWARD was announced earlier: Alex Moratto, Director of Sócrates
Grant has no idea where he'll put his award from today, though curious journalistic minds are inquiring
Congrats to Richard E. Grant!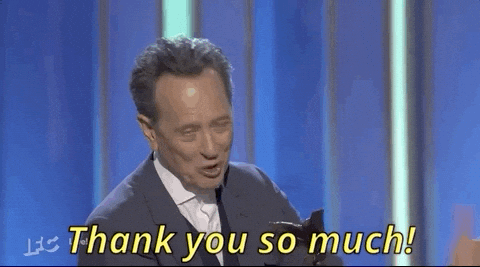 Still love Jordan Peele's joke from last year after he rec'd awards for "Get Out" calling the Indie Spirit sets a "Wakandan Laundromat"
Best First Screenplay coming up! Lakeith Stanfield and Finn Wolfhard are presenting…
Grant: "Completely and utterly because the movie I'd just done was Logan with a 300-plus team of men. Guns and f*cking machinery. So to go to a movie about love and human failure was as big of a contrast as you could possibly imagine." – On whether the experience of working with a female director is different
*WINNER*
BEST FIRST SCREENPLAY
Bo Burnham, Eighth Grade

No surprise here. I rather enjoyed Burnham's film. Wish Eighth Grade received Oscar love…but Spirit Awards are a good place for it.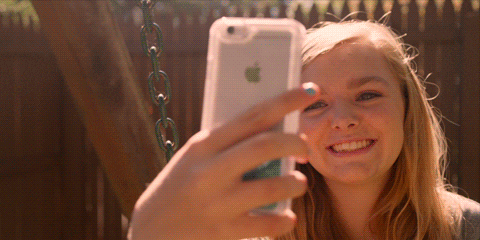 It's been interesting to see how much the film has been embraced, even if it wasn't Oscar nominated. Burnham even beat out Alfonso Cuarón at the WGA Awards
Star Elsie Fisher also got a Golden Globe nom. So the film has clearly made a significant cultural impact
Bo Burnham has had quite a journey. When he was a teenager putting homemade comedy music videos up from his bedroom, he rec'd a phone call when he was in high school; he was pulled out of class and it was Gersh, his first agency, looking to sign him. Soonafter, Judd Apatow became a mentor to the young comedian's scripted work and casted him in the TV series Yo Teach…!, and movies Funny People and The Big Sick.
Fun fact: Bo Burnham and host Aubrey Plaza have a Parks and Recreation connection. He appeared in episodes of Parks and Rec as problematic country star Chipp McCapp. #TheMoreYouKnow
The question seems to be, can Eighth Grade win Best Feature?
It has strong competition from Oscar-nominated films like First Reformed and Barry Jenkins' If Beale Street Could Talk
And now, Bo Burnham backstage
Burnham backstage: "It's incredibly flattering to be recognized by the independent film community because it's a community I'm a fan of. What things like this do is just bolster films [without] a bigger budget."
Burnham backstage: "What people have really been rewarding is Elsie's performance. The script is kind of roadkill; it's dead until the actors breathe life into it."
Burnham backstage: "I'd love to work with Elsie again. Part of it is she's 15; I've got to let her live life again, but yeah."
Love it…Jim O'Heir in a clip ….Aubrey called him b/c they spent the whole budget on flying John Waters in …Aubrey told him to go to a guy to get pallets of water…and to, how do I say this respectfully….
I am loving the Fyre Fest/Parks and Recreation sketch! Love seeing James O'Heir reprise his role as Jerry Gergich.
Burnham backstage: "It's never closed; anxiety changes year to year, and the solution I've found is exposure. And more than anything, articulating the thing…Anxiety can die in the sunlight, so just speaking about it really has helped me. But yeah, it's not about closing the door. It's being ok with the door being open. I've felt this way before, and I can get through it." – On the anxiety issues he's spoken to openly, which interfered with his stand-up work in the past
If anyone is wondering why certain major indie films aren't nominated, i.e. 'The Favourite' it's b/c Microbudget films, all the way up to pics that cost around $20M are eligible at the Spirits.
*WINNER*
JOHN CASSAVETES AWARD
En El Septimo Dia
Netflix's 'Roma' which could very well steal Oscar's Best Picture tomw is only eligible in Best Foreign Language Film here at the Spirits.
Dino, the show feels like it's moving at a fast clip. Matt, how many awards are we in?
FYI: The John Cassavetes Award is presented to the creative team of a film budgeted at less than $500,000 by the Film Independent,
I rather enjoy how fast this show is moving. Other award shows should take the hint!
#IndieSpiritAwards – during commercials, everyone on their feet or phones…. but is with the Enya playing in the tent? Is this 1988? pic.twitter.com/EIzqRvstl0
— Dominic Patten (@DeadlineDominic) February 23, 2019
#FyreFestival customs joke got the first big laugh of the #IndieSpiritAwards AKA #SpiritAwards today pic.twitter.com/XJcSRM2P5b
— Dominic Patten (@DeadlineDominic) February 23, 2019
If Beale Street Could Talk star Kiki Layne is presenting a clip from the Barry Jenkins pic. This is one of the most gorgeous and lush films of the year…and one of my personal faves.
…and it looks like Barry Jenkins had a run-in with a Fiji Water girl before the ceremony.
pic.twitter.com/GhszZ6uHRH
— Barry Jenkins (@BarryJenkins) February 23, 2019
As Matt said, Leave No Trace's Debra Granik was announced as this year's Bonnie Award honoree. Molly Shannon is up to present the award to her.
Debra Granik's Leave No Trace premiered at last year's Sundance. It was a her first feature since Winter's Bone.
Seems like ages since Winter's Bone. So glad that Granik has made another film and hopefully we will see more from her because she deserves it.
En el Séptimo Día producer backstage on Trump, the wall, and how it aligns with film's portrait of Mexican immigrants: "I just want to say that [in] this movie we reflect the opposite. We show the hustle that we go through, we show our values, we show that we take care of each other, and we're not criminals. So I'm very happy for this movie to be out there."
Can we please see a movie with Tessa Thompson and Gemma Chan?
If I'm being honest, I am rooting for Burning for this Best International Film.
Dino, outside of Roma, what are you favorite foreign films this year?
I just wish it received more love this award season.
And there goes Roma….as Best Foreign Film
*WINNER*
BEST INTERNATIONAL FILM
Roma (Mexico)
…but alas, there's no surprise that Roma took this one. Love it, but love Burning just as much.
Cuarón called Indie Spirit practices out of date, in the nicest possible way
"I think that this greater diversity (in the industry) is going to make this category irrelevant," -said Cuaron when accepting the award for Best International Film
Debra Granik backstage: "Wow, this is such an excellent tent. The spirit awards are rightly named. A huge spirit boost."
Granik backstage: "The Bonnie Award is saying, 'Keep going. Nose to the grindstone'. We like what you're doing; do more. It's mainline encouragement, right there."
After the commercial break it was announced that the TRUER THAN FICTION award went to Bing Liu, Director of Minding the Gap.
Best indie film of this year? And it's unfortunately not nominated here today….Karen Gillan's 'The Party's Just Beginning'. Amazing. We need to see more from Karen. Amazing DP work, tone, and she acted in the pic too.
*WINNER*
BEST EDITING
Joe Bini, You Were Never Really Here

Marvel should seriously hand a project over to Karen given their penchant for indie directors.
…and she's already part of the MCU so it should work out. Imagine her directing the Black Widow standalone!
Up next…BEST FIRST FEATURE!
Huge cheer in the room for 'Sorry to Bother You'
And that's what the room wanted to win.
*WINNER*
BEST FIRST FEATURE
Sorry to Bother You
So happy to see Sorry To Bother You getting love!
Sorry to Bother You debuted at Sundance last year and Annapurna scooped up the film. https://deadline.com/2018/01/annapurna-sorry-to-bother-you-sundance-lakeith-stanfield-boots-riley-1202269257/
"First film about class struggle" said Riley about Sorry to Bother You
Alfonso Cuarón backstage: "The thing that excites me the most about what has been happening, is that the film opened certain discussions that I think are important, discussions that should have happened decades or centuries ago. One of those is about domestic workers, and I'm so glad that organizations like the National Domestic Workers Alliance are using Roma as a platform for their movement."
Loved the film's representation of Oakland. More than that, Boot Riley's bonkers, hyper-realistic story of class struggle was surprisingly relatable. Congrats to Riley and the cast.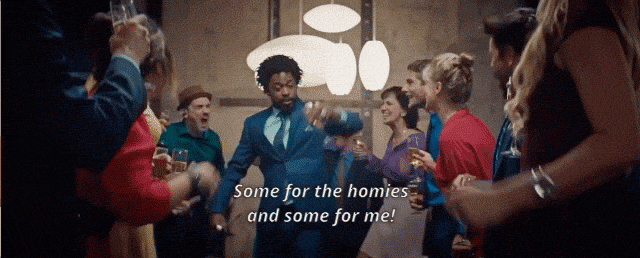 Has Cuarón prepared multiple speeches for tomorrow, when he'll be at the Oscars, presumably with big hopes for Roma?"Did you hear me talking?" That's a no. Seems safe to say he'll be going with the moment.
Cuarón couldn't have foreseen the way Roma has been embraced, he said backstage. "It's just a film that I had to do, and I'm just happy that all the elements [ended up] connecting with an audience."
A Aubrey Plaza/Armie Hammer rom-com? I'm game.
"I'm introducing a movie star they'd kill me to do a rom com with – Armie Hammer" – Plaza.
A Aubrey Plaza/Armie Hammer rom-com? I'm game.
An Armie Hammer and Aubrey Plaza rom-com? I am game.
Suspiria is receiving the Robert Altman Award. Will I get in trouble if I say that I like the original better?
I loved this one better…smarter film..would love if Luca remade the whole Mothers trilogy.
Argento always teased he'd do another film. Totally underrated film.
But that doesn't mean I didn't like Luca Guadagnino's interpretation. I just adore classic retro horror….and Argento's was much shorter.
However, how could not love Guadagnino's? I love me some Tilda Swinton.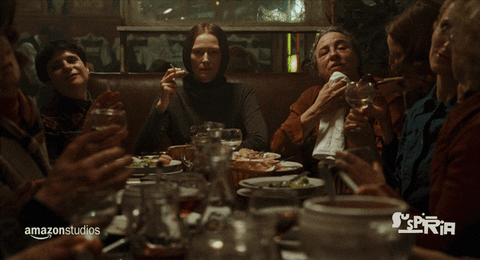 But that doesn't mean I didn't like Luca Guadagnino's interpretation. I just adore classic retro horror….and Argento's was much shorter.
However, how could I not love Guadagnino's? I love me some Tilda Swinton.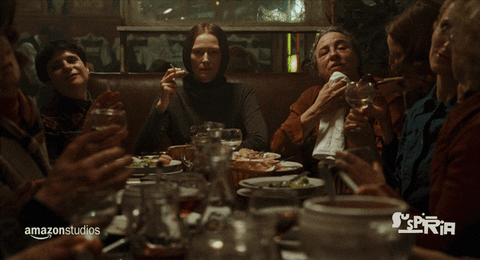 Boots Riley backstage, sharing what he wants to say about Trump: "Well I want to say that he's just the newest incarnation of facilitators of capitalism, and that while he's one of the worst, he also is one stair step in a bunch of stair steps that have been being built for a long time."
Backstage, Riley called out US intervention in Central America going back decades, and continuing today: "The people of Venezuela should be the ones deciding who rules them, and the U.S. has been working with opposition forces there for years."
There is something mesmerizing about this GIF.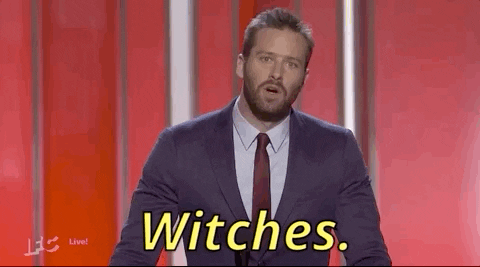 For Riley, the awards Sorry to Bother You has received have been "an honor and an affirmation," given how many people told him that the wildly imaginative film would be "impossible to make" — that it was "too different for people to accept or understand."
Great moments from previous Indie Spirits…Fey Fontaine.
John Waters should direct every award show.
Shangela from RuPaul's Drag Race (and A Star Is Born) is taking the stage for a musical number dedicated to Best Feature and I AM LIVING FOR IT.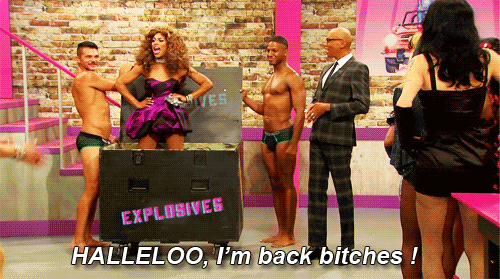 Joaquin Phoenix's nonplussed reaction to this dance was really special
And she's singing all the nominated films….
"If Beale Street Could Talk, what would she say?"
"and to follow that..Mark Duplass and Ray Romano"….says Plaza after Shangela.
"When you present, you should ask what are you following?" says Romano.
Suspiria group coming backstage.
*WINNER*
BEST DOCUMENTARY
Won't You Be My Neighbor?

Interesting that this one didn't make the Oscar cut.
AMPAS Doc branch typically snubs the most popular or most pushed docs.
Another great classic from Spirits past: Kate McKinnon & Kumail Nanjiani in "Carol"
I am happy for this win…and I am sad that it wasn't included in the Oscar fold.
Anthony – I LOVED THAT CAROL SPOOF. I watched it over and over again. It was hilarious.
It would be fun to see more sketches like the Carol one from last year…but Plaza is handling her hosting duties well with her signature snide charm.
Backstage, casting director Stella Savino spoke for the most part, while actress Chloë Moretz called Suspiria "stunning," and "really indicative of the times."
We still have a handful of awards to go: Best Male and Female Lead as well as Best Director, Best Screenplay, Best Cinematography and, of course, Best Feature.
Plaza's 'Incarnation' opening is certainly memorable Dino.
Eighth Grade captured the awkward spirit and angst of middle school that no other movie has captured before…however, Hulu's Pen15 is definitely cut from the same cloth.
Agreed, Anthony. That opening was fantastic! Loved seeing all those amazing actresses having some witchy fun
If Regina doesn't win. I riot.
*WINNER*
BEST SUPPORTING FEMALE
Regina King, If Beale Street Could Talk
Ok, Regina King—winning best supporting actress for 'If Beale Street Could Talk'…we will def. see her tomw 🙂
Standing ovation for her.
She was A. MAZE. ING. in Beale Street. The wig scene is everything.
…and yes, we will see her tomorrow at the Oscars! 🙂
This puts King ahead of the pack for tomorrow, but it's still anyone's game.
Morgan Neville (Won't You Be My Neighbor?) backstage: "Who knew Mr. Rogers was the man of the moment? It's like the antidote to this toxic, sh*thole world we're in right now, so it turned out to be the right moment" for Roger's positive outlook and his story.
Neville backstage, on how he defines himself in his worldview: "I'm kind of bipolar. I go back and forth between optimism and pessimism. I think ultimately, I'm a pessimist who hopes he's wrong."
Neville backstage: "Is there anything bad about Mr. Rogers? Any dirt? We talk about it in the film, but genuinely he's someone who in real life was better than his TV character. He can be grumpy, but that's about it. Hard to think about something bad to say about Mr. Rogers."
Side note: I loved Neville's doc 20 Feet From Stardom.
*WINNER*
BEST SCREENPLAY
Nicole Holofcener & Jeff Whitty, Can You Ever Forgive Me?
Wow
I agree with this win. This film was so sharp and clever — I feel like more people should have seen it.
Heading into tomw, that film is looking stronger for Adapted Screenplay esp. after WGA win.
Pic won at the WGA Awards as well. It's really picking up heat along its award season trajectory. Could be a real contender at the Oscars, which it should be
"Amazing that this movie about two gay alcoholics got made" –Holofcener.
For sure. I love that Jenkins brilliantly took on the task of adapting James Baldwin, but CYEFM is looking to be the frontrunner.
Amazing as it might seem, in the making of "Can You Ever Forgive Me", it was a bit of a challenge for the filmmakers to find parts of Manhattan that still looked like the '90s. In fact one of the bookstores they shot the movie in, closed down soon after. #nostalgia
I think more people need to see CYEFM. Lee Israel's story is amazing and crazy….it's "crazemazing."
The show is at 2 hours and clocking now.
We still have about five awards left…hopefully, it will come in under 3 hours. (Take note, Academy 🙂
I'm kind of happy that Mandy is nominated for something. That was a bonkers Nicolas Cage romp.
*WINNER*
BEST CINEMATOGRAPHY
Sayombhu Mukdeeprom, Suspiria
I want to have a name as cool as Sayombhu Mukdeeprom.
"My spirit is always independent that's why I can't be there," said Mukdeeprom in absencia.
Best Director is a tight race!
There was an early push for that Dino, I so forgot about that. But yeah for 'Suspiria'!! I hope it surprisingly wins as a write-in tomw at the Oscars.
*WINNER*
BEST DIRECTOR
Barry Jenkins, If Beale Street Could Talk
It's Jenkins fourth Indie Spirit following Moonlight's Robert Altman, director and Screenplay. Moonlight also won DP, editing and Best Feature.
Nicole Holofcener (Can You Ever Forgive Me?) backstage, sharing her thoughts on plagiarism: "It's bad. Plagiarism is something I always feared my children would get in trouble for, and they didn't. It's illegal and not so good, but this story is about so much more. But don't do it."
Love how Barry is giving shine to women filmmakers.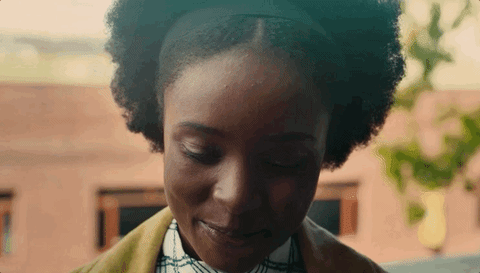 Holofcener backstage, explaining how Marielle Heller came to direct the film, and her earlier attachment to do so: "Actually I was going to direct the movie first with a different cast and it fell apart; I could have made it again in a year, so it was a very long process, and when I decided I didn't want to go back to direct it," Marielle Heller was approached to take it on.
Holofcener backstage, on Oscars snub of director Marielle Heller: "I don't know if it's because she's female; I know this could equally happen to a male director, and it's strange. Just strange. I feel Marielle was cheated, and I feel bad about that."
Jenkins referenced the 4% challenge and urged at least 30 percent in the room to increase that number.
"I cannot make a movie about women without women's voices in the forefront," -Jenkins said in his acceptance speech.
There are 3 awards left.
After the commercial break, it was announced that Shrihari Sathe received the PRODUCERS AWARD.
Best male Lead….John Cho, Searching
Daveed Diggs, Blindspotting
Ethan Hawke, First Reformed
Christian Malheiros, Socrates
Joaquin Phoenix, You Were Never Really Here
*WINNER*
BEST MALE LEAD
Ethan Hawke, First Reformed
Where in the world is Ethan Hawke?
Co-star Amanda Seyfried is accepting on his behalf
His 4th nom and 1st win at the Spirits for Ethan Hawke. He's not here, he's on Broadway doing "True West"
Next up
BEST FEMALE LEAD
Glenn Close, The Wife
Toni Collette, Hereditary
Elsie Fisher, Eighth Grade
Regina Hall, Support the Girls
Helena Howard, Madeline's Madeline
Carey Mulligan, Wildlife
Good of the Indie Spirits to allow presenter Yalitza Aparicio to share her thoughts in subtitled Spanish
Yalitza is having quite a year, isn't she?
From what I hear, the language barrier has been a hurdle she's had to overcome—that most haven't—on the awards circuit
Quite a year indeed. Wondering what she's got lined up next. I imagine someone must be chasing her after seeing her turn in Roma
*WINNER*
BEST FEMALE LEAD
Glenn Close, The Wife
The whole tent is rising for Glenn Close! Standing o.
That is a remarkably well trained dog on stage with her. Wow
The dog is the real star of the Spirit Awards.
Meanwhile, I'm trying to train a puppy not to hurt me when he bites. He's 4 lb
This dog is just happy to be here
But who is he wearing?
"It's really ever about the work" — Glenn Close
I wish all actors brought their dogs as a date to award shows. It would make it so much more fun.
14 years to make it to the screen– "The Wife"
Absolutely
"I'm the only one from this remarkable movie who was recognized, I feel like I rep them all" says Close.
They said that when Close was asked why it took so long to bring The Wife to the big screen, she said, "Well, it is called The Wife".
The show, and the season, is almost over. I, for one, am grateful; it's absolutely frigid out here near the Santa Monica pier
One more award to go!
While there is no Best Feature winner who will transfer from this afternoon's Spirits to tom'w Oscars, there are plenty we can project in other categories, i.e. Close for Best Actress, King for Best Supporting, possb. Can You Ever Forgive Me for adapted screenplay.
Michael Keaton thinks Rami Malek's "teeth" deserves more recognition this season.
Keaton is presenting last award of the night…Best Film.
Jenkins scores another Best Pic at the Indie Spirits for If Beale Street Could Talk
*WINNER*
BEST FEATURE
If Beale Street Could Talk
I'm happy with this winner. I adored Beale Street. It's heartbreaking and loving all at once.
And that's a wrap on the Spirit Awards! Thanks, Anthony and Matt!
Close said backstage that she knows she'll "never be able to match that [Golden Globes] speech"
She was attached to the pic for 5 years. "And I really had my agents to thank because we would put our heads together and say, 'Shall we wait? Shall we wait? Yes, it's worth it.'"
While press in the room asking questions were difficult to hear, Close appeared to pay homage to presenter Yalitza Aparicio, her fellow Oscar nominee, for her remarkable work in Roma, playing a person who seems invisible to others in her world. The veteran actress gave her take on the performance and the film. "There's so manny invisible people in the world; they're people who do work a lot of the time, who keep us going. Every single person has a story, no matter who they are, and that story counts."
We may have a couple more winners coming backstage…Waiting to see
Wondering how Beale Street didn't get more Oscars love this year, especially with Barry Jenkins coming off the heat of Moonlight. To me, the film is every bit as good
(Love, at least in terms of nominations)
I really hope Beale Street gets some love at the Oscars. Like I said, if Regina King doesn't win, I shall riot.
A journalist tried to ask Jenkins how his life has changed before being interrupted jokingly: "How did my life change? Since what, bruh?"
For him, the difference working in a post-Moonlight world is that he "can't deny that [he has] a certain kind of responsibility" in the work that he does.
Haha….Jenkins is not holding back with the press.
When Jenkins was at the Indie Spirits a number of years ago with his first low-budget feature Medicine for Melancholy, Jenkins "wanted to win these things [Indie Spirit Awards]. I didn't think it would be possible to win the other things." The director joked that it was only because of the famous envelope fiasco that winning those other things was possible.
Jenkins knows exactly what to say and I am so happy he addressed the issue of adapting works by black authors and, in turn, authors of color. We have yet come to the same place where Hollywood puts them on the same shelf as white authors.
I feel that more people are going to dig around to watch Medicine for Melancholy.
And that's it for us here at the Indie Spirits. Back for Oscars tomorrow. From Dino and I at Deadline, stay warm–and good night.
Good night all! And see you tomorrow at the Oscars!
Source: Read Full Article