Ross Lynch's Dating History Includes Some Familiar Faces
February 26, 2021
Crushing on Ross Lynch? Totally understandable. From starring in Austin & Ally and Teen Beach Movie, to crooning in R5, to standing up to evil in Chilling Adventures of Sabrina — this versatile king has given fans plenty of opportunities to fall in love with him. If you're smitten with the actor and musician, you're probably curious about Ross Lynch's dating history. Without some sleuthing, Lynch's flirty pics with co-stars could be a bit confusing. Luckily, I did the digging so you don't have to.
First, let me give it to you straight: If you're an OG Austin & Ally fan who shipped Lynch with Laura Marano, they never actually dated. They have, however, remained friends who post cute throwbacks of each other on Instagram.
Likewise, you may have stanned Lynch during the Teen Beach Movie era and shipped him with Morgan Larson. (Exhibit A: this cheek-kissing picture.) Or maybe you shipped Lynch with Maia Mitchell, who he called "a good kisser" after the two threw an unscripted kiss into Teen Beach 2. While there has been plenty of speculation over the years, Lynch has never confirmed a relationship with neither Larson nor Mitchell. Although, he has added fuel to the fire by saying he found himself in a love triangle on the set of Teen Beach Movie and never confirming who with. Woof.
Thankfully, the actor has been much more open about publicly praising the two serious girlfriends he's had since 2017. Here's what's gone down since.
Lynch dated Courtney Eaton from 2015 to 2017.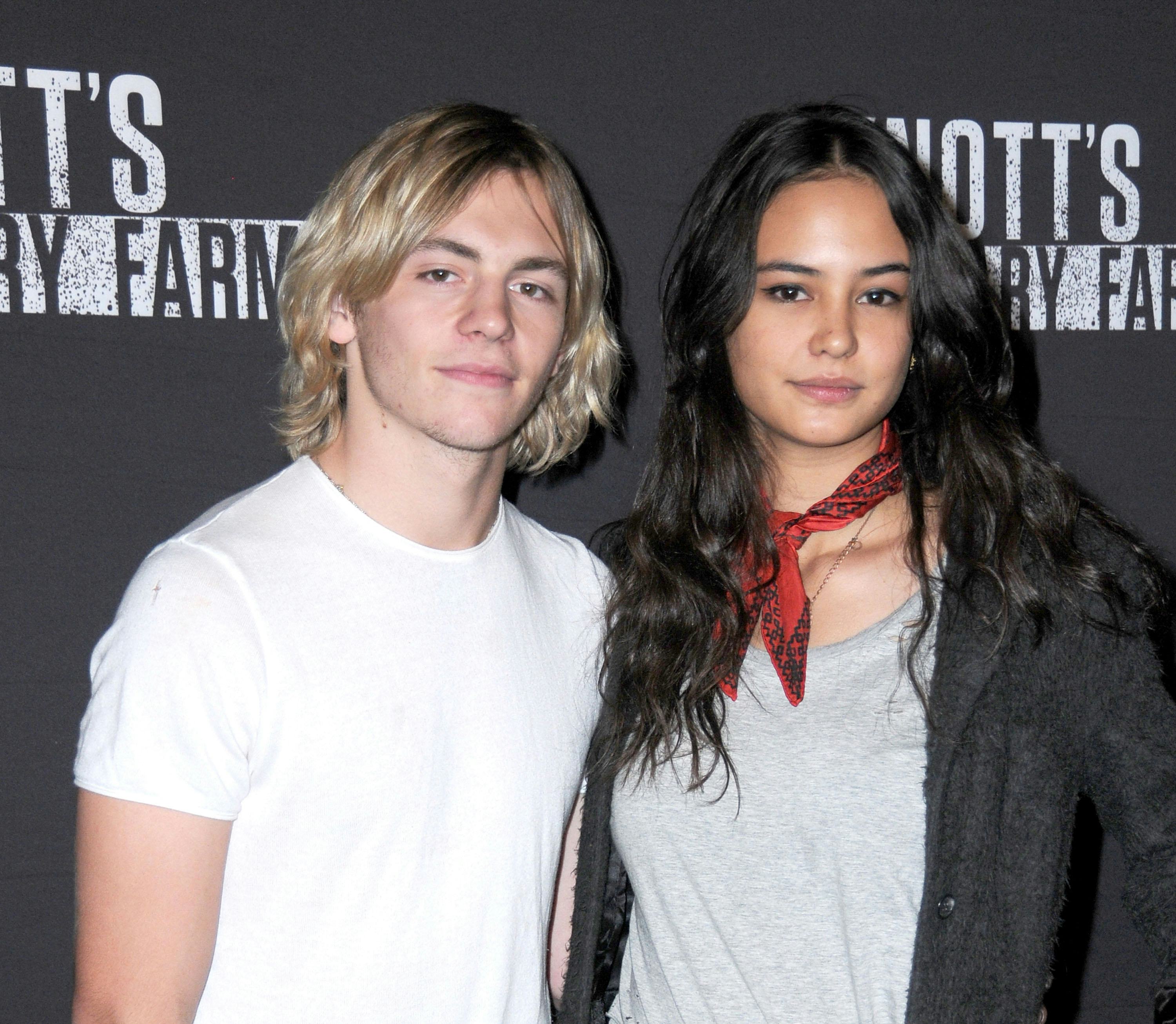 Lynch reportedly met Eaton on the set of Status Update, a 2018 movie also starring Olivia Holt and Gregg Sulkin. The two became Instagram official on Sept. 2, 2015, which was a big deal since Lynch had never publicly claimed a partner before. The two broke up sometime in late 2017. Lynch's last post of Eaton was in July 2017, and by November of that year, W Magazine called Eaton his "then-girlfriend" in an interview.
Now, he's dating 'CAOS' co-star Jaz Sinclair.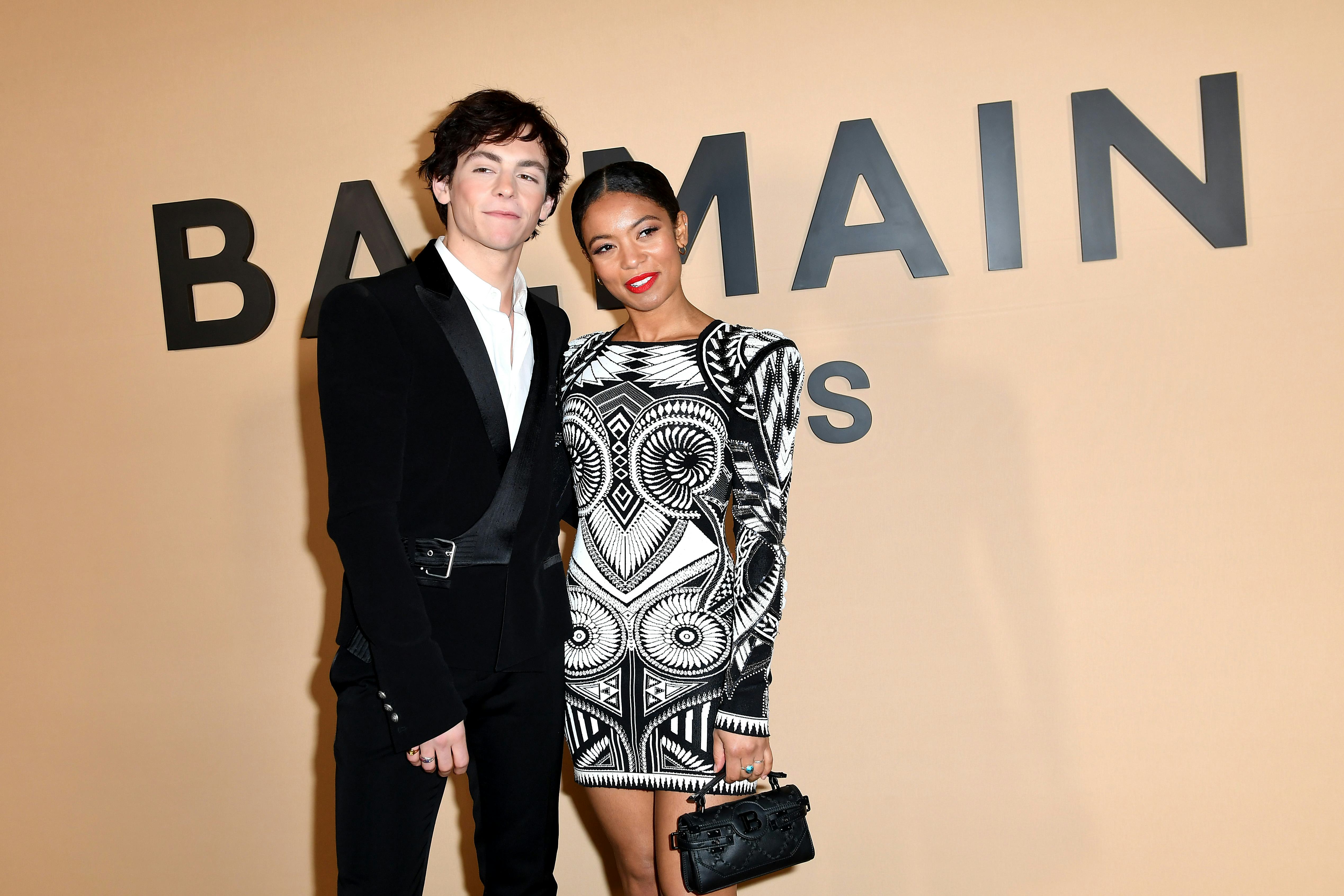 If you're a CAOS fan, you may remember a time when Lynch and Jaz Sinclair weren't "officially" dating, but the signs were totally there. ICYMI: Rumors that Lynch and Sinclair were a thing started circulating in late 2018. At Rydel Lynch's (Ross' sister and fellow R5 member) New Year's Eve party in 2018, Lynch and Sinclair were videotaped locking lips, pretty much sealing the deal for stans. Still, Lynch side-stepped the dating rumors in January 2019, telling Entertainment Tonight, "Me and Jaz, and a few other of the actors [on Sabrina] really just hit it off, and we would spend everyday together. Jaz is like, my closest friend right now. I'm the favorite's favorite, that's what we always say… because she's everyone else's favorite, but if I'm her favorite, then it's like, 'OK cool. I can deal with that.'"
In some ways, it seems like Lynch and Sinclair were a long time coming, especially after their characters on CAOS, Harvey Kinkle and Roz Walker, started dating on screen. As Lynch told Cosmopolitan in April 2019, "I actually wrote a song with Jaz Sinclair way early on. Like, when we first booked the show. We were up in Vancouver and I have a portable studio that I bring with me. And we just wrote a quick song." Seems like instant chemistry, doesn't it?
Finally, after being seen kissing some more, the two became red-carpet official at a Balmain show in January 2020, and the rest is history. Since CAOS was (tragically) not renewed for a fifth season on Netflix, fans will no longer get to see Lynch and Sinclair light up their screens with their absolutely fire chemistry. But if you're ever feeling nostalgic and craving some IRL Harvey and Roz loving, scroll through Sinclair and Lynch's Instagram accounts. From their sunny outdoor adventures to the way Lynch defends Sinclair against racist trolls, it's clear they're head over heels in love. What more could fans want for their faves?
Source: Read Full Article