Rick Ross Responds After His Escaped Buffaloes Piss Off Neighbors
March 20, 2023
Seemingly downplaying the neighbors' concern, Rozay says his buffaloes are 'so kind' and 'so peaceful' and asks them to give the animals some carrots whenever they see them.
AceShowbiz –Rick Ross has broken his silence after his unusual pets escaped his property. Addressing the question, "How did my buffaloes get out???", the rapper took to his Instagram Story to assure his neighbors that his buffaloes do not pose a danger to everyone around them.
"Morning, glorious. It's a beautiful day," he opened a video posted on Sunday, March 19. He admitted that his bulls, cows and buffaloes got out in the community, but insisted that they're "so kind" and "so peaceful."
"Make sure you always keep a collar on your animal. Mine have collar cuz you know their mine," the 47-year-old hip-hop mogul said with blaring music in the background. "So when you see my buffalo, give it a carrot, give it apple. They're so kind, they're so peaceful."
"Thank everybody for watching. Thank everybody for making sure all of my animals got back into the Promised Land," he continued, before praising his neighbors, "All my neighbors, y'all the best." He added in the caption, "I thank my neighbors."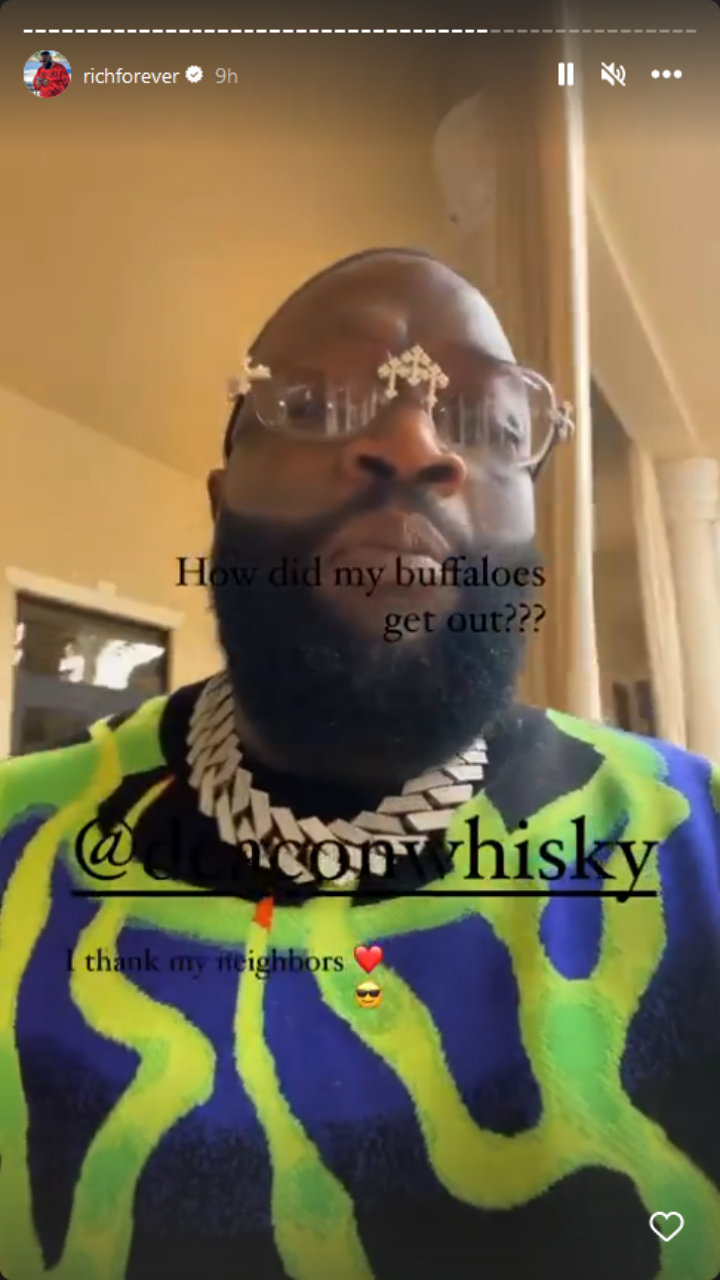 Rick Ross addressed his escaped buffaloes.
Rozay repeated the message in another video. "You saw me on TMZ this morning. Two bulls, buffaloes got out," he said. "I want to thank my neighbors in Fayetteville and, of course, my team, the whole squad, for making sure all my animals made it back safe."
"Anytime you see one of my buffaloes, please give it a carrot. They are very peaceful," he added, claiming, "They are just grazers, they are not meat eaters."
While Rick calmly talked about his escaped buffaloes, his neighbors didn't seem to take the issue lightly. According to TMZ which first reported the news, The Boss' two buffaloes have wandered onto his neighbor's property in Fayetteville, GA twice last week. The woman's worried the animals may pose a danger to her small children.
In a video obtained by the site, the behemoth pets were seen running through the neighbor's front yard. She said she came home from work to discover the wild scene. She also took a photo of the two buffaloes grazing grass near a paved driveway full of parked cars. The woman also showed the aftermath of the buffaloes roaming through her lawn. They appeared to be tearing up her yard.
The neighbor said she went to Rick's place to complain about the escaped animals and it led to a verbal dispute with a member of the rapper's team. She then filed a neighbor dispute with the city and tried calling police, but cops said it's a civil dispute and didn't take a report.
Rick was gifted two of the buffaloes in March 2022 by Darius Burton, who serves as the director of brand operations at Ethika. "We are gifting Ross these Buffalo after a conversation at his birthday party back in January," Darius told Page Six. "I wanted to get him a giraffe but he wasn't ready for that commitment so he said let's start smaller, like a cow. I said nah, everyone has cows, I want you to have something nobody in your state has, I'm getting you a Buffalo."
In February 2022, Rick also purchased a bull. "I'm ready for it right now. I'm happier than a muthaf**ka!" he announced it via Instagram at the time. "This a dream come true for Rozay! You know what this is for a young boy from Carol City to have horses and now a big boy?"
You can share this post!
Source: Read Full Article