Rachel Zegler Apologizes Over Dramatic Monologue of Britney Spears' Tweet
January 18, 2022
The 'West Side Story' actress lands in hot water after parodying Britney's January 14 tweet in which the '…Baby One More Time' singer blasted Jamie Lynn Spears for her memoir.
AceShowbiz –Rachel Zegler has issued an apology after being slammed for dramatic reading of Britney Spears' tweets to her younger sister Jamie Lynn Spears amid ongoing family drama. Taking to her Twitter account, the "West Side Story" star showed remorse over her action.
"Anyone who knows me knows how much I love Britney and am rooting for her always," the actress wrote on the blue bird app. "While I meant no disrespect whatsoever, I should have thought about how this could be perceived, and I'm so sorry for upsetting or disappointing anyone."
In a follow-up tweet, Rachel admitted that "this is not a situation to be taken lightly, and we should all be lifting Britney up in this pivotal time." Concluding her message, the "Shazam! Fury of the Gods" star thanked her fans "for hearing me out, and a big thank you to all who held me accountable."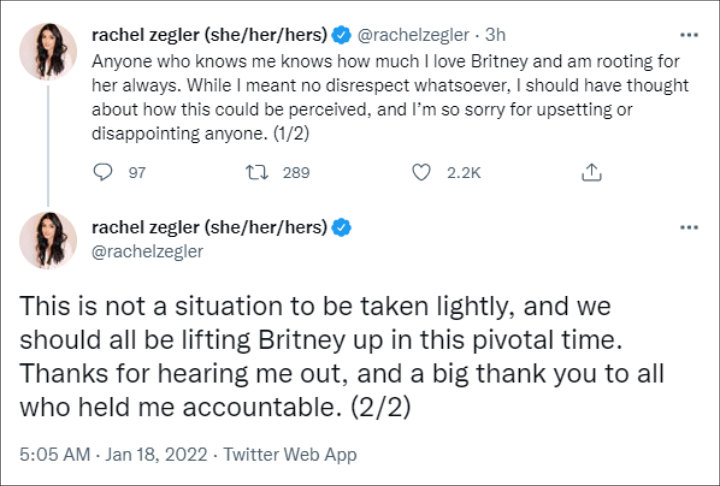 Rachel Zegler apologized for mocking Britney Spears.
In response to her apology, her fans noted they hoped she learned a valuable lesson from this. "I hope that you have learned a valuable lesson. This could easily have been you in Britney's shoes. You're new in this business, always be gracious and humble. Don't mock trauma for laughs, read the room next time," one fan wrote to the 20-year-old actress.
One other fan added, "i am so proud of u for addressing this and we should always hold people accountable, but plz don't beat urself up. u are still young and a part of being young is making mistakes. love u rachel and keep ur head up always <3."
Rachel landed in hot water after parodying Britney's January 14 tweet in which the "…Baby One More Time" singer accused Jamie Lynn of peddling "crazy lies" to sell her memoir "Things I Should Have Said".
"wow you took someone's trauma and made a high school theater kid monologue out of it while actively working with abusers! congrats! you're a s**tty person," one Twitter user blasted Rachel after watching her dramatic monologue. "This is what kind of stuff will happen when the next generation of actors were raised on Twitter and Tumblr," another person opined.
"she's took someone else's trauma and treating it as if she's auditioning for a stage play," another critic said, before urging Disney to denounce her casting as Snow White in its upcoming live-action movie. "Quick, there's still time to cast lana condor as snow white instead."
Source: Read Full Article