Queen Elizabeth Thinks Prince Andrew Is Causing "Huge Amounts of Damage" to the Monarchy
November 23, 2019
Last Saturday, Prince Andrew gave a bombshell interview about the sexual misconduct accusations against him and his relationship with Jeffrey Epstein. The interview only made Andrew look worse (it was all kinds of yikes), and earlier this week he released a statement saying that he's stepping back from royal duties.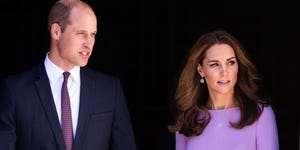 And while the rest of the royal family is staying pretty mum about the whole situation, sources have said that Meghan Markle is "horrified." Royal expert Katie Nicholl also shared with ET what the Queen is making of all of this. Apparently, Queen Elizabeth could see that Andrew was causing "a huge amount of damage" and had to step down. Katie said:
So basically, it sounds like the Queen isn't happy about all of this!
Source: Read Full Article