Paris Hilton Responds to Ellen DeGeneres Boasting About Predicting Her Son's Name
February 24, 2023
After the hotel heiress reveals her first child's name, the former TV host brags about identifying the name Phoenix in a January 2022 episode of 'The Ellen DeGeneres Show'.
AceShowbiz –Paris Hilton revealed the name of her first child, Phoenix Barron Hilton Reum, with husband Carter Reum on Wednesday, February 22. While it was big news for most people, it might not be the case for Ellen DeGeneres as she claimed that she predicted Paris' baby boy's name a year ago.
Following the announcement, the former TV host took to her Instagram account to brag about identifying the name Phoenix during Paris' appearance on "The Ellen DeGeneres Show" in January 22. "I named @ParisHilton's baby! What do I win?!?! A hotel?!?!" she joked in the caption.
The shoutout didn't go unnoticed by Paris. The "Simple Life" alum reposted the video on her Instagram Stories and left a blue heart emoji.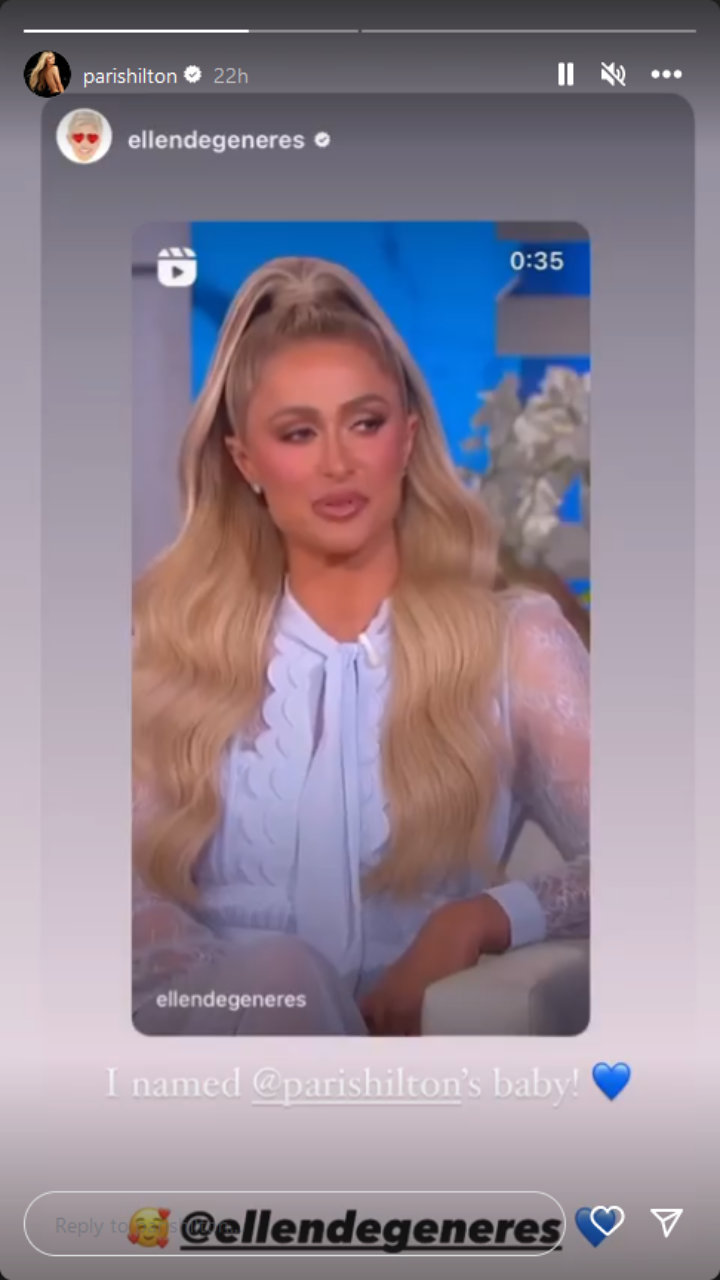 Paris Hilton reacted to Ellen DeGeneres' shoutout.
In the episode, Ellen asked Paris if she would name her future son after a "city or country." The hotel heiress admitted that it was her intention, but she refused to disclose it because she's "scared someone will steal the name," adding, "no one I know" has the moniker.
"Argentina?" the host guessed, to which Paris responded, "Not telling you." The comedian later said, "Alright. We're going to take a break then. I'll guess it. I will … Phoenix?"
Paris and her husband Carter welcomed their first child via surrogate and announced his arrival on January 24. The socialite shared a close-up picture of her baby boy gripping her thumb and captioned it, "You are already loved beyond words."
Last week, she finally revealed the name of her child. She reportedly will discuss the name further in her upcoming book, "Paris: The Memoir", which is set to be released on March 14.
The blonde beauty then treated her fans to a picture of her first child's face. Making use of Instagram on Thursday, the first-time mom shared a family portrait. The snap saw her cradling her new bundle of joy, while her husband planted a sweet kiss on her head.
You can share this post!
Source: Read Full Article