Lori Loughlin's Hallmark Channel Costar Paul Greene Shows Her Support Amid College Admissions Scandal!
April 16, 2019
We know what Lori Loughlin's Fuller House costars think about her alleged involvement in the massive college bribery scandal, but what about her Hallmark Channel family?
Paul Greene, who starred alongside the 54-year-old in When Calls the Heart, opened up about the scandal on Popcorn Talk Network's I Could Never Be, discussing how it impacted the cast and what he's since said to the indicted actress.
Sitting down with host Michael Clouse, Greene admitted that it's been a struggle for the cast to address the scandal in a way that "doesn't offend, but still supports" Loughlin, whose character is being edited out of the remainder of the show's current sixth season. He noted:
"They're doing some reshoots in Canada, and I mean, everybody has really been very, very careful 'cause it's a very sensitive time. And it's very sensitive on, for every side of this thing. And there's been a lot of; the Hearties have had to be really patient too, 'cause they were so excited for this season, season to start, then there was this big upset in the media, and then it's almost like, everybody is trying to collect themselves and pull it all together, make a statement that doesn't offend, but still supports, that's loving but also everyone's like, dotting their I's and crossing their t's on the corporate side and it's, like, every angle you could look at this has had to have been handled very carefully."
Sounds like the cast has put more thought into their statements than Loughlin put into her federal court case! Ha!
Greene noted that addressing the scandal is so delicate because the opinions of the "trolls" born from our current "outrage culture" are taken very seriously by Hallmark Channel's powers that be, continuing:
"And the mood overall is, is obviously support and family but there was a time when nobody really knew anything. Like, us as actors knew just as much as anybody else… That's the really crazy thing with this outrage culture is how things break is you get several trolls on, that are trolling and just making these insane comments and those things go right to the top, and so those opinions get a lot of attention as well."
Despite all the negativity surrounding it, however, the actor believes this scandal will eventually have a positive impact on the show's cast (except for Loughlin, probably) and fans — and will, in fact, "bind everyone together." He explained:
"It's been a time that I really feel and, and I can really trust that in the long run will really bind everybody together. Like, adversity brings family together. It really does… I'm talking about the whole thing, man. Between the characters and the actors, between the fans and the relationship and the love they have for the show, and I really feel like everyone's really pulling together now and doing the very best that they can with what they've been given. And still time will tell; things are going to continue to unravel and I think we'll look back on this as, as a moment that everybody was, was very generous and was able; especially the Hearties, they've been generous and patiently waiting… It really does speak to the loyalty of our fans, and how our showrunner, Alfonso  has had to rewrite and had to create these, and keep these stories, like, just really true to the heart of Hope Valley and continue to, that we get to continue to tell stories. You know, it was, it felt like it was almost taken away, in a way, 'cause everything was up in the air, and we're like, wow; and at the end looking at it with a lot of gratitude that we get a chance to continue to tell these stories."
While Lori won't get a chance to continue to tell these stories with the rest of the cast, Greene says he still supports her "no matter what" — something he's apparently told the embattled star since the scandal broke. He noted:
"It's probably exactly how the fans are imagining. We've all known Lori for a really long time, and, and when someone's your friend and something happens to them, you don't stop being their friend. You support, no matter what happens. So, that has been there from, especially from me. I can only speak for myself of how I've reached out or how I've been, you know; but that, I can't speak for anyone else around that. I do know is that if you had a good friend and they were accused of something, you haven't even heard their side yet, you'd be there for them no matter what. And so that's the conversation. It's like, and, and if I made a, everyone's human; if I, Paul, all of a sudden there was some weird thing and, and it came out that I was being accused of something and it, you haven't heard my side yet and I wasn't supported by my friends, I'd be like, 'are you really my friend?'"
He's got that Candace Cameron Bure unconditional love!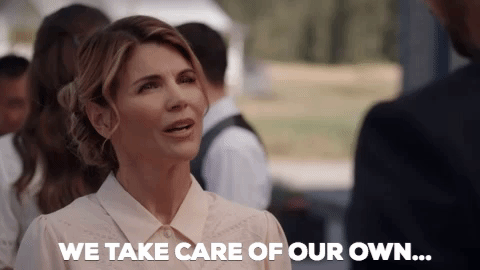 So do the show's fans, according to Greene. Speaking on how grateful he was that the series was getting a seventh season, the actor thanked the "Hearties" for sticking by the show's side no matter what, gushing:
"In today's, you know, today's media, there's so many options, there's so many, like, Hulu, there's Netflix, there's, and our show does air on Netflix, but there's so many options for people to watch and our show and our audience just keeps growing and growing and growing. It's incredible. It's like a phenomenon. So to get another season out of this incredible storytelling, I feel really honored… The fans, the Hearties, hello Hearties, you guys are, you, you know how much you're loved."
Everywhere you look, there's a Heartie, we guess…
Watch Greene's full interview (below).
Source: Read Full Article