Lindsie Chrisley 'Deeply Saddened' by Todd and Julie's Guilty Verdict in Bank and Tax Fraud Case
June 9, 2022
Breaking her silence after her estranged parents were found guilty on 12 counts of tax evasion and bank fraud, the former 'Chrisley Knows Best' star asks for prayers during 'this difficult time.'
AceShowbiz –Lindsie Chrisley has broken her silence after her estranged parents Todd Chrisley and Julie Chrisley were found guilty of bank fraud and tax evasion. In her statement, the former star of "Chrisley Knows Best" said that she's "deeply saddened" by the verdict.
Taking to Instagram Story on Wednesday, June 8, the 32-year-old wrote, "I know most of you are expecting to hear from me on my podcasts this week as I took time to be with my family last week." She went on explaining that "the verdict is not what [she] had hoped or prayed for" and that she's "deeply saddened for [herself], [her] son and [her] family as a whole."
Lindsie then asked for prayers, as writing, "Please pray for us during this difficult time and know that I will be back when the time is right." The "Coffee Convos" podcast co-host concluded her post by thanking her followers for their "continued love and support."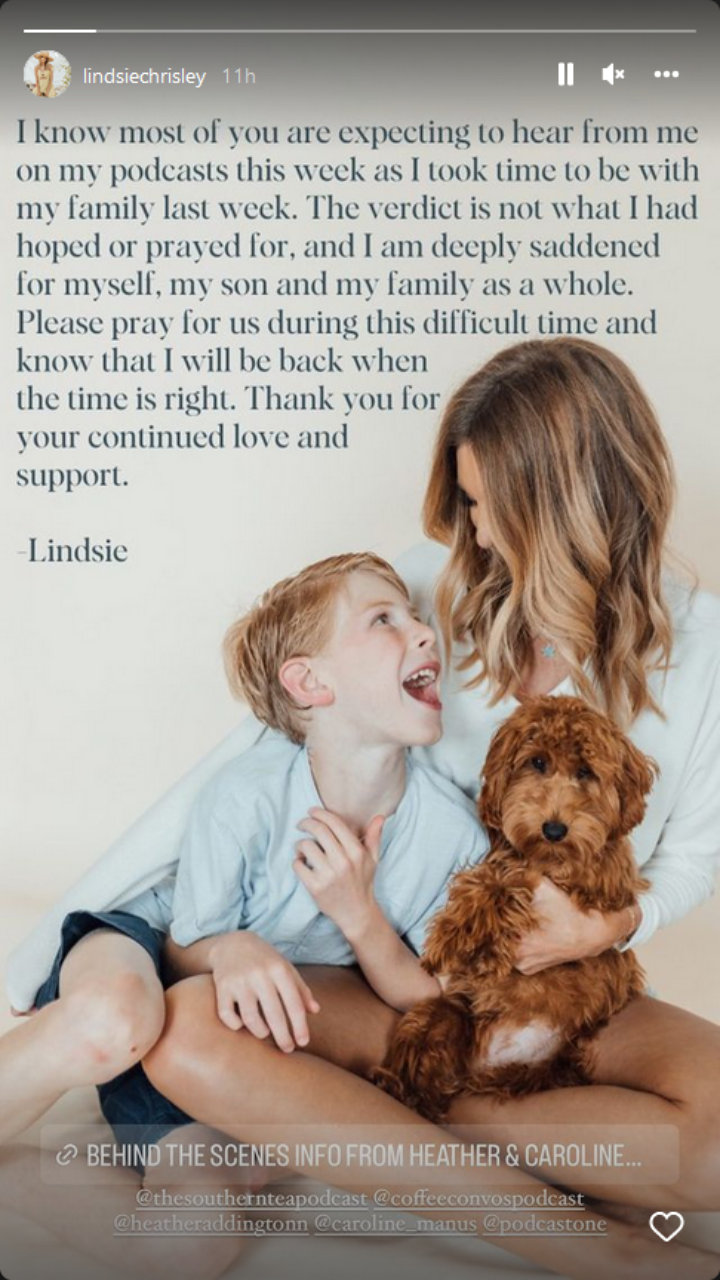 Lindsie Chrisley issued a statement after her estranged parents Todd and Julie were found guilty of bank fraud and tax evasion.
Todd and Julie received the guilty verdict on Tuesday, June 7. The couple was found guilty on all 12 counts, including wire fraud, conspiracy to commit bank fraud and conspiracy to defraud the United States. Their former accountant Peter Tarantino was also found guilty of conspiracy to defraud the United States and willfully filing false tax returns.
Todd and Julie could spend up to 30 years behind bars, according to Insider. They will be sentenced at a later time. Following the guilty verdict, their lawyer Bruce Morris said in a statement that they're "disappointed in the verdict." The attorney further explained that "an appeal is planned."
The federal trial against Todd and Julie began on May 16 in Atlanta, where the couple lived for several years before moving to Nashville. The proceedings came after the Chrisleys were indicted by a federal grand jury in August 2019 for 12 counts of bank and wire fraud, tax evasion and conspiracy, all of which they denied.
Radar reported on Wednesday that Todd and Julie are confined to home detention following the verdict. According to the legal documents, the couple is restricted to their residence "at all times" except for instances involving the following, "employment, education, religious service, medical, substance abuse, or mental health treatment, attorney visits, court appearances, court-ordered obligations, or other activities as pre-approved by the Court or probation officer until further notice of the Court."
The documents then made it clear that the duo must also abide by the Location Monitoring Program, including the "use of electronic monitoring equipment or other location verification system." The legal paperwork further stated that Todd and Julie's probation officer will monitor the "restrictions on your movement in the community as well as other conditions of release."
The convicted fraudsters are also ordered to "pay all or part of the costs of the program based upon [their] ability to pay as determined by the probation officer." They must alert their probation officer on "any spending over $1,000" as well.
Source: Read Full Article