Larsa Pippen Dubs Malik Beasley 'Cheap' in Response to Montana Yao's 'Go Work on Yourself' Swipe
May 25, 2021
Shortly after Malik's estranged wife called her out publicly, the 'Real Housewives of Miami' alum brands the NBA player 'a clout chaser who pursued me relentlessly before I even knew you existed.'
AceShowbiz –Larsa Pippen refused to take public shaming quietly. Just hours after Malik Beasley's estranged wife Montana Yao called her out in a scathing Instagram Story post, the season 1 cast member of "The Real Housewives of Miami" hit back with her own shading directed towards the Minnesota Timberwolves player.
On Monday, May 24, the 46-year-old turned to her own Instagram Story page to offer her truth about the NBA star she once romanced. "When I thought about him and how he treated your child he's not the type Of man I want around mine. Any man who would deny his child and then leave the mother penniless is not a real man," she first pointed out.
The former reality star went on to claim that the 24-year-old athlete "cried entirely too much" and is "cheap, but then again you never saw any alimony so you already know that." She added, "Malik was a clout chaser who pursued me relentlessly before I even knew you existed. And I have the DM's but then again, he knows that."
Larsa then hit back at Montana's accusation that her behavior embarrassed her children. "All my beautiful children that you referenced will never have to read how their father didn't claim them," she pointed out. "You should be worried about the narrative you two need to create to distract yours from dealing with that reality."
In her clapback, Larsa additionally stated, "Since you wanted to 'speak woman to woman' on social media let me give u some womanly advice. If you ever find another man who wants you for you and not all the free press I'm giving both of you, lock him down." She concluded her post by writing, "If you wanna know the truth subscribe to my Only Fans. Sending peace and blessings to you both."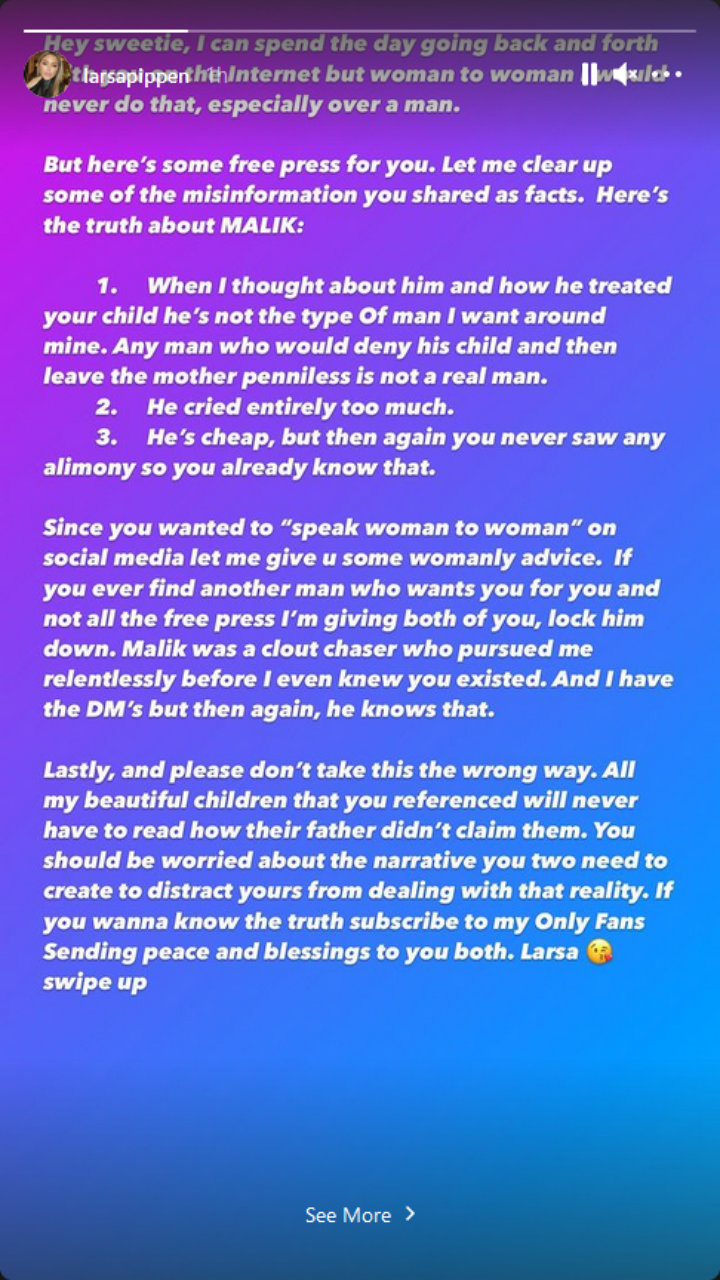 Larsa Pippen slammed Malik Beasley after his estranged wife shamed her online.
Larsa's clapback came after Montana scolded her online. "I been already told you to shut your trap because you embarrassed yourself enough already. Both of you were wrong as hell but YOU ma'am had the nerve to talk all that s**t to me as if I was wrong? First of all we as women don't claim you, you just a old desperate thirsty a** ran thru blow up doll," the latter wrote.
"You call paparazzi every single day and every single man. S**t is sad and lame af. You need clout that bad at your age? Like I'll be damned if I'm walking around behaving like that in 23 years.. smdh and I'll really be damned to EVER embarrass my children like that sheeesh," Montana continued. "Like GOOO SPEND TIME WITH YO KIDS!"
Telling Larsa to stop putting lies out there, Montana went on to say, "You're embarrassing and woman to woman you should probably tap out now cause you really going out bad. All those fillers and surgery can't fix that insecure soul." She ended her lengthy post by urging the former to "go work on yourself, read a book, something to better your life while you still have the time…"
Montana threw shade at Larsa after she accepted Malik's public apology over his scandal with the TV personality. "Makai and I do appreciate Malik's apology. It's hard to own up to bad decisions and apologize especially publicly so it is really appreciated," she wrote in response to Malik's Instagram statement.
"My main priority has been and will forever be my son so I'm glad if/when he looks back on all of this one day he can see his dad publicly apologized to us for publicly hurting us," she continued. "This is a step forward in healing for me and also having Malik be a part of Makai's life because he does deserves to have a father in his life and one who loves him."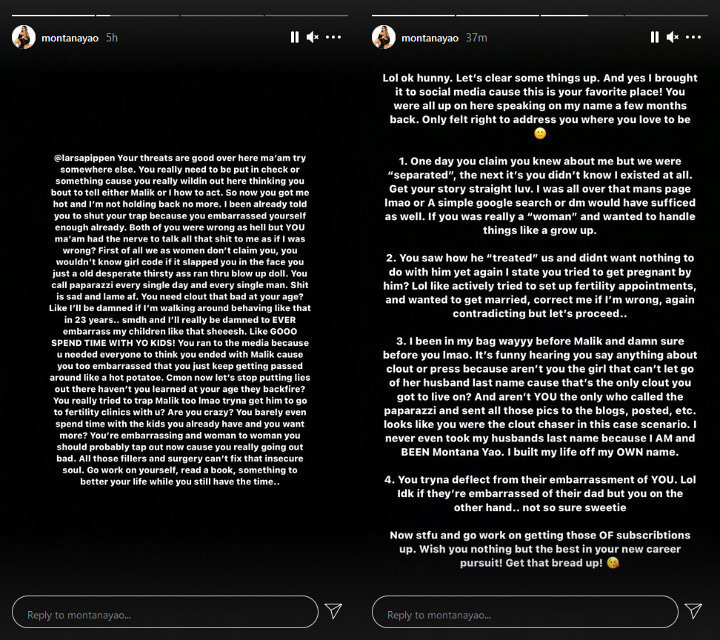 Montana Yao shaded Larsa Pippen and thanked Malik Beasley for his public apology.
Malik himself publicly apologized to Montana on Sunday, May 23. "I wana say sorry for putting you in the situation you were put in the last few months.. my head wasn't were it was supposed to be.. I was looking for more when it was right here that whole time..," he wrote in his post that featured a photo of him with Montana and their baby boy Makai.
"I'm telling the world and you that there's no body like you for me.. for the record I was the one who ended my last relationship off the fact that there is no one like you ..," the athlete noted as referring to his breakup with Larsa. "also for the record i wanted to do my own ish cuz I just left u guys and I def ain't the type to set up pictures at the mall n ish.. as that's some childish ish."
"…and I'm trying to grow individually and grow a family .. a real family .. I ain't looking to be judged I'm looking for forgiveness.. To forgive me for hurting my family the way I did," he went on saying. "At the end of the day I'm a lover boy and I miss holding y'all and loving y'all.. I love you mu shi .. I love you kai Kai. my family over thing…"
Source: Read Full Article