Lady Gaga Reportedly Told Her Ex Christian Carino Not to Contact Her Anymore
April 25, 2019
Lady Gaga and Christian Carino ended their engagement and broke up during awards season, and apparently, it hasn't been an easy split. Their relationship was reportedly "a bit toxic," which is making things harder now.
A source told Us Weekly that Gaga really had to cut things off. "She's been hounded by Christian," the source said. "She told him not to contact her."
This pretty much echoes what other sources have said about their relationship. From what it sounds like, Christian was reportedly kind of clingy and that wasn't cool with her, which is totally understandable. He reportedly "didn't treat Gaga very well toward the end of their [two-year] relationship."
"He was jealous," a source told Us Weekly a few weeks ago. "He was trying to find her all the time and texted her a lot. Her friends didn't like him either."
Okay, yeah, that's a deal breaker. If your friends don't like your man, it's basically over. During awards show season, their body language definitely signaled that their relationship was not in a good place. According to body language expert Blanca Cobb, it looked like they were holding hands/kissing/etc. out of obligation, which is never a good sign.
And as if that weren't bad enough, another source said that the relationship was getting in the way of Lady Gaga's work.
She thought he "infringed on her creative process" too much, according to a source, and she "couldn't risk jeopardizing her career in that way, over a man, and that's not something she would stand for."
Ummm, yes. Gaga is officially the breakup standard. We could all learn a lesson, TBH.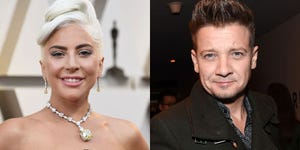 Source: Read Full Article