Jessica Chastain Openly Complains About Brett Kavanaugh Inclusion in TIME 100
April 18, 2019
AceShowbiz –Jessica Chastain has called out Time magazine editors for including top U.S. judge Brett Kavanaugh and his alleged sexual assault victim on their list of the world's 100 most influential people.
Dr. Christine Blasey Ford hit headlines in September (18) when she stood before a Senate Judiciary Committee and testified that Kavanaugh had tried to force himself on her when they were both in high school in the 1980s.
The judge denied the allegations, and despite the controversy, which also sparked mass protests, members of the Judiciary Committee voted to approve Kavanaugh's nomination to the U.S. Supreme Court in October.
The scandal landed both Kavanaugh and Ford on the new Time 100, a list of newsmakers who are changing the world, and Chastain was among those disgusted by the news when it was announced on Wednesday, April 17.
"You put her on the same list as the man she said assaulted her. So disappointing @TIME," the actress wrote on Twitter, adding, "Christine Blasey Ford > Brett Kavanaugh".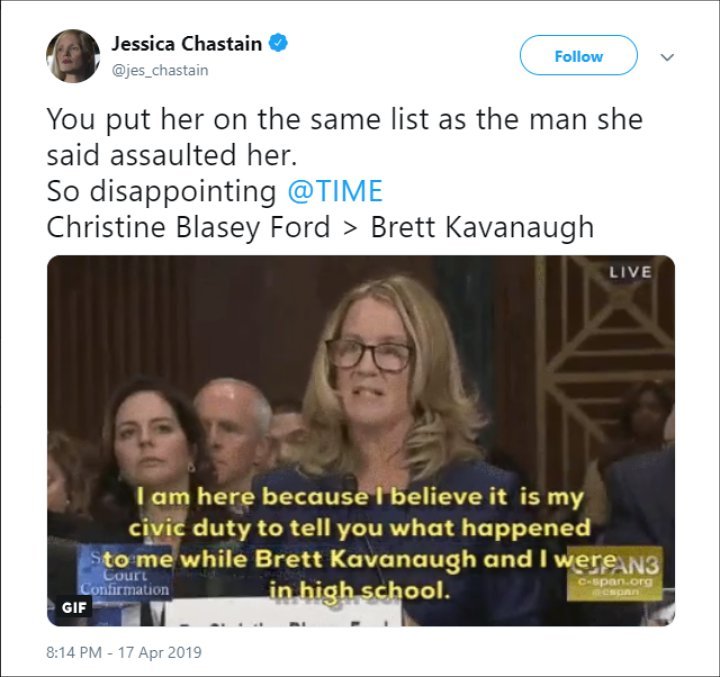 Others to feature on the Time 100 include Dwayne Johnson (The Rock), Ariana Grande, Taylor Swift, K-pop group BTS (Bangtan Boys), Lady GaGa, former First Lady Michelle Obama, and U.S. President Donald Trump.
Source: Read Full Article