Jana Kramer defends looking great after baby, says she was wearing a belly bandit
December 10, 2018
Yea….we planned it. @iheartradio #whinedown #backtowork
Jana Kramer is an actress, country singer and podcaster who married her third husband even after he cheated on her. I'm sorry for opening with that but she told everyone about it and that's what I remember about her. That's her brand. She's good at selectively responding to trolls and telling people her business when it gets her headlines. She was also on One Tree Hill, but I didn't watch that show so I only know her for oversharing. (I just looked over our archives on her and she went through some truly horrific times with an abusive ex, which was brave of her to share. However she also defended going to Seaworld after they gave her a sponcon so the verdict is still out on her.)
Jana had the top spot on People's site for a while over the weekend. She posted a shot of half her belly and defended herself from people complaining that she'd snapped back quickly after having her second baby. Jana and her husband, former football pro Mike Caussin, welcomed their second baby, son Jace Joseph, on November 29. The also have a daughter together, Jolie Rae, who turns three in January. Jana posted the photo above to Instagram a little over a week after she gave birth. She wrote that she was going back to podcasting with Mike. They look so cute in matching denim and hoodies, right? I guess some people complained that she looked too good so soon after giving birth so she responded with this message:
A few things because honestly I'm so frustrated and I need to vent this. I wanted to post this photo (showing my stomach) because I wanted to show my journey back to healthy and my goodness I'm so glad I didn't which is why this photo is now cropped. It's amazing the comments and how rude some people can be from my last photo I took yesterday. A few things, no I didn't get a tummy tuck, no I don't have a personal chef, no I don't have fortunes so I didn't train everyday. Yes I had a c section, yes I am still in pain and on meds but I do have a high pain tolerance. I have had 3 stomach surgeries before this (appendix, gallbladder, and c section).. In that photo I had a belly bandit wrapped tightly, and high waisted pants and wow here I am defending myself. Why?!? If I would have posted the photo of my actual stomach in this photo I would have probably been shamed too even when I was wanting to be vulnerable with my journey. Why do we women have to compare ourselves to each other and then shame?. I say this to myself as much as I say this to y'all…why can't it be that we are all different. Our bodies are all beautiful and crafted differently, they heal different, they react different, they simply look different. Why do we need to shame someone for not looking a certain way? Or feel bad about ourselves for looking a certain way? Can we be kinder to ourselves and know that every women has a different journey but yet we are all beautiful? Can we lift women up but not tear yourself down in the process with comparing? Let's give that a try…..I love y'all. Back to my baby.
Celebrities know that when they respond to trolls they'll get coverage for it. That's one of the ways Jana shot to fame a couple of years ago and she's still using that tactic. To her credit, she does this somewhat sparingly. Also she just had a baby and is likely sleep deprived and emotional. How did it become a thing to criticize women for looking too good after having a baby? I shouldn't think too hard about this because trolls are going to troll. I didn't realize how much of a problem it was on Instagram too until I tagged some stories about Michelle Obama. I just block and delete deplorables, because no one is going to talk about me if I defend my stance as a decent human being who likes the Obamas.
Anyway I like that Jana's response was to say she doesn't look as amazing as people criticized her for, but that she's not going to post her full stomach to give them more fuel anyway. Those "women need to support each other!" sentiments can be so trite though. I agree in theory but in principle you never know who people are online.
Embed from Getty Images
Embed from Getty Images
I literally can't with these two. #fatherson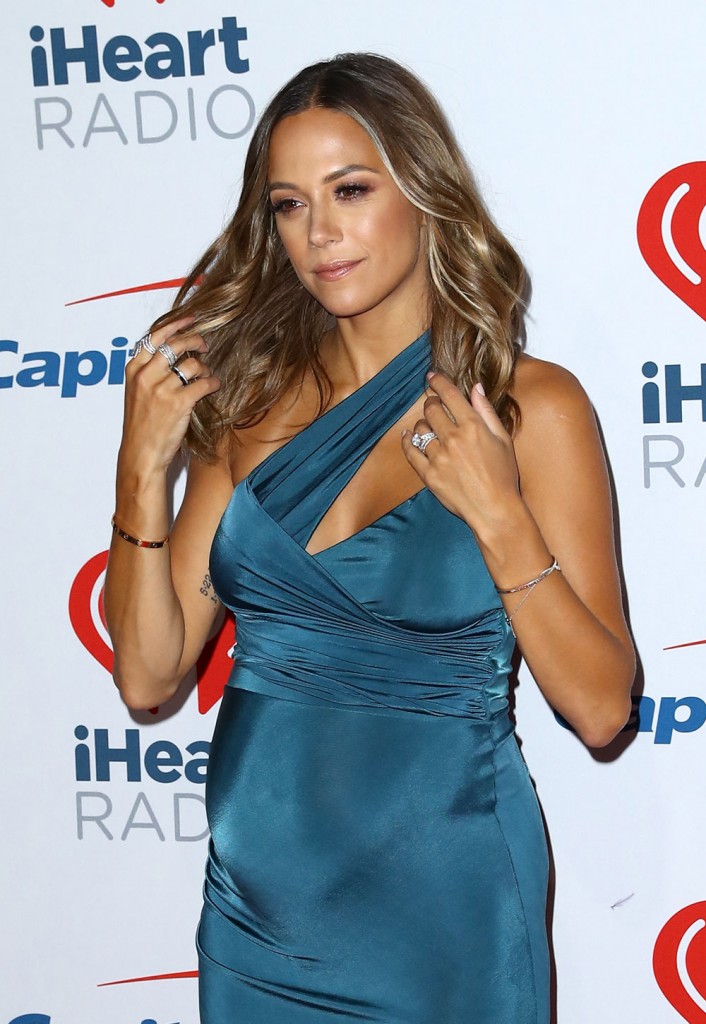 photos credit: WENN, Getty and via Instagram/Jana Kramer
Source: Read Full Article