Inside Cristiano Ronaldo's Private Jets
April 23, 2022
Cristiano Ronaldo is one of the biggest soccer stars in the world and is often referred to as one of the greatest to ever step on the pitch. The forward plays for Manchester United, returning to the team after spending a portion of his career with Real Madrid and the Juventus Football Club. He's the captain of the Portugal National Team as well and has won more than 30 trophies throughout his career.
Today, Ronaldo is also one of the richest athletes with an estimated net worth of $500 million, so he can afford to make sure he and his family travel in style. Here's a look inside Ronaldo's private jets, plus how many cars he has in his luxury collection these days.
The details and a look inside Ronaldo's private jets
Ronaldo has not one, but two private jets.
In 2015, the footballer dropped around $25 million on a Gulfstream G200 twin-engine jet. According to The Sun, the aircraft named "Astra Galaxy" is capable of reaching a top speed of 560 mph. And it can comfortably fit eight to 10 passengers on one flight — so there's enough room in there for Ronaldo, his partner Georgina Rodriguez, and their five children. It also boasts an electric oven, a microwave, a refrigerator, and an entertainment system.
In 2019, Ronaldo decided to purchase another jet for his hanger. He added the Gulfstream G650 model and it costs him an eye-popping $65 million. This jet is even more spacious than the G200 as the cabin can fit up to 18 passengers and has sleeping space for 10. Its top speed is up to 691 mph.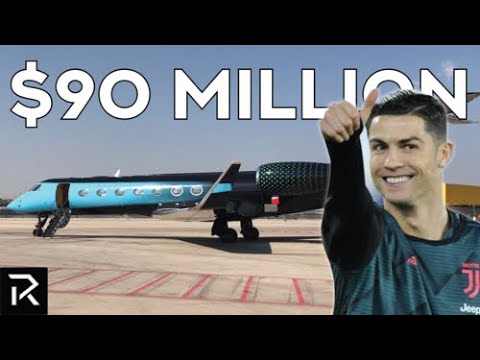 The soccer star also has an impressive car collection
But it's not just private jets, Ronaldo also has a luxury car collection.
CR7 has three Ferraris, two Lamborghinis, two McLarens, two Rolls-Royces, a Porsche 911 Turbo S, a Koenigsegg CCX, a Bentley Continental GT Speed, a Range Rover Sport SVR, and several Audi and Mercedes-AMGs. As The Sun noted, in 2022 he added an Aston Martin DBS Superleggera to his collection.
Ronaldo also has two Bugattis and one is a limited edition Bugatti Centodieci of which only 10 have been made.
Ronaldo and Rodriguez recently announced some tragic news
Ronaldo's name was in the headlines recently for a reason that didn't have anything to do with his jets, cars, or something he did on the pitch. On April 18, 2022, the athlete and Rodriguez shared the heartbreaking news that their baby son had died. The couple had been expecting twins but only their daughter survived.
"Only the birth of our baby girl gives us the strength to live this moment with some hope and happiness," Ronaldo wrote Monday on social media. "We would like to thank the doctors and nurses for all their expert care and support. We are all devastated at this loss and we kindly ask for privacy at this very difficult time."
Following the news, the English Premier League tweeted: "The thoughts and condolences of everyone at the Premier League are with you and your family, Cristiano."
Manchester United also tweeted to Ronaldo and his family writing: "Your pain is our pain. Sending love and strength to you and the family at this time."
Source: Read Full Article