I Refuse to Apologize For Gawking at Nick Jonas and Priyanka Chopra at Isha Ambani's Wedding
December 14, 2018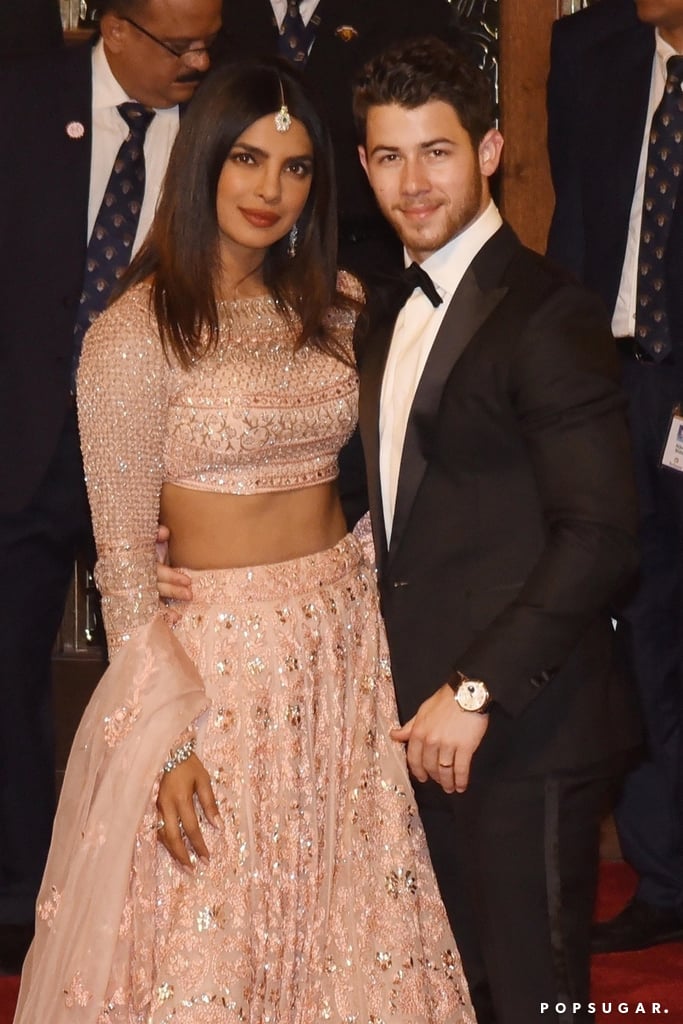 Nick Jonas and Priyanka Chopra might be new to marriage, but they've already got the look of love down pat. On Dec. 12, almost two weeks after their own wedding, they attended the marriage of Isha Ambani — the 27-year-old daughter of India's wealthiest man — and 33-year-old executive director Anand Piramal. During the festivities, Nick and Priyanka posed for a few photos, looking as happy as ever. Priyanka stunned in an embellished peach lehenga by Jade, and Nick, who held his wife around the waist, was dapper in a tuxedo.
The 36-year-old actress and 26-year-old singer have been making the rounds since their three-day wedding jamboree in India. On Dec. 5, a few days after tying the knot, they made their official red carpet debut as husband and wife at Bumble's launch party in New Delhi. They were also all smiles when they touched down in Udaipur, India, to attend Isha's prewedding celebration that featured an amazing performance by Beyoncé.
Priyanka and Nick have also been very open with their love for each other on social media. A week after their big day, Nick shared a sweet photo of them cutting their wedding cake, captioning it, "One week ago today." He also shared a funny video of them watching Will Ferrell's beloved film Elf together. Priyanka even changed her name on Instagram to reflect her new full title: Priyanka Chopra Jonas. She also posted a cute selfie of her cuddled up with Nick, saying that they're in "marital bliss."
Well, they definitely appeared to be in marital bliss at Isha's wedding, and we have to admit, they're one good-looking couple. Keep reading to see even more pictures of them at the event ahead.
Source: Read Full Article