George W. Bush Breaks Silence On Afghanistan Chaos
August 18, 2021
While the world grapples with the pandemic, a catastrophic humanitarian crisis is also well underway. Devastating scenes from Afghanistan show thousands of desperate civilians attempting to flee Kabul after the Taliban swiftly seized control after the U.S. withdrawal. We've all seen it, felt heartache for innocent people, journalists and interpreters and heard solemn words from world leaders — and now the man who launched the war on the country has finally spoken out. Former President George W. Bush has expressed sympathy to the Afghan people and U.S. troops, veterans, diplomats, and allies in a statement published on August 16.
"Laura and I have been watching the tragic events unfolding in Afghanistan with deep sadness. Our hearts are heavy for both the Afghan people who have suffered so much and for the Americans and NATO allies who have sacrificed so much," Bush began in the joint letter with wife Laura Bush. He then emphasised the risks they have all taken since the U.S. invasion back in 2001 and that the country now has a "responsibility" to provide protection and "safe passage" for them.
The Republican was in his first year as president when he declared war on Afghanistan following the 9/11 attacks. Bush initially demanded Taliban leader Mullah Omar to hand over Al Qaeda leader Osama bin Laden or be subject to war. But when Omar refused, U.S. forces, alongside allied countries, launched an invasion — which the New York Times said dragged on "with ill-defined goals and little oversight" after Bush began focussing on Iraq as opposed to rebuilding Afghanistan.
George W. Bush suggested U.S. troops and intelligence saved many Afghan and American lives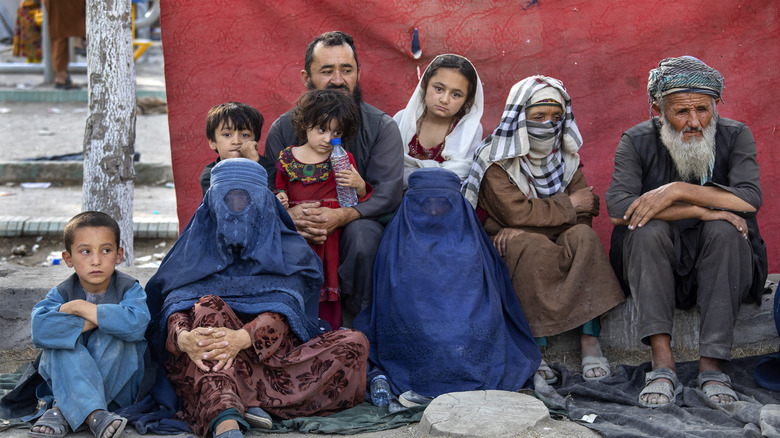 Former President George W. Bush may not have discussed his time in office, but he suggested all those deployed made a real difference to both their country and Afghanistan. In his statement, he acknowledged how some veterans and current U.S. military may be feeling with "wounds of war" following years of combat but thanked them for making the "ultimate sacrifice." "You took out a brutal enemy and denied Al Qaeda a safe haven while building schools, sending supplies, and providing medical care," BUsh wrote. "You kept America safe from further terror attacks, provided two decades of security and opportunity for millions, and made America proud. We thank you from the bottom of our hearts and will always honor your contributions."
Despite calling President Joe Biden's decision to withdraw U.S. troops a "mistake" to German broadcaster Deutsche Welle last month (per Fox News), Bush now refrained from any negative commentary. In fact, he provided some light and "optimism" about Biden's evacuation promises (however, implored there be no "red tape" for refugees) but also for Afghanistan's future: "Like our country, Afghanistan is also made up of resilient, vibrant people. Nearly 65 percent of the population is under twenty-five years old. The choices they will make for opportunity, education, and liberty will also determine Afghanistan's future." Bush then quoted Dr. Sakena Yacoobi of the Afghan Institute of Learning, which has opened schools for girls and women around the world: "While we are afraid, we are not defeated."
Source: Read Full Article