'Game Of Thrones' Fans EXPLODE Over Arya Stark's Sex Scene — See The Reactions!
April 22, 2019
It was the calm before the storm in Sunday's episode of Game of Thrones, with all the remaining characters checking off their to-do lists as they waited for the army of the dead to attack Winterfell.
Brienne of Tarth was finally knighted, Tyrion was able to pour his cohorts some wine, Jon got the snowballs to tell Daenerys about his true parentage (though she didn't have time to properly react; more on that next week), and Podrick basically won Winterfell's Got Talent by singing that hauntingly beautiful song.
But no one's to-do list was checked off harder than Arya Stark's (Maisie Williams), who finally lost her virginity to longtime crush, Gendry (Joe Dempsie) — after she made sure he was still worthy, of course.
Video: Elmo Teaches Cersei & Tyrion About Respect In Adorable AF PSA!
After chatting with the Hound and Beric on the ramparts for a while, the young assassin leaves the two with a brutal departure announcement: "I'm not spending my final hours with you two miserable old s**ts."
Obvi, a girl rather spend her final hours with the guy who's been at the top of her I'd-hit-that list since season 3 — and lo and behold, Gendry found her soon after practicing her bow outside. The blacksmith made good on his word and handed Arya her custom dragonglass weapon she asked him to forge.
Then, Arya got down to business: she asked Gendry if he slept with Melisandre — to which he reveals that it was more of a kinky leech encounter, due to the fact that the Red Woman wanted his blood because he's Robert Baratheon's bastard.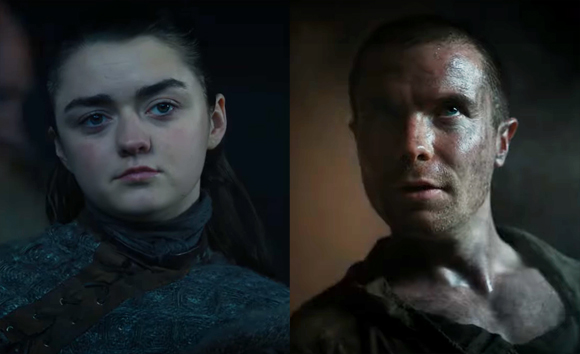 Arya's eyes widened at this information — it certainly didn't hurt Gendry's f**kability — and then she cuts right to the chase, demanding to know her crush's entire sexual history. She asks him:
"Were you with other girls, before that in King's Landing? Or after?"
After playing dumb for a second, Gendry admits to being with three women. That's a good number for Ayra, who then declares:
"We're probably going to die soon. I want to know what it's like before that happens."
Before Gendry has a chance to be like "are you sure, babe?", the young assassin kisses him passionately and pushes him backwards. She starts disrobing while Gendry lays there, marveling at her scars — and she tells him:
"I'm not the Red Woman. Take your own bloody pants off."
Ha!
Later, the camera panned to them lying in bed together as the White Walkers arrived: Gendry was sound asleep, his world most definitely rocked, while Arya pensively looked off into the darkness.
The entire Game Of Thrones fandom exploded with delight, seeing that Gendrya has been a pairing fans have been rooting for for years. While some were shocked to see the girl they watched grow up strip down on screen (relax, y'all: Maisie is 22), most found it incredibly fitting that Arya lost her virginity as winter was literally right outside the gates of her home.
What did U think of Arya's coming of age moment? Ch-ch-check out some reactions (below) and share your thoughts in the comments!
Source: Read Full Article