Fans Just Sleuthed a Never-Before-Seen Photo of Charlotte and George on the Queen's Desk
December 9, 2021
Queen Elizabeth is continuing her grand tradition of 1. casually putting new pics of her grandkids on her table, 2. conducting official photoshoots *with* said table in the background, and then 3. sitting back and letting everyone spiral.
This time, royal watchers noticed that the Queen subtly debuted a never-before-seen photo of Princess Charlotte and Prince George, in which she's holding Charlotte in her lap while George stands behind them (so cute) along with the rest of her great-grandchildren.
According to People, the photo was taken at the end of 2016, when Princess Charlotte was about 18 months old.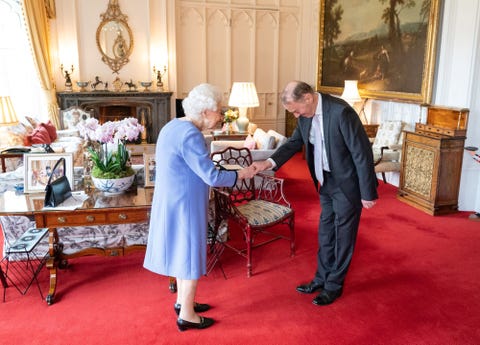 Prepare for a somewhat blurry zoom: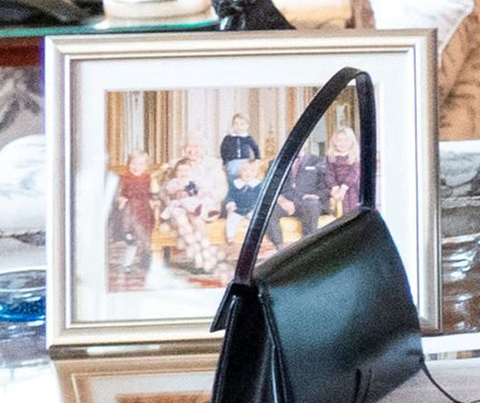 Cute! And just in case you're wondering how intentional the inclusion of this photo of the Queen's table was, the answer is very. Her Majesty often rotates the framed photos on her desk/table when she has official photoshoots at the palace, and honestly it's been known to cause drama.
Back in 2019, the Queen gave her traditional Christmas speech and fans noticed that—while she was surrounded by photos of the royals—there wasn't a photo of Meghan Markle and Prince Harry. Christopher Anderson's new book Brothers and Wives: Inside the Private Lives of William, Kate, Harry and Meghan sheds some light on the moment, alleging that the Queen purposefully removed their photo. In the book, a source says that Her Majesty "looked over the tables where the photographs she had so lovingly selected were arranged," then pointed at a photo of the Sussexes and said, "That one, I suppose we don't need that one."
Apparently (and understandably), this was "hurtful" for Prince Harry to see, and he "felt that he was being erased" from the family. Not long after, he and Duchess Meghan moved to America. As Christopher put it to Us Weekly, "It seems very subtle, but when you think about it, when somebody cuts you out of the family album, so to speak, it's a pretty strong message."
Source: Read Full Article