Elliot Page: 'For a long time I could not even look at a photo of myself'
March 17, 2021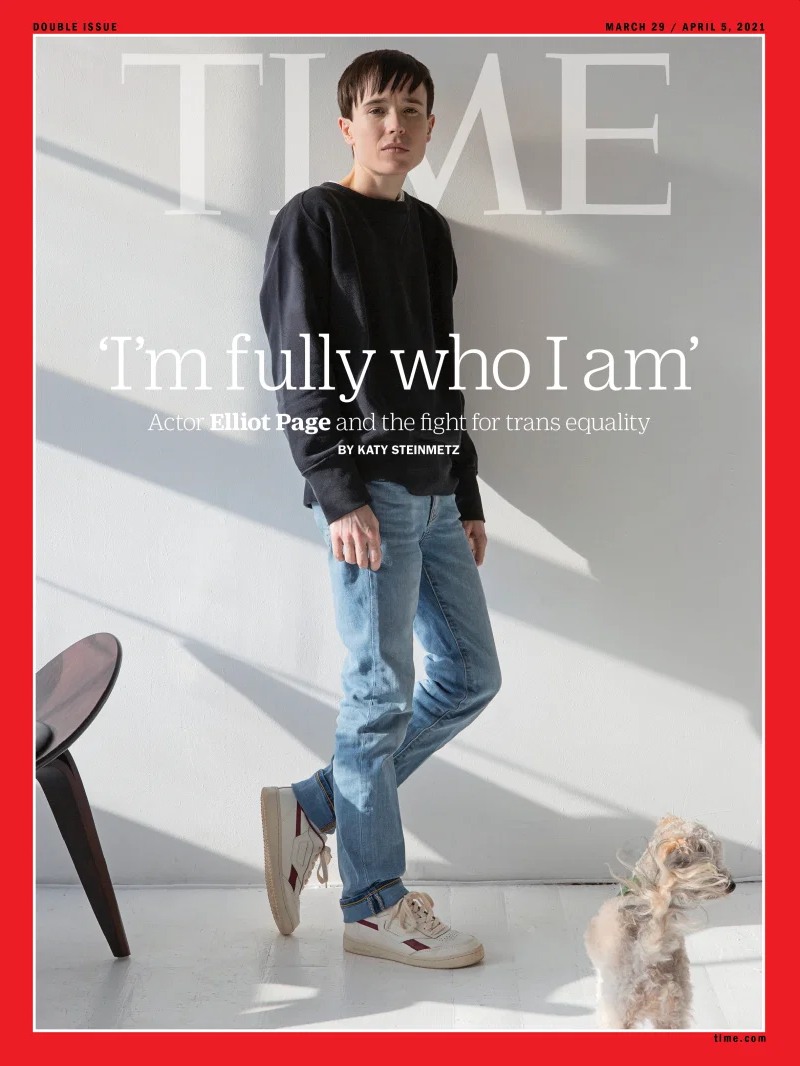 Elliot Page covers the latest issue of Time Magazine. The cover story is about Elliot's personal story, but as with all transgender public figures, he's using his story to speak about larger trans issues. Note: Elliot says, within this Time piece, that "he/him is great" for his preferred pronouns. The entire piece is definitely worth a read – Elliot details how he's always known that he's a boy, ever since he was 9 years old and finally allowed to get a short haircut. He had a come-to-Jesus moment about being transgender during and because of the pandemic. You can read the full piece here. Some highlights:
Finally coming out as transgender: "Sorry, I'm going to be emotional, but that's cool, right? This feeling of true excitement and deep gratitude to have made it to this point in my life, mixed with a lot of fear and anxiety. What I was anticipating was a lot of support and love and a massive amount of hatred and transphobia. That's essentially what happened."

He feels a deep responsibility. "Extremely influential people are spreading these myths and damaging rhetoric—every day you're seeing our existence debated. Transgender people are so very real."

Working in Hollywood, playing female roles: "I just never recognized myself. For a long time I could not even look at a photo of myself." It was difficult to watch the movies too, especially ones in which he played more feminine roles. By the time he appeared in blockbusters like X-Men: The Last Stand and Inception, Page was suffering from depression, anxiety and panic attacks. He didn't know, he says, "how to explain to people that even though [I was] an actor, just putting on a T-shirt cut for a woman would make me so unwell."

Coming out as gay in 2014: "The difference in how I felt before coming out as gay to after was massive. But did the discomfort in my body ever go away? No, no, no, no."

Separating from his wife in a pandemic: In part, it was the isolation forced by the pandemic that brought to a head Page's wrestling with gender. (Page and Portner separated last summer, and the two divorced in early 2021. "We've remained close friends," Page says.) "I had a lot of time on my own to really focus on things that I think, in so many ways, unconsciously, I was avoiding… I was finally able to embrace being transgender, and letting myself fully become who I am."

Disclosing information about his surgery: Another decision was to get top surgery. Page volunteers this information early in our conversation; at the time he posted his disclosure on Instagram, he was recovering in Toronto. Like many trans people, Page emphasizes being trans isn't all about surgery. For some people, it's unnecessary. For others, it's unaffordable. For the wider world, the media's focus on it has sensationalized transgender bodies, inviting invasive and inappropriate questions. But Page describes surgery as something that, for him, has made it possible to finally recognize himself when he looks in the mirror, providing catharsis he's been waiting for since the "total hell" of puberty. "It has completely transformed my life," he says. So much of his energy was spent on being uncomfortable in his body, he says. Now he has that energy back… He wants to emphasize that top surgery, for him, was "not only life-changing but lifesaving." He implores people to educate themselves about trans lives, to learn how crucial medical care can be, to understand that lack of access to it is one of the many reasons that an estimated 41% of transgender people have attempted suicide, according to one survey.
[From Time Magazine]
I consider myself reasonably self-educated on many trans issues, but there were parts of this Time piece which were surprising and really informative to me. I especially found the conversation about visibility gaps really useful, because I had never thought of it in terms like "Historically, trans women have been more visible, in culture and in Hollywood, than trans men. There are many explanations: Our culture is obsessed with femininity. Men's bodies are less policed and scrutinized." Jesus, that's true. Society, as a whole, believes they have more "ownership" over female bodies, as in people have the right to police and comment on female bodies in ways no one would ever police men's bodies. And that's just with cisgender people: add in transgender people, and it can get toxic in a hurry.
I'm gutted that Elliot was so miserable for so long, and I'm so happy for him that he's where he is right now. Throughout the piece, he talks a lot about how the acceptance and love he's received has meant the world to him, from his mom to casting directors to transgender activists.
— Ξvan Ross Katz (@evanrosskatz) March 16, 2021
Cover and photos courtesy of Time Magazine.
Source: Read Full Article