BTS Gets Apology From Kanye West's 'Donda' Producer Mike Dean Over Diss Tweet
April 6, 2022
BTS Army previously put the 57-year-old record producer on blast after he declared that there 'is no way BTS members have written 90 [percent] of their music.'
AceShowbiz -BTS (Bangtan Boys) have received a public apology from Mike Dean over his diss tweet. The producer of Kanye West's "Donda" owned up to his mistake after he drew backlash for "trolling" the famed South Korean boyband on the blue-bird app.
Mike took aim at BTS on Tuesday morning, April 5 after noticing a tweet from the Recording Academy that read, "Name a group ~smoother~ than @bts-bighit, we dare you." In response, the 57-year-old simply wrote, "Anyone."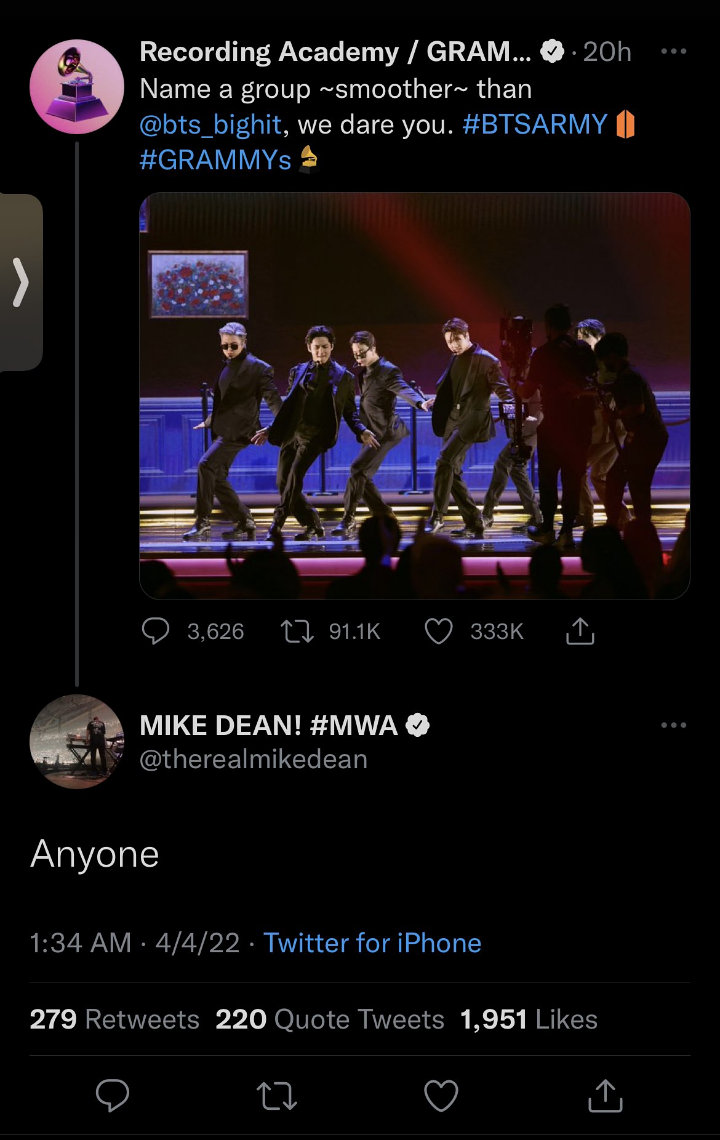 Mike Dean dissed BTS on Twitter.
Unsurprisingly, Mike got huge flak. A member of BTS fans, who are known as BTS Army, slammed the record producer by writing, "Nothing is more disgusting than someone Spotify lists with 385 song credits over 41 years trashing a group who have 235 songs, most of which they have written/composed/produced. RM has almost 180 credits at only 27. What a childish, pathetic and trashy person you are…seriously."
Refusing to stay silent, Mike fired back, "It's funny to read so many armys saying BTS members write '90 [percent] of their music', based on a statement made a BigHit employee. Hahahaha, there is no way BTS members have written 90 [percent] of their music. Just check the writing credits of every single BTS album."
Mike has since drawn more criticism, with one arguing, "i think mike dean is a loser, how is he gonna go and say he's gonna work w bts someday while undermining their success and artistry. hungry for the $ or their validation? either way a loser." Someone else chimed in, "He don't know anything about bt5 and started writing paragraphs about their song writing."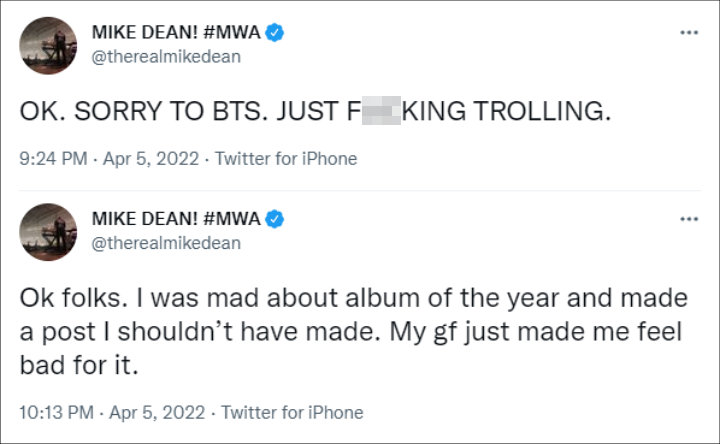 Mike Dean apologized for dissing BTS.
Having caught wind of the backlash, Mike decided to issue an apology. "OK. SORRY TO BTS. JUST F**KING TROLLING," he declared, before adding in another tweet, "Ok folks. I was mad about album of the year and made a post I shouldn't have made. My gf just made me feel bad for it."
Source: Read Full Article