Black Panther Just Made History With This Golden Globe Nomination
December 6, 2018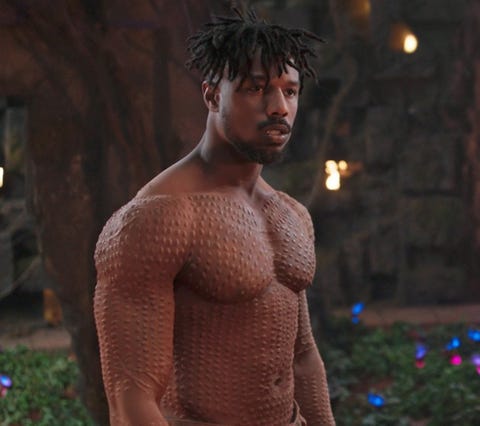 Black Panther just made history again.
The Golden Globes nominations list came out Thursday, and the Marvel blockbuster earned three nods—including one for Best Motion Picture-Drama, making it the first comic book movie ever to be nominated in the category.
While comic book flicks have long dominated at the box office, they've typically been relegated to the technical categories at the big awards shows—with some notable exceptions, such as Heath Ledger's iconic Joker performance in the Dark Knight, which earned him posthumous Golden Globe and Oscar trophies for Best Supporting Actor.
Deadpool, Ryan Reynolds' swearin' superhero, had been nominated for a Golden Globe last year in the Best Picture—Musical or Comedy category. But until now, no comic book movie had been nominated in the Drama category.
It's perhaps no surprise that Black Panther is now the first to do so. The Ryan Coogler-directed film transcended its genre, not only earning rave reviews and raking in record-setting box office numbers, but making a massive cultural impact.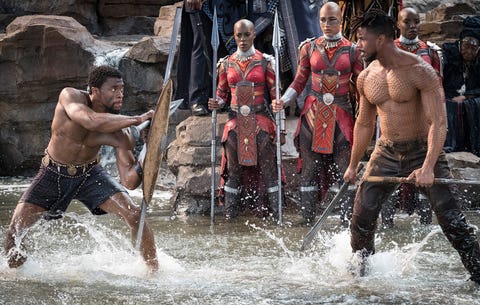 Matt Kennedy courtesy of Marvel Studios
While Ludwig Goransson was nominated for Best Original Score and Kendrick Lamar was nominated for Best Original Song, none of the cast received any individual nods—which is nuts, because frankly Michael B. Jordan probably deserves at least something just for the crazy-intense training he undertook to prepare for his Killmonger role.
In the Best Picture—Drama category, Black Panther is up against BlacKkKlansman, Bohemian Rhapsody, If Beale Street Could Talk, and A Star is Born, which was nominated in five categories. Vice, the forthcoming Dick Cheney biopic, led the field with six nominations.
The Black Panther nomination comes as the big awards shows seek both to confront their notorious lack of diversity and to expand the definition of the types of films considered award-worthy. That Coogler's epic saga about Wakanda has broken through to the top category at the Golden Globes could foreshadow a similar breakthrough at the Academy Awards, where Marvel Studios has never won a statue.
Source: Read Full Article