'Below Deck' Chef Rachel Hargrove Goes on Twitter Tirade Against Narcissistic Austen Kroll
July 29, 2022
The 39-year-old chef takes to Twitter to slam the 'Southern Charm' star, whom she calls a narcissistic 't**t,' before detailing her 'unfortunate experience' with him on several occasions.
AceShowbiz -"Below Deck" alum Rachel Hargrove sparked feud with "Southern Charm" cast member Austen Kroll. The 39-year-old put Austen on blast while reacting to an article about Austen's beer business Trop Hop on Tuesday, July 26.
Rachel tweeted, "Cheers to the most narsasitic [SIC] t**t on @BravoTV." When someone suggested that the reality star may get along well with Madison LeCroy, who dated Austen in the past, Rachel responded, "I've never met her. But I did have the unfortunate experience of being around him."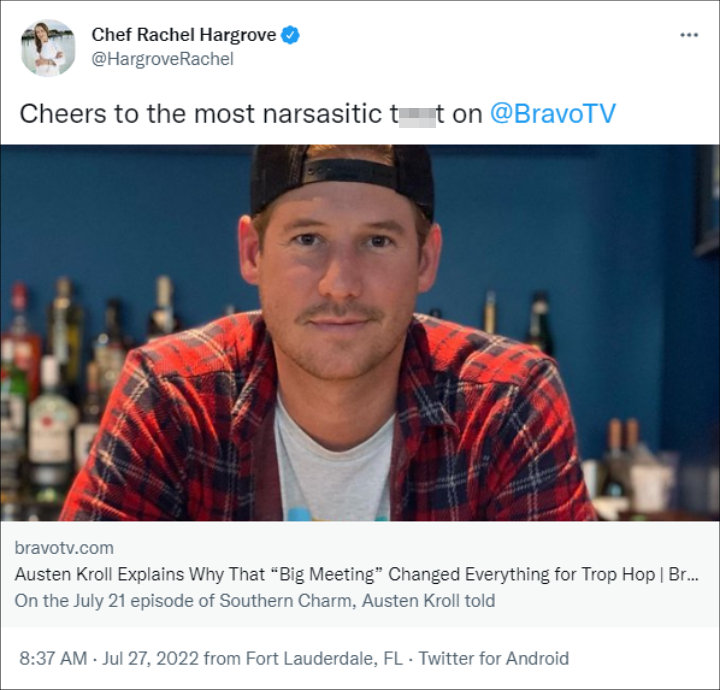 Rachel Hargrove blasted Austen Kroll in a tweet.
She later went into more detail about crossing paths with the businessman by sharing a series of alleged texts between herself and someone from Bravo's public relations team. In a now-deleted tweet, Rachel shared that Austen and Shep Rose went through her bag at the event, adding that she met his fellow Bravo personality in Florida where she had a bad experience at a party with him.
"He was in Tampa and fort lauderdale where I live… we met up… but what was actually good was I met his brewing team," she allegedly wrote to the PR rep. "We were all haning [hanging] out. He didn't like the fact that I don't party and wasn't doing his whole thing… being an idiot."
"The guys [guy's] an idiot… even when him and chep through [sic] my bag on the floor at up fronts while waiting to go do dress rehearsal," she added. She concluded her rant by calling Kroll a "drunk cokehead." In the caption, meanwhile, she wrote, "I don't sit down, I stand up… I'm tired of the BS… I refuse to participate in @BravoCon2022. Done with bullies on tv."
Rachel also hinted that she wasn't planning to return to "Below Deck". "F**k Below Deck," she said on Wednesday. She doubled down on the remarks by writing the next day, "I will no longer be accociated [sic] with organizations I don't believe in.. #belowdeck #bravoco #wwhl #ANTM anyone else wants to piss me off this week? Let's f**king go….."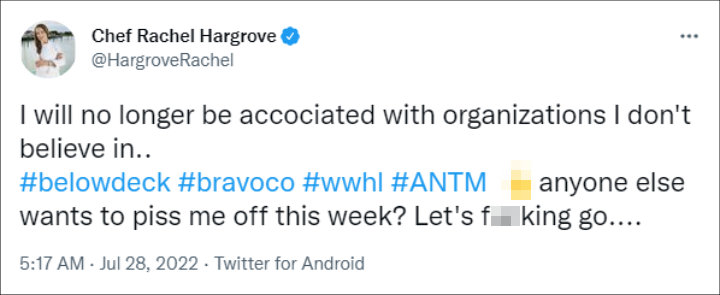 Rachel also dissed 'Below Deck'.
Her Twitter rampage earned mixed reactions from Internet users. Someone trolled the chef by asking, "who are you again?" Meanwhile, another user noted, "I'm not sure what this is about but you have Belowdeck listed twice in your profile."
However, some others sent support to Rachel as writing. "You're an amazing chef and an even better human being. If we were friends I would tell you not to do this on social media. You are a star and very talented. Just keep it professional. Yes Austen is a douche but he also is a little lamb and won't cross Bravo. I'm rooting for you!" Another supportive fan added, "I really hope everything is ok. Genuinely i mean that. Im a big fan, but all of this anger, rage and 'kanye-like' tweeting resembles the drunken behavior we saw on the show. 🙁 i know you were trying to change since then so i truely hope you're doing okay."
Austen, meanwhile, has yet to react to Rachel's diss.
Source: Read Full Article