An Investigation Into Harry Styles and Emma Corrin's Truly Enviable Friendship
February 26, 2021
Some celebrity friendships seem just too good to be true—think: Snoop Dogg and Martha Stewart, Beyoncé and Gwyneth Paltrow, Matthew McConaughey and Guy Fieri as a few examples. But every now and then there's that one celeb friendship that makes complete sense in every way imaginable…like Harry Styles and The Crown star Emma Corrin. Aren't they a match made in heaven??? (Yes, the answer is 100 percent yes.)
Harry and Emma have been friends for a little bit now, with relationship rumors (of course!) jumpstarting the beginning of their platonic union. No need to worry, though—Harry's off the market since he's dating Olivia Wilde, which means there's nothing to see in the romance department. But it does beg the question: How did Harry and Emma become besties in the first place? Read on, my lil nosies, for all the details on Emma and Harry's v private friendship!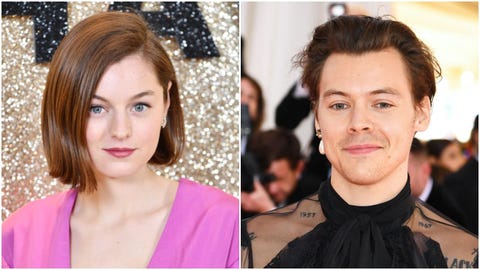 How did Harry and Emma meet?
Legend has it that Emma met Harry while attending one of his concerts back in 2019 (aka when things were somewhat normal), which makes me entirely too jealous. But TBH, it sounds like Emma and Harry were always destined to meet at some point—not only do they share talented stylist, Harry Lambert , but they also shared a bunch of mutual friends before getting close.
While dispelling dating rumors—because it's impossible to think guys and girls can be just friends—a source from The Sun said:
Harry dogsat for Emma once.
Imagine having Harry Styles watch your dog!!! Unfortunately it doesn't seem like Emma will be able to ask for Harry's help again, as her dog Spencer was acting up.
"I was having dinner sort of near where he lives and he looked after Spencer for me," Emma explained during an appearance on The Tonight Show Starring Jimmy Fallon. "But not again. He hasn't done it again….I think it's because halfway through the meal I got a message that just said, 'He won't stop farting is this normal?'"
"Was it from Spencer or Harry?" Fallon joked. "From Spencer," Emma replied, saying that her dog sent her a text that said,"'Emma, I'm not doing this again.'" LOL.
Harry and Emma are starring in a movie together.
Earlier this month, it was announced that Harry and Emma will star opposite each other in My Policeman, set to be produced by Amazon Studios. Based on the 2012 novel by Bethan Roberts, the plot takes place in the 1990s and centers around Tom (Harry) and Marion (Emma). According to Deadline, Tom and Marion have to deal with the sudden arrival of Patrick—who Tom was romantically involved with 40 years prior when gay relationships were banned—into their home, which causes the couple to confront the past.
And that's all we know about Harry and Emma's friendship so far! Be sure to check back here for any additional anecdotes about Harry babysitting Emma's farting pup.
You love all the deets on celebs. So do we! Let's overanalyze them together.
Source: Read Full Article