3 of Giada De Laurentiis' Easiest Homemade Pasta Sauces
January 20, 2022
If you're looking for a new way to do pasta, try one of Food Network star Giada De Laurentiis' easy-to-make, flavorful, homemade pasta sauces. From the chef's Basic Parmesan Pomodoro to her Simple Bolognese, these sauces (or gravies, if you prefer) will become regulars on your dinner menu.
De Laurentiis' Basic Parmesan Pomodoro is a simply satisfying pasta sauce
Featuring cherry tomatoes, fresh basil, Parmigiano Reggiano cheese rinds, and a whole carrot, De Laurentiis on her food blog Giadzy called this sauce her "go-to pomodoro recipe!"
She adds, "It gets so much flavor from simmering away with basil, garlic, a carrot, and a Parmigiano rind. The rind is the secret here – it takes the sauce to the next level! I always save my rinds from Parmigiano and stick them in the freezer for when I make this recipe."
Home cooks praised the simple but intensely flavored sauce on Food Network's site.
"Fantastic! I've made it numerous times and about to make it again tonight! The Parmesan rinds give this dish amazing flavor. Just a stellar recipe," said one reviewer.
Another fan simply said, "Best. Sauce. Ever."
Find this recipe, video, and reviews on Food Network's site.
Giada De Laurentiis' Marinara Sauce is a great basic sauce recipe to have up your sleeve
If there's one Italian savory sauce to have in your recipe box, you can't go wrong with a basic marinara sauce. While store-bought sauce comes in handy once in a while, there's nothing like making your own.
The Everyday Italian host combines and slow-simmers onions, garlic, celery, carrots, crushed tomatoes, and dried bay leaves for a flavorful sauce that goes with any pasta dish. It can even be made ahead of time and refrigerated.
With over 200 multiple-starred reviews on Food Network's site, the Le Cordon Bleu-trained chef's sauce is a hit.
As one home cook wrote, "This marinara is the best. I make one big batch and can it. Lasts for months and smells awesome every time I make it."
Find this recipe and reviews on Food Network's website.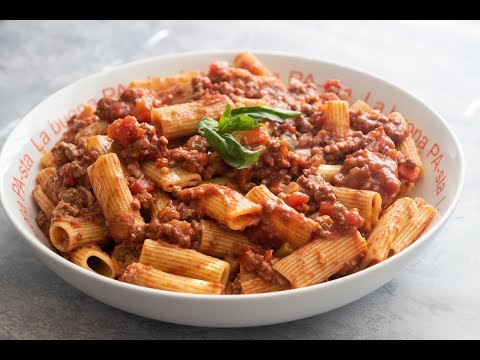 De Laurentiis' Simple Bolognese is for crowd-pleasing, hearty pasta dishes
Referring to the dish as the "quintessential meat sauce," the chef makes clear that while this sauce isn't a quick recipe, it's worth the time spent on it.
"It's not instant by any means, but for less than an hour's time on the stove, you end up with a complex, fully flavored sauce that tastes like it's been simmering all day long," she writes on Giadzy. "This bolognese can top pasta alone or serve as a lasagna filling, and it also freezes amazingly well, so I always make a double batch whenever I can."
Food Network reviewers said of De Laurentiis' sauce: "I've tried numerous Bolognese recipes, always come back to this one" and "Easy to cook…made the house smell great…and made for a delicious meal."
Find this recipe, video, and reviews on Food Network's site.
Source: Read Full Article