Prince George, Princess Charlotte & Prince Louis' adorable Christmas gift to King Charles revealed?
January 12, 2023
Did King Charles just debut his Christmas present from Prince George, Princess Charlotte and Prince Louis?
The monarch stepped out in Castle Rising near Sandringham on Sunday with his wife Queen Consort Camilla, greeting royal onlookers before attending a church service. The thrifty King opted to wear an oversized wool coat that has been in his archive for over four decades, complete with neat lapels and slick tailoring. But did you notice his tie?
WATCH: All the times King Charles was an unexpected style icon
The 74-year-old royal donned a silk tie emblazoned with an adorable motif. The sweet pink tie was decorated with a herd of candy blue dinosaurs, which almost went unnoticed in light of his immaculate appearance.
It's the first time the King has debuted this charming accessory, and we can't help but think the playful print was chosen by his grandchildren.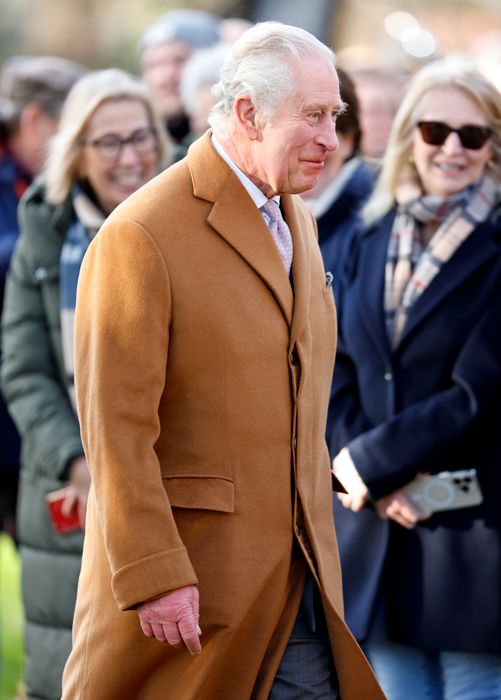 King Charles greeted royal onlookers en route to church
Prince George is known to love all-things prehistoric, after being inspired by his exchange with David Attenborough. "He was brilliant with the children when he met them," Prince William told the BBC at the time.
"He brought out his fossil collection and showed the children that, which, I think, George at the time absolutely adored – he's got loads of dinosaur fossils."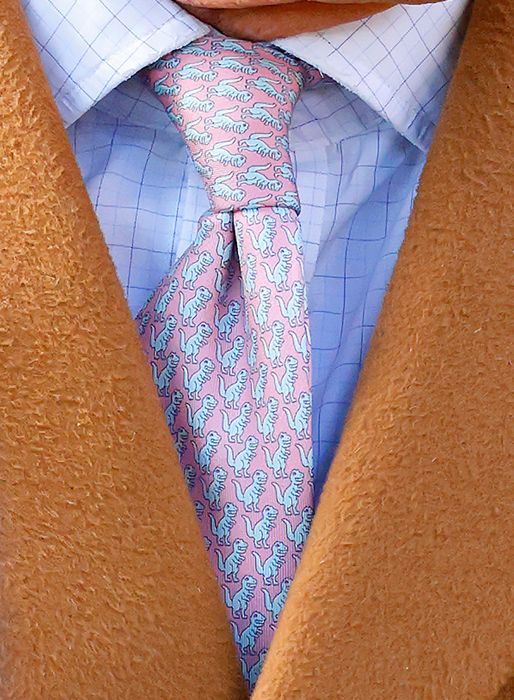 The monarch rocked a playful dinosaur-print tie
Four-year-old Prince Louis also has a particular penchant for dinosaurs, and enjoyed a roaring day out with his Nanny, Maria Borrallo, at the Natural History Museum back in 2020.
One of the museum's most popular exhibits is a large animatronic T.Rex, which may have inspired the choice behind King Charles' tie. How sweet!
ROYAL STYLE: 12 times King Charles rocked glasses: Sunnies, rave shades & more
His Majesty's fashion has caused quite a stir recently, particularly on TikTok where royal fashion fans were quick to notice his vintage coat worn on New Year's Day. "I just want to talk about the coat that he is wearing," one user told their 128,000 followers.
"This coat that he is wearing, he's had it since like the 1980s. King Charles is king, but he's not wearing new items all the time, he has had this coat for about 40 years. We love a sustainable king!"
The royal's re-wearing of wardrobe staples was praised in the video's comment section with one user writing: "His shoes too. He's had some of them for over 30 years apparently."
Source: Read Full Article