Dylan Dreyer's son is the best big brother in sweet moment that melts fans' hearts
March 9, 2023
Dylan Dreyer's eldest son, Calvin, seems to have the magic touch that comes with being an older brother.
The star revealed how her five-year-old totally transformed his younger brother's picky habits, without even trying!
The Today host has three sons with her husband, Brian Fichera – who also works for NBC as a writer, producer, and cameraman – Calvin, who goes by Cal, and is six, Oliver, three, and Russell, or Rusty, one. They tied the knot in 2012.
WATCH: Dylan Dreyer's son marks major milestone in video you have to see
MORE: Dylan Dreyer has a change to her role on Today Show as she supports co-star
In an adorable new video shared on Instagram, the mom-of-three gave a glimpse into just how good of a brother Calvin is, and the new role he has in the household because of it.
The sweet clip sees baby Rusty sitting in his high chair during a meal, all messy and fuzzy as his mom tries to feed him some vegetables.
MORE: Dylan Dreyer and Today co-star Craig Melvin have lively on-air debate – see why
After a couple of tries, she gave up, however, as soon as her six-year-old son gave it a shot, Rusty could not have been more eager to eat his food, making his little mouth wide open as soon as his older brother approached it with a spoon.
A post shared by Dylan Dreyer (@dylandreyernbc)
It seems Calvin has the magic touch!
Cal was visibly eager about his success, exclaiming: "Yes! Yes!" to the camera, and his little brother was quite pleased too, even handing him back the spoon so he could feed him some more.
DISCOVER: Amy Robach and Andrew Shue's staggering joint net worth of $100M is now surprisingly divided
DISCOVER: Kelly Clarkson's net worth is worlds apart from her ex-husband's
"Here I thought Rusty was a picky eater," Dylan wrote in her caption, before adding: "Turns out he just didn't like who was feeding him!"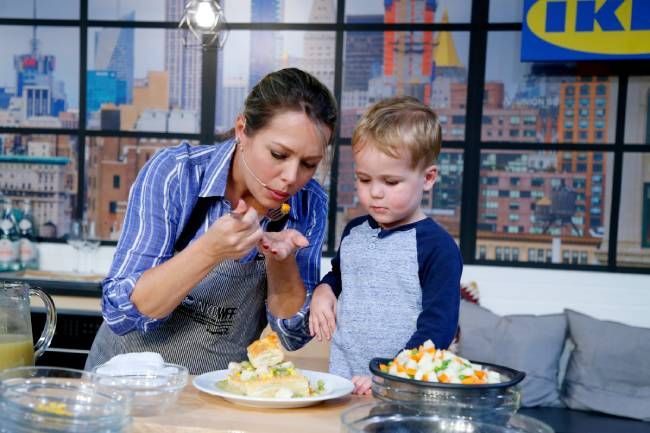 Calvin is a big fan of cooking with his mom
Then she cheekily warned her eldest son: "Sorry, Cal, get used to it… it's YOUR job now!! Welcome to my world!"
Fans immediately gushed over their adorable sibling dynamics, writing in the comments section under the post: "Omg this is the cutest thing ever," as another fan joked: "Ah yes the first child, the mother's unpaid intern," and a third added: "This is heartwarming! Cal is such a great big brother!"
Read more HELLO! US stories here
Like this story? Sign up to our newsletter to get other stories like this delivered straight to your inbox.
Source: Read Full Article