Isabel Huntington: I'd go through the rehab again and again
February 14, 2019
It was the start of September, 2016. I was in year 11, and you might say a bit naive. My attitude towards serious knee injuries was one of 'it could never happen to me.' I had very little idea of the increased susceptibility that females had when it came to ACL tears and the way in which my personal biomechanics would place me at risk. Unfortunately in the two-and-a-half years since, I've become something of an amateur expert on the subject, having ruptured the ACLs in both knees.
Isabel Huntington.Credit:AAP
The first one happened in the under-18 curtain-raiser before the highly-successful women's exhibition match at Whitten Oval on the bye weekend before the AFL finals. I'd broken my right leg the year before but tearing the ACL in my left knee was something very different. The good news was the injury occurred 13 months before I reached draft eligibility. I knew that if I were lucky enough to be taken in October 2017, there was ample time for me to recover for an AFLW debut in 2018. The Bulldogs gave me the chance to live out the dream, and in round one of last year I made my AFLW debut against Fremantle, coincidentally at the same ground where I'd sustained the knee injury almost 18 months earlier.
I knew we had a very strong list and believed we could threaten for the premiership. I wasn't destined to be a part of that push to the grand final though. Just seven days after my debut, I tore the ACL in my right knee while playing the Brisbane Lions in Queensland. It was undoubtedly a tough pill to swallow, but I tried to look on the bright side. Positively, the fact the injury was to my other knee meant the graft in my left knee remained intact. I thought to myself that if I could get through the admittedly repetitive rehab I'd be able to return for the start of the 2019 season and hopefully play unencumbered.
However there was still a setback to come before my return. With the season less than two months away I felt a slight twinge in my right knee during a training drill. Given my history we decided to have scans and consult my surgeon, making for a nervous few days. Thankfully it wasn't another tear. Instead, a minor strain. Not ideal, but far from the worst case scenario. It will end up pushing my return back around a month. Whilst such a setback is a long time in the context of a two-month AFLW season, the added time means I'm able to return over 12 months after surgery, aiding my rehab and reducing the risk of re-injury.
Knee injuries to AFLW players have been a recent talking point, and understandably so, given the high incidence of them across the competition's first few years. As a science student, I have a heightened interest in digesting as much information on women's knee injuries as possible. I've read countless journal articles on ACL tears in women's sport. Whether that's a good thing, I'm not sure, but in any case I'm now aware of the anatomical and physiological factors that contribute to the increased incidence of ACL tears amongst women in comparison with men.
As a result of women's football being underdeveloped for so many years, there had been minimal research into the subject before AFLW came along. Currently, the AFL are working to learn more about the issues, with the introduction of the pilot program with La Trobe University a terrific initiative. All AFLW clubs are now required to dedicate time to do preparation movement exercises to help with landing and deceleration. The results won't be seen overnight, but the hope is this will reduce the number of ACL tears in the league and create a greater awareness amongst players and clubs of the risks. This is a great step forward, and clubs are doing positive work, however the issue remains in the lack of hours at the club AFLW players are afforded in comparison to our male counterparts, meaning it is harder to ensure adequate strength and conditioning practices are adopted. Given AFLW players are only contracted for 13 hours per week, fitting in supervised ACL prevention work is difficult, and often inhibited by the fact that most players either study or work full time, making available time sparse.
There is of course the emotional toll as well. After last season, a few players who had torn ACLs got in touch with each other, starting a so-called "ACL club". Melissa Hickey, Brianna Davey, Sarah Lampard, Ainslie Kemp and I would get together to discuss our respective rehabs and provide support for each other. Seeing the likes of Shae Sloane, Rhi Metcalfe, Elise Coventry and in particular Nina Morrison go down with ACL tears in recent weeks has hit very close to home. There are obvious parallels between Nina and I, being early draft picks and doing the injury at the same stage of our first seasons. She's a great footballer and has a tremendous character and mind. It's a tough blow for her, and the competition as a whole given how well she started in round one, but I have no doubt she'll come back stronger.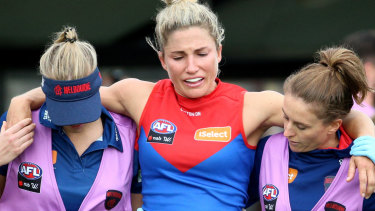 Melissa Hickey sustained a torn ACL in round six last year.Credit:AAP
As for me, the light at the end of the tunnel is rapidly approaching. On Wednesday night I got through my first full unaltered training session with the main group. All going well I'll be back for the round five game against the Dockers. I can't wait and am counting down the days.
For those parents who may worry about letting their girls play football because of the heightened risk, my message is to not let fear stop you. The recent spate of ACLs can be disheartening, but if anything it provides an indication of the drastically increased participation of women and girls in football, which has immeasurable positive effects for society. The health and social benefits of girls playing footy far outweigh the negatives associated with injury, and the research and preventative measures will only improve too. I'd go through the rehab again and again if it meant the chance to experience this dream I'm living.
Isabel Huntington is a No.1 draft pick for the Western Bulldogs
Source: Read Full Article