Chris Pratt Says His Church Is NOT Anti-LGBT — And Even If They Were He Still Isn't!
February 12, 2019
Chris Pratt is finally speaking up about a very important subject!
Last week, Ellen Page called out Stephen Colbert for asking the Lego Movie star about his faith — without asking about the controversy around it.
See, Hillsong Church, the celeb-attracting Christian sect which has taken over Hollywood, is officially in the camp of calling homosexuality a sin — something which they say is "consistent with scripture."
(Let's be honest, it's consistent with a specific reading of some very old writings that NO ONE takes 100% literally. We don't see any of these folks hunting down and murdering Wiccans on a Saturday night or kicking their wives out of the house when it's that time of the month because they're "unclean" and can't be touched.)
But Hillsong goes that extra anti-LGBTQ mile; they're widely reported to have referred people to harmful conversion therapy.
Well, Chris himself has something to say about all this. First, when it comes to his church being anti-LGBTQ, he says "nothing could be further from the truth" and that they "open their doors to absolutely everyone."
But would he really have experienced how they treat LGBTQ community members? Since, y'know, he's not one? He says:
"Despite what the Bible says about divorce my church community was there for me every step of the way, never judging, just gracefully accompanying me on my walk."
Sorry, but those two things are not comparable. The vast majority of Christian sects have relaxed their views on divorce — after all, it's something that affects the higher-ups who make these calls, the ones who are allowed in the positions of power. And people don't get attacked in the streets for being divorcees.
But he says he has personally seen the church offer "love and support" to members "regardless of sexual orientation, race or gender." That's nice to hear, but we'd like to hear it from Hillsong as well.
Chris then takes it a step further, saying something very important here:
"My faith is important to me but no church defines me or my life, and I am not a spokesman for any church or any group of people.
My values define who I am. We need less hate in this world, not more. I am a man who believes that everyone is entitled to love who they want free from the judgment of their fellow man."
We're very happy to hear him come out and say that. It should go without saying, obviously, but sadly… it does not. Especially when you are affiliated with an organization which states otherwise.
Maybe if more members of those organizations spoke up, they could change their stance entirely…
He closes with:
"Hate has no place in my or this world."
We realize we're getting into a very sensitive area here in terms of religion, but at the end of the day the right and wrong of it all is pretty simple — hatred for people based on their race, gender, or sexual orientation is just plain wrong.
We're glad Chris came out and said he agrees with that.
See his full statement (below):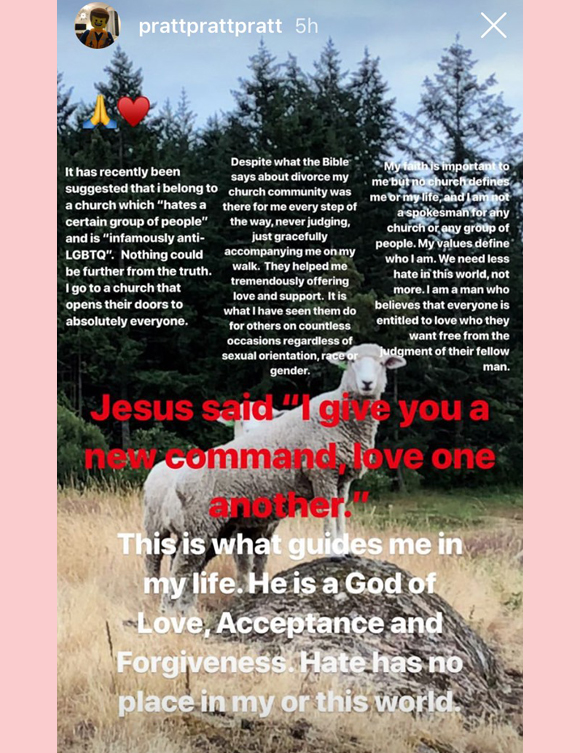 Source: Read Full Article